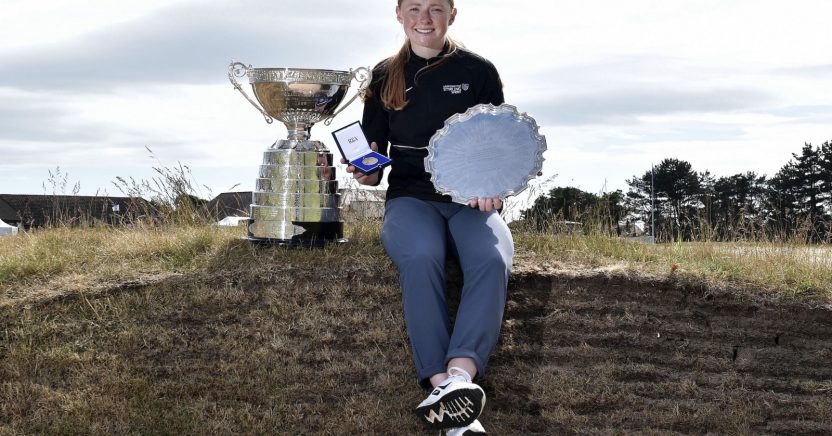 Dominant Duncan wins Women's Amateur Championship
Featured News
Scotland's Louise Duncan has won the Women's Amateur Championship after beating Iceland's Jóhanna Lúđvíksdóttir 9&8 in the final held at Kilmarnock Barassie in Scotland.
The 21-year-old Scot impressive victory is largest winning margin in the tournament's 118-year history.
Duncan, who hails from West Kilbride and is a student at Stirling University, can now set her sights on an number of exciting opportunities, including playing in the Women's Open at Carnoustie in August.
Duncan is the first Scot to claim the title since Alison Rose in 1997 and joins a rollcall of former winners that includes Anna Nordqvist (2008), Georgia Hall (2013), Céline Boutier (2015) and Leona Maguire (2017).
Duncan displayed early nerves on the first nine holes of the 36-hole final and was down a hole twice to Lúđvíksdóttir. However, a birdie at the ninth and an eagle at the 11th was the start of her commanding hold on the match and she went into the lunch break with a five-up lead after winning the last four holes of the morning round.
Heading back out on course in the afternoon, Duncan eagled the 19th by holing a spectacular greenside bunker shot on the par-5 hole to extend her lead to six-up. A bogey at the 22nd won Duncan another hole to go seven up as Lúđvíksdóttir made a double.
A birdie at the 25th extended her lead to eight-up and when the 18-year-old Icelandic player bogeyed the 27th hole the match was dormie. A par at the 28th hole enough to seal the win for Duncan.
The win earns Duncan invitations to play in the AIG Women's Open, the US Women's Open, the Evian Championship and the Augusta National Women's Amateur Championship.
"It's mental, I can't believe it," Duncan said of those rewards. "It's ridiculous and I am over the moon. I definitely wasn't quietly confident coming into the week. My first goal was to make the matchplay stage and see what happened from there, but I didn't think I'd get this far."
While disappointed not to have won the title and the rewards on offer, Lúđvíksdóttir, who was one of only four international players to line up in the 100-strong field, made history of her own as the first Icelandic golfer to reach the final of The Women's Amateur Championship.
Duncan reached the final after winning a tough match against fellow Scot Hannah Darling which went to the 19th hole, while Lúđvíksdóttir, who was three down after 13 holes, also required extra holes to win her semi-final against Shannon McWilliam.
The scores from the final can be found here. To watch a TV livestream of the match in full, visit YouTube or Facebook.