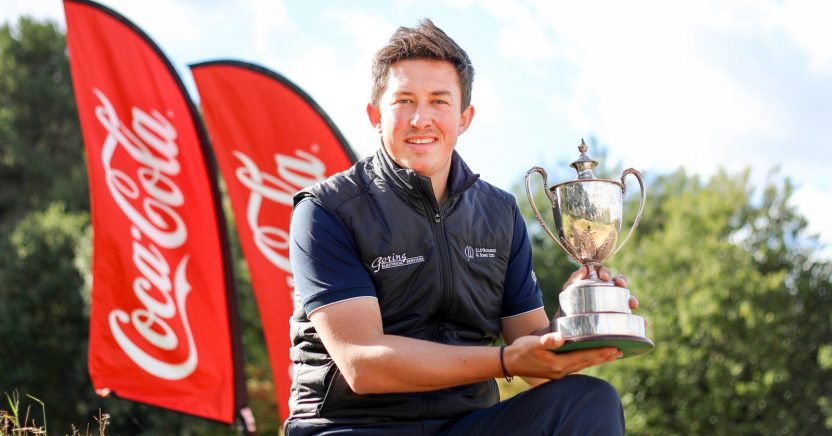 Bullen retains PGA Assistants' Championship
Featured News
Rustington Golf Centre PGA Professional Mike Bullen retained the Coca Cola PGA Assistants' Championship after finishing a shot clear of the field at Oakmere Golf Club in Nottinghamshire.
The 27-year-old from Sussex shots rounds of 68, 71 and 73 in testing conditions to finish on four under par and win by a shot from Daniel Toogood (Weston Super Mare), who closed with a best-of-the-day 71.
In repeating his win from 2019, Bullen became just the fourth player to retain the PGA Assistants' Championship, which comes with a £5,000 first prize and a year's supply of Coca Cola.
Having almost completed his assistant's training, Bullen will not be able to go for a third consecutive win next year. "I've got a couple of bits to do, but I'm pretty much finished now," he explained. "Unfortunately, I won't be able to go for the hat-trick, but I'm proud of winning it back-to-back. The last few holes were pretty nervy, especially the 18th. I had a really tough up-and-down on the last and managed to make it."
On reflection, this year's triumph for Bullen was possibly less stressful than last year, where he needed a play-off with Billy Hemstock before taking the title at PLeasginton Golf Club in Lancashire. That victory qualified him for the Australian equivalent of this tournament, the National Futures Championship, and the PGA Play-Offs, both of which saw him finish first. His participation in this year's Australian Futures is in doubt, however, because of the coronavirus pandemic, but, all being well, he will take his place in the PGA Play-Offs which have been put back to next summer.
"That win last year lead to some great opportunities and hope this one does as well," he added. "Winning the Play-Offs earned me a place in the BMW PGA Championship at Wentworth and this has qualified me for the Play-Offs again. Hopefully I can go back-to-back there as well."
For a full list of scores, click here
Stay up-to-date: