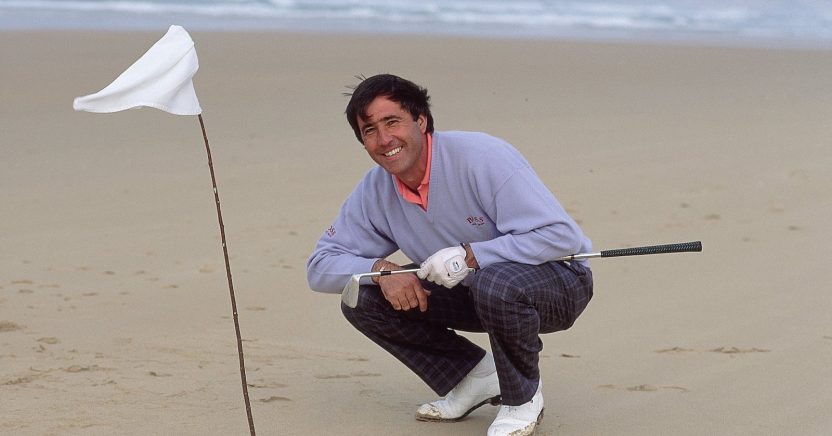 Bernard Gallacher pays tribute to Seve on the 10th anniversary of his death
Featured Interviews News
Today marks 10 years since the passing of Seve Ballesteros – the man who changed the face of European golf, and who many consider to be the greatest European golfer of all time. In an interview with Golf Care brand ambassador Bernard Gallacher, the three-time former Ryder Cup captain pays tribute to Seve and give us his recollections of the great man.
Can you remember when you first met Seve and what your impressions of him were?
I first met Seve in 1974 at The French Open at Chantilly. I was drawn to play with him the first two rounds, and his older brother Manuel introduced us to each other the day before. He was 17 years old, and it was one of his first professional tournaments. He was slim and athletic with a long loose swing. He hit the ball with abandonment but completely lacked the course management skills needed to score. However, even back then, I saw plenty of potential, and I also knew his brother Manuel – who was a good swinger – would refine his swing and teach him how to score. The rest, of course, is history.
How would you summarise Seve's impact at the Ryder Cup, and how did it feel knowing that someone like him was on your team?
Tony Jacklin was fortunate because, during his captaincy of the Europe Ryder Cup team, Seve was at the peak of his powers and the best player in the world. When you think back to the European team's victory over the US at The Belfry in 1985 and Muirfield Village in 1987, Seve was instrumental in these victories and inspired the whole team. I was Tony's vice-captain, and our feeling was Seve would play five times and win five points, so the rest of the team 'only' need to win 9.5 points for us to win! It was said in jest but with a hidden meaning, or double entendre.
Regarding the story that Seve persuaded you to let the team wear blue instead of green clothes on the final day of the 1995 Ryder Cup – what did this say about Seve's mentality? Was he as superstitious a player as he was considered to be?
I was mostly happy to accept Seve's advice, but Seve wanted to wear blue on the final day, so we all fell into line! That was ok because the team – including me – didn't think it was a big issue. This was the kind of golfer he was – he'd always look to gain some sort of advantage. I remember he even had his celebration from the 1984 Open tattooed on himself when he was going through a bad spell in his late 40s. He thought that if he had the tattoo, his fortunes would improve because he was very superstitious like that.
Seve took over from you as team captain of the Europe Ryder Cup team, which retained the title in 1997. What do make of the job Seve did as captain?
The European Tour wanted to take the Ryder Cup to Spain to thank and honour Seve for his outstanding contribution to the success of the European team. The worry was that Seve would want to play all the shots for his players – he was never going to be a touchline type of captain. There were some tense moments, especially when Colin Montgomerie had to ask him to back off and let him play his own game. But Seve was passionate, and at the end of the day, that passion neutralised his hands-on approach. When Seve smiled, the whole world smiled with him because he had such an infectious personality.
What's your favourite Seve moment and why?
There's quite an amusing story from 1997. When Spain was nominated as the host country for the Ryder Cup, and Seve was unanimously chosen as captain, the Ryder Cup Committee still had to pick a course. This was an important decision because it would be the first time the Ryder Cup was played outside the UK, and a successful Ryder Cup couldn't be taken for granted.
Valderrama was everyone's choice because it was the number one course in Europe and one of the best courses in the world. The European team also played their flagship end-of-season tournament The Volvo Masters there for many years, so success was guaranteed.
However, Seve disagreed vehemently. He felt it should have been played at Real Novo Sancti Petri Golf Club near Cadiz. This was a new public course in a part of Spain that had never hosted a golf tournament, and to suggest that we'd have been taking a chance on its success would be an understatement. But Seve was adamant that the Ryder Cup should be played there!
It transpired Seve designed the course, so there was a huge personal interest there. The Ryder Cup Committee pointed out that he would lose credibility if he continued to push for his own modest course and insisted the Ryder Cup was held at Valderrama. He doesn't know it, but we helped him not make a fool of himself!
Another standout Seve moment would have to be his victory at the 1984 Open. That putt he holed at the 72nd hung on the edge for a second, and his celebration was an immortal moment.
What was Seve like away from the course?
Seve was always tense and on edge during a tournament due to his Latin temperament, but after the event, he was very relaxed, especially if his wife Carmen was with him. I got to know him through the Ryder Cup and when he played at the World Match Play Championship at Wentworth, where I was the professional. So, I met him quite a lot, and Lesley and I were friendly with Seve and Carmen.
After winning the 1991 World Match Play Championship, he asked me if he could come to my house and watch his team Barcelona play. Along with his Carmen and his young daughter, he spent a nice evening with my family. That's the kind of guy he was away from the course.
No one would ever get too close to Seve – he was his own man. It's no secret that he was quite stubborn and difficult to get on with at times, but above all, he was very passionate about golf and desperately wanted to win. We all enjoyed his success with him.
What is Seve's enduring legacy?
Seve will also be remembered for popularising the game in Europe – before he came along, golf wasn't a popular sport in Spain. But he not only popularised golf in Spain but across all of Europe, whether it was France, Germany, or Switzerland. We also shouldn't forget that Seve had humble beginnings – his whole family were caddies – so he didn't have the same advantages growing up as his contemporaries had. He wasn't even allowed to play at his local golf club in Pedreña because of how exclusive it was – he learned how to play golf on the beach. By contrast to Seve, Tom Watson grew up playing at expensive country clubs and went to Stanford University. All of these examples contextualise just how impressive Seve's achievements were. His charisma lit up courses around the world, and he was a truly special player.
Stay up-to-date: