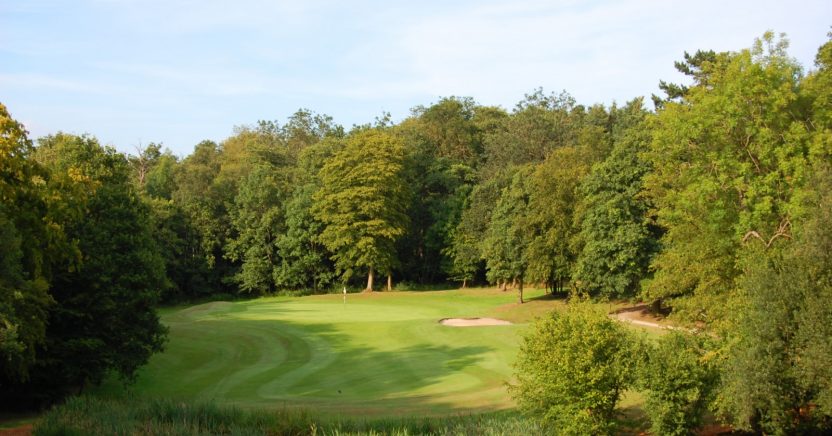 Brickendon Grange Golf Club in Hertfordshire has beaten nine other of Britain's most picturesque and challenging golf holes to be crowned the UK's Greatest Amateur Hole 2016.
The winning club received a high number of public votes and impressed an independent judging panel in the national 'Grass Roots' golf competition organised by BusinessInsuranceFor.com, which provides business insurance services for golf and other sports clubs.
The initiative aimed to shine the spotlight on lesser-known golf clubs across the UK, with Brickendon Grange claiming the top spot, closely followed by Robin Hood Golf Club in Solihull and Murrayfield Golf Club in Edinburgh.
The winning hole, the 17th, 'Ace of Herts', is a 417-yard, par-four dogleg which is described on Brickendon Grange's website by head professional Andy Clapp, as being 'not for the faint hearted', requiring golfers to negotiate 'a narrow tee shot' before being faced with 'a stunning view of the green from the top of the hill'. The fairway then sweeps down towards a 'sizeable pond', before climbing back up the slope to the green cut into landscape.
The judging panel for the competition comprised Brendon Pyle, chief executive of the Golf Foundation, and Michael Coffey, publisher of Golf Club Secretary magazine. The winning club will receive a commemorative plaque, while the sponsor, BusinessInsuranceFor.com, is donating £500 on behalf of the club to the Golf Foundation.
The top 10 holes in the list were as follows:
Brickendon Grange Golf Club, Hertford (17th)
Robin Hood Golf Club, Solihull (16th)
Murrayfield Golf Club, Edinburgh  (10th)
Easingwold Golf Club, York (18th)
Langley Park Golf Club, London (10th)
Epping Golf Course, Epping, Essex (12th)
Toft Country House Hotel and Golf Club, Toft, Lincolnshire (18th)
Merchants of Edinburgh Golf Club, Edinburgh (13th)
Rusper Golf Course, Dorking, Surrey (14th)
The Bruntsfield Links, Edinburgh (16th)
A gallery of entries can be viewed in full at: https://www.businessinsurancefor.com/grass-roots-golf-award
Stay up-to-date: