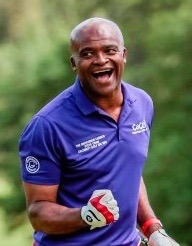 KRISS AKABUSI

13 February 2017
Former Olympic 400m hurdler Kriss Akabusi loves hitting the fairways of the Algarve and the beaches in LA
My first ever holiday was to… Butlins in Minehead. I was brought up in a children's home in the 1960s, and we used to get taken on trips to places like Clacton, Skegness and Bognor. A whole load of us from the home would tear around the place for a week. I remember lots of candyfloss, sticks of rock, fish and chips, and plenty of activities to try and tire us all out.
My most recent holiday was to… France and Spain. I took the family on a road trip last summer, driving all the way from Calais through France, and then into Spain. We stopped off in Biarritz for a few days and then drove on to Madrid, and then on to La Manga. We had a week down there, relaxing, playing golf, football, and swimming, and then drove all the way back. We had a great time, and got to see all of the sights that you miss when you fly somewhere.
My favourite golf course in the UK is… the Marquess Course at Woburn. I've been a member at Woburn for ages, and love all three courses to varying degrees, although the Duchess is tough. I play off 18, and if I'm having a bad day with the driver I can spend a lot of time in the trees – they call me the 'Woburn Woodpecker'.
My ideal holiday fourball would include… John Regis and Brian Whittle, my two best mates from my athletics' days, and Tiger Woods could make up the numbers just to see who he'd turn up with!
My favourite golf resort is… Royal Westmoreland in Barbados. I've only played the course once – with Gary Lineker – but I was blown away by the whole place. I also like the resorts on the Algarve in Portugal. I love all the Quinta courses, and I'm a big fan of Laranjal. The weather's always great down there. The whole place is set up for golf. You can a play a different course every day for two weeks, and there's always a buzz, with lots of great restaurant and bars.
I always travel with… my technology. When I'm away on business, I always have my iPad and iPhone to hand, and my Kindle. I don't read novels, I prefer business books.
The nicest hotel I've ever stayed in was… the Pestana Palace in Lisbon. Although it's not what I would call 'luxury', the service was superb from check-in to departure. I was there on business, but everything was very personal and it felt like a home from home.
My favourite city in the world is… Los Angeles. I used to go there every winter for training in Irvine, which is near Newport Beach. It became a second home for me. I love everything about it – the climate, the beaches, the food. You can play golf, go surfing – there's so much entertainment. I've been back with the family, and done Disneyland and all that.
My most memorable holiday meal was… a beach BBQ in LA back in my competing days. Daley Thompson used to hire a private beach house and we'd all get together, bring along some steaks, fresh fish, get them on the grill, have a few beers, and play cards. Happy days.
My worst holiday experience was… hard to say. I'm not really one for dwelling on the negative side of things, so I'll always look to remember the good times. I've had my luggage go missing a few times, but nothing dramatic.
The golf course I'd most like to play is… Augusta National. I know I never will, but I'll put it out there in case someone knows someone! I played Pebble Beach last year and was totally underwhelmed by it. A few good holes by the sea, but the rest of it was very forgettable, and all for $500. I much preferred Spyglass Hill – that was beautiful.
I'm planning a golf trip to… the Algarve. I'm going out there twice this year. First, with a group of mates, and then later with some business connections. I do at least four or five golf trips a year. Life's too short not to. I'm 58, so I might not have too many golfing summers left in me.
My top travel tip is… to leave your work worries at home. Holidays are about 're-creation' – don't bring your work stresses with you – switch off and relax.
Kriss Akabusi is a motivational speaker and business consultant. For more details visit www.akabusi.com.
Stay up-to-date: