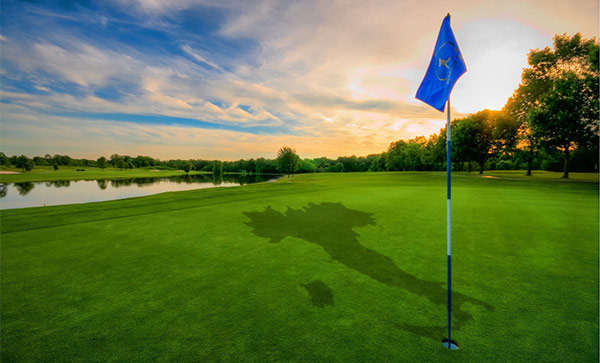 ITALY LAUNCHES GOLF TOURISM PUSH WITH 'ITALY GOLF & MORE'

14 June 2016
A new campaign to highlight the joys of playing golf in Italy teed off last month, with stands taken in the tented villages at the Dubai Duty Free Irish Open and BMW PGA Championship drawing plenty of interest from golf fans at the K Club and Wentworth respectively.
As well as being given the opportunity to learn more about playing golf in Italy, visitors to Italy Golf & More stands were treated to a selection of mouth-watering Italian cuisine and fine wines, and they were unanimous in their approval for the new project.
One of the most interested visitors was Andrew Smith, director of product at Your Golf Travel. He said: "This was the first time that I've had the opportunity to have concerted, positive conversations about golf in Italy with input from different and varied regions, with a centralised body bringing them all together. With demand for golf travel in Western Europe at an all-time high, and now a dedicated consumer facing campaign to promote golf in Italy, I've never been more convinced that Italy can now begin to compete with other more established European golf destinations."
Revered throughout the world for its outstanding history, culture and gastronomy, Italy is also home to 141 18-hole golf courses.
Italy Golf & More is a collaboration between private sector partner regions, the Italian Golf Federation and the Ministry of Tourism, which have come together to embark on a seven-figure investment to increase awareness, and future golf tourism traffic, from key European markets to Italy.
The partner regions consist of Lombardy, Piedmont, Lazio, Friuli Venezia Giulia, Veneto, Liguria, Emilia-Romagna, Puglia and Sicily – who together boast 112 of Italy's golf courses – with 11 further regions falling under the investment of the Italian Golf Federation.
Bruno Bertero, project co-ordinator for Italy Golf & More, said: "Italy Golf & More has had great feedback at the Irish Open and BMW PGA Championship, and both Irish and British golfers are now increasingly aware of the courses on offer in Italy – the majority of which can be played year-round.
"The lure of the Italian lifestyle – gastronomy, culture and art – plus the hosting of the Ryder Cup in Rome in 2022 raised significant interest towards Italy. We are glad to have this opportunity to promote Italy as a unique, emerging golf destination."
Maurizio de Vito Piscicelli, tourism golf consultant for the Italian Golf Federation and director of Emilia Romagna Golf, added: "This is a magic moment for the Italian golf tourism offering. We're all profiting from the decision to award Italy the 2022 Ryder Cup, and after many years of hard work to unite the Italian golf product in one collaboration, we've realised it with the Italy Golf & More project.
"All our golf courses have increased their revenues from international golfers in the last few years and the response that we received at the K Club and Wentworth shows that there is a great appetite for Italian golf in the UK and Europe. And we're just at the beginning, with six years still to go until the Ryder Cup."
For further information on Italy Golf & More, please email info@italygolfandmore.com or download a brochure at www.italygolfandmore.com.
Stay up-to-date: