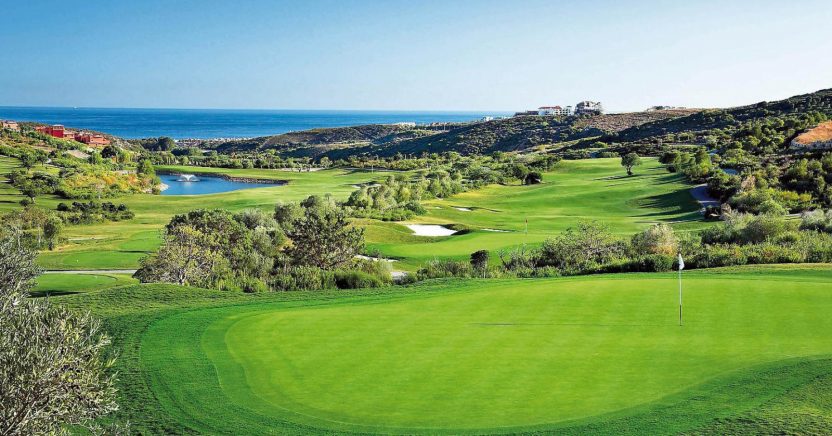 FINCA CORTESIN, SPAIN

14 November 2017
Boasting one of Spain's best golf courses, and an award-winning boutique hotel and spa, FINCA CORTESIN is one of the places to see and be seen on the Costa Del Sol
Sitting on the edge of the pretty hill-top village of Casares, overlooking the distant town of Estepona, Finca Cortesin Hotel, Golf and Spa feels a million miles away from the high rise holiday apartments and beachside hotels for which the Costa del Sol earned its reputation back in the 1980s.
Looking down on its near, yet suitably distant, neighbours with the haughty grandeur that comes when you spend the best part of €700m creating a luxury hideaway for the monied few, the resort is something of an arriviste in this region of '80s architecture, having only been built in 2008. And while the word 'finca' conjures up images of a rundown cosy cottage in an unspoilt hilltop village, the Cortesin version is designed on a somewhat larger and more luxurious scale.
For an estate that covers such a huge acreage – 532 if you're counting – it's surprising to learn that the eye-catching white-washed hotel boasts just 67 bedrooms, along with a handful of private villas. However, you only need step inside one of these vast suites to understand where all the space went. With 13-foot high ceilings and acres of tiling, it takes more than a few seconds to reach the bed from the door, while the spacious bathrooms, which feature walk-in showers and roll-top baths offering views out to the sea, almost require GPS navigation.
Boasting an architecturally appealing mix of traditional Spanish and Moorish styles, the hotel and its copious surroundings are elegant and understated, with a beautiful courtyard of palm trees and fountains, surrounded by secluded seating areas decorated with mosaics and tea lights, forming a stunning centrepiece.
The hotel converges on the central foyer, with its glass roof high above letting in vast amounts of Spanish sunlight. If this were in the UK, the heating bills would be ridiculous. But this is southern Spain, where daytime temperatures rarely dip below 18c all year round.
Other eye-catching sights I spotted during a tour included the two outdoor swimming pools, the biggest of which is Olympic-sized, while there's an indoor pool filled with salt water. There's also a 2,200-square metre spa – which features a steam bath and sauna, and something called a snow cave – and a gym, neither of which I used, but was reliably informed, are well above scratch.
But I digress. This is, after all, a golf magazine, so what of the golf, you may rightfully ask. Well, given its status as a European Tour venue – and three-time host of the Volvo World Match Play, no less – it's safe to say that it's challenging.
With over 50 other golf courses to choose from in the vicinity, any new course that opens in Malaga better be a good one if it wants to survive – and thankfully Finca Cortesin is a good one, and has survived and thrived since it opened in 2007. The 7,482-yard Cabell B Robinson design received instant rave reviews, which has made it the fourth highest-ranked course in Spain. As with all great courses, it demands your utmost concentration from beginning to end, and there is really no let up in the challenge here. Early on the card, the 490-yard third, which has an approach over water, is a cracking par five, giving long drivers the option of going for the green, while shorter hitters face a difficult lay up. The 280-yard fourth is one of a number of excellent risk-and-reward par fours, where big swingers can take on the green if they're feeling brave enough.
The layout also boasts a quartet of excellent, if extremly tough, short holes, two of which are over 200 yards, and two of which can be reached with a mid-iron. My favoutite was the 10th, a 180-yard drop hole played from a raised tee with the Estepona Mountains serving as a stunning backdrop.
The pick of the back nine includes the 11th, a par five that features an intriguing double dogleg, while the par-four 13th is regarded as the course's signature, and twice involves water, with a diagonal stretch in front of the green.
The par-four 15th requires a massive carry over a ravine to reach the safety of a fairway which turns hard left and is protected by five huge bunkers, leading to a demanding uphill second shot to a raised green; while the par-five 18th is a strong finishing hole – and a great match play design – which allows big hitters to really open their shoulders off the tee, as the fairway is one of the widest on the course. However, the second shot, if you're going for the green, presents a very small target, with out-of-bounds on the left, and a bunker and bushes to the right, while a bunker 150 yards out guards against a cautious lay up.
With over 100 beautifully framed white sandy bunkers, immaculate raised tees and smooth-rolling putting surfaces – which have recently been relaid with a new strain of Bermuda grass – the course is presented in tournament condition throughout the season. There's no getting away from its difficulty, but with plenty of teeing options to choose from, it's a challenge that is both rewarding and entertaining, while the views from the high points are equally memorable. The distance between holes makes buggies all but essential, but you'll be thankful of the four-wheel firepower given some of the inclines, especially when playing in the height of the summer.
The practice facilities, which include the Jack Nicklaus Academy, are as you'd expect for a tour-level venue, while the service on the golf course and around the clubhouse is both professional and friendly.
Thankfully, there was just enough time between games of golf to enjoy the superb hospitality on offer, with our group being treated to a stunning eight-course tasting menu at the hotel's own Spanish restaurant, El Jardin de Lutz, on the first night, while on the second evening we enjoyed an excellent Italian meal in Don Giovanni. In between, we had a relaxed lunch in the clubhouse and another around the poolside, where croquettes and calamari went down well with a cold beer.
Fans of Japanese food will want to book a table at the hotel's Kabuki Raw, a fine-dining restuaurant that was awarded a Michelin star in 2015. Like the Japanese theatre that it is named after, the kitchen takes centre stage, allowing you to see the chefs in action. The Blue Bar serves great cocktails and other drinks in various spaces around the hotel, while there's also a private beach club which is accessed by a free shuttle bus during peak season.
Finca Cortesin wins you over in so many ways. Yes, they get the big stuff right: the sumptuous elegance of the surroundings; the wow-factor rooms; the fine food; and, of course, the superb golf course – but what I loved most was the seamless service and the feeling that no request, however trivial, would be too much trouble. That, in essence, is the mark of a truly five-star experience.
STAY & PLAY PACKAGES
A three-night stay for two people in a junior suite costs from €1,926pp, including two rounds of golf, daily breakfast, a 50-minute golf lesson, polo shirt and cap, and free access to the spa and private beach club.
For bookings, email reservas@hotelcortesin.com, call 34 952 937 800, or visit www.fincacortesin.com.
Stay up-to-date: