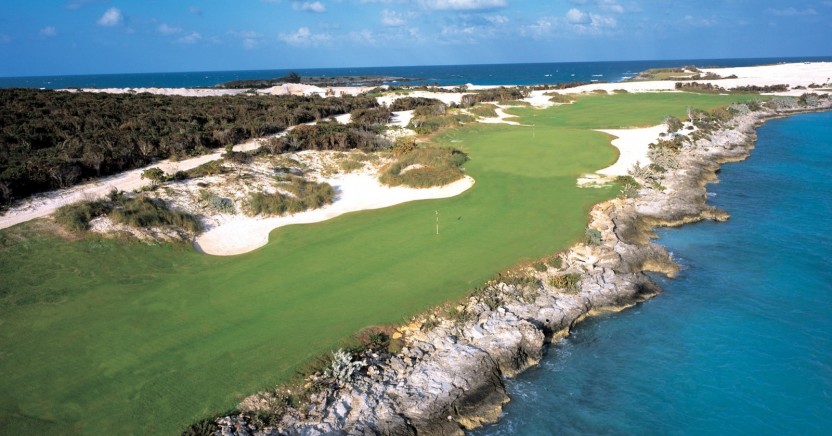 BEAUTIFUL BAHAMAS IS ON MY BUCKET LIST

23 March 2015
Sarah Stirk joins the growing list of golfers, both amateur and professional, who have set their sights on a golf break to the Bahamas. If it's good enough for Tiger…
The Bahamas has been getting a lot of attention lately. Many of you will have heard of or read about Albany, the luxury golfing community part-owned by Tiger Woods, where Justin Rose now lives, and where Adam Scott and Ian Poulter like to hang out in the off-season; but this year will see this über-private resort play host to Tiger's Hero World Challenge tournament for the first time, bringing with it dozens of the world's best players to compete for a multi-million dollar purse.
Despite the limited parcels of land available on these tiny islands, the number of golf resorts has grown almost exponentially in recent years, with Jack Nicklaus's Baha Mar set to become the latest offering when it officially opens its gates later this month at a 1,000-acre resort located along Nassau's Cable Beach. Backed by the Chinese government, this mega development marks a step up from the more boutique-style resorts with which the islands are more commonly associated.
Another new kid on the block is Baker's Bay, a private resort located in Great Guana Cay, situated between the Sea of Abaco and the Atlantic Ocean. It's the destination of choice for good friends Keegan Bradley and Rickie Fowler, who like to enjoy some downtime away from the rigours of professional golf, although golfers with far higher handicaps fill the bulk of the daily tee times.
Facilities are at Baker's Bay are, as you'd expect for a playground for the rich and famous, first class. There's a highly-rated golf course designed by Tom Fazio; a club-owned private boat; an exclusive family beach club, and impressive spa and fitness facilities. If you're feeling flush, residential properties are available to buy in the guarded, gated community, with plots ranging from one third of an acre and up. If, like many golf pros, you're a fan of deep sea fishing, villas and apartments around Baker's Bay's marina will also have plenty of appeal.
Other recommended venues include the established Treasure Cay, which boasts a course designed by Dick Wilson during the late 1960s. The par 72 layout offers narrow fairways, unpredictable winds, vast bunkers, and sizeable duck ponds, all of which combine to make Treasure Cay a challenging course surrounded by breathtaking tropical beauty.
The course can reportedly be played in less than three hours and, if you have more time, it's supposed to be a great walking course. Here's the best bit: you don't need a tee time to play – just show up with your clubs or rent a set from the pro shop. Things are typically pretty relaxed in the Bahamas.
There are few corners of the globe that Greg Norman hasn'y got his designer's hands dirty in these days, so it's no surprise to find that the 18-hole championship course at Grand Isle Resort and Spa was created by the great man. It's also one of his earlier works, having been opened back in 2003, but it is one of the most highly-rated oceanside clubs in the Bahamas, with six signature holes hugging the edge of Emerald Bay's scenic peninsula. As with all the great Bahamian resorts, it's a one-stop destination, featuring fine restaurants, luxurious spas, and numerous other leisure activities to while away the long, lazy holiday hours.
Finally, the ultra-exclusive Abaco Club is the breathtaking setting for the world's first Scottish-style links course in a tropical location. Designed by Donald Steel and Tom Mackenzie, Abaco boasts a 7,182-yard course which continues to get rave reviews for its sheer beauty year after year. The 18th hole commands a majestic setting, perched along the shoreline 60 feet above the crashing surf.
This members-only retreat, which was first opened by Peter de Savary back in 2004, offers guests an opportunity to play the course once before joining. Membership fees, however, begin at an eye watering – and wallet emptying – $75,000. The club's membership – a consortium of which bought the club off the previous owner in December -– numbers around 150, and reads like a who's who of the international golfing community, with Ernie Els, Darren Clarke, and Lee Westwood among its ranks.
The Abaco Club's success is, in no small part, down to its remoteness. After flying to Marsh Harbour, you take a 25-minute drive to this tropical gem that lies completely secluded inside its own private community of Winding Bay. Once inside, having being checked over by security, you are treated like royalty. For resort visitors, state-of-the-art homes are also available to rent through the Abaco Club, allowing full access to all the amenities.
Of course, in the Bahamas there are no seasons, with year-round temperatures averaging 70 degree, and rain seldom lasts for longer than it takes for you to find some cover. And with some quality courses, luxurious accommodation, and that familiar laid-back Caribbean charm, the Bahamas is a destination that ticks all the boxes. If you're heading there anytime soon, tweet me a picture, I promise not to feel a pang of jealousy!
Stay up-to-date: