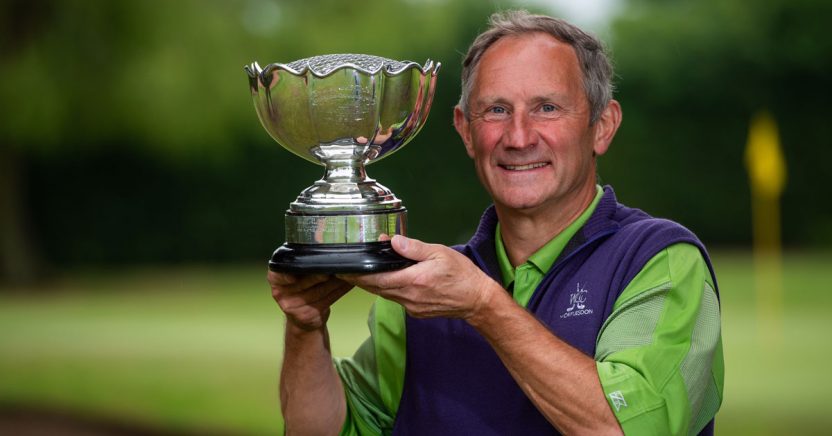 Attoe cruises to third English Senior Open title
Featured Tour News
9 June 2019
Surrey's Ian Attoe retained the English Senior Men's Open after leading for all three rounds at Holme Hall Golf Club in Lincolnshire and coming home eight shots clear of the field.
The defending champion from Worplesdon was nine-under par for the 54 holes, and his win gave him his third English Senior Men's title win since 2015.
Attoe teed off his title defence with a six-under par 65 at Holme Hall, added a 72 at Elsham, which jointly hosted the championship, and finished off with a 67 back at Holme Hall.
Despite the margin of victory, it wasn't plain sailing for the Surrey man, who began the final round just three shots ahead of playing partners Richard Norton (Beverley & East Riding) and another Yorkshireman, Ian Clarke (Lindrick).
And that lead was cut to a single shot when Clarke chipped in for an eagle two at the first hole, and Norton birdied it, while the leader was only able to make a par.
"It was a bit of a wake-up call," said Attoe. "I thought I had played the hole well, but I lost ground to both of them. But my putter worked very well, and I holed long putts for birdie on the next three holes."
He couldn't relax, though, because Norton was also notching up his fair share of birdies. However, Attoe had a two-shot cushion after the fifth, when he got away with a bogey to his rival's double. The seventh set him firmly on the path to victory when he played a difficult shot from the back of a fairway bunker – and then sank the 60ft putt for birdie.
"That really was a turning point, I think then I knew it was going to be my day," said Attoe, who only had one three-putt over 54 holes. His other shot of the day was a six-iron into the 16th, which finished 10 feet away and set up another birdie, his seventh of the day, allowing him to cruise home to his third English Seniors' title in five years.
"The wins are all equally good, but this is the most satisfying at the moment because I kept going forward in the competition and I was really pleased with the quality of golf throughout the three days," said Attoe.
Norton took the runner's up spot, while third place went to Tim Whittaker from Beaconsfield.
For Attoe, there's the additional satisfaction of claiming a place in the England senior men's team. "That's my annual ambition, and about half way through the round I knew I was going to be in the top three, and hopefully gaining enough points to play for England," he said.
Stay up-to-date: