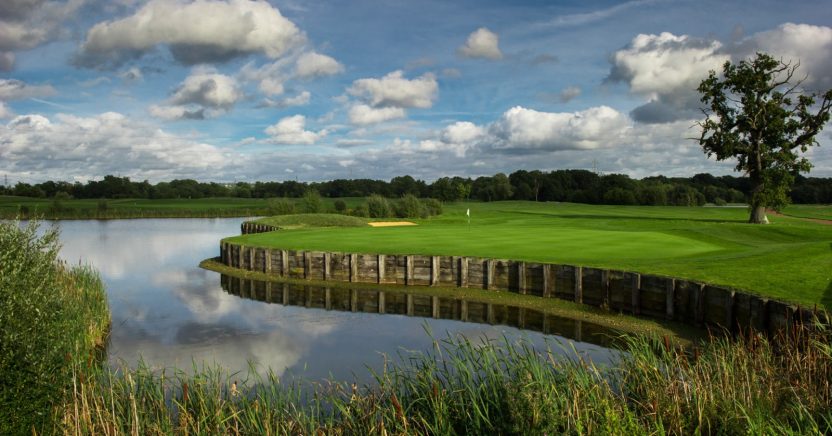 TWISTED STONE GOLF COURSE, SURREY

26 August 2017
Nick Bayly pays a visit to the club formerly known as Traditions, in the leafy village of Pyrford, where he finds a venue ready to rise again following a change of ownership and significant investments in the on- and off-course facilities
Companies looking to breathe new life into a business or product often change their names at the cost of decades of carefully-managed brand development and customer loyalty. Hands up who still calls Snickers a Marathon, or Starbursts Opal Fruits? Oh well, just me then.
Golf clubs are no different in this respect. In fact, I wonder whether in 20 years' time, golfers who come away from a round at Twisted Stone will still tell their mates that they've just enjoyed a game at Traditions.
For that is the name the club had gone by since it first opened to the paying public in 1999. First owned by American Golf, and then Crown Golf, the club was bought in 2015 by Pin High Golf. Anxious to leave behind the legacy of its previous tenants, Pin High's management took one bold, and some might say risky, move of asking the intelligent and creative readership of Golf News to come up with a new name to mark the launch of a fresh new chapter in the club's history.
Many of you rose to the challenge with admirable gusto, trawling through county archives, uncovering geological surveys, and rifling through the pages of the R&A's Golfer's Handbook to come up with a title that a) didn't already exist, and b) gave some sort of nod to the venue's historical roots. Pyrford Lakes and Weyside Lakes were among the most popular and perhaps more obvious choices, but the winning entry, which thankfully wasn't Golfy McGolf Club, was provided by Mark Burnaby-Davies from Leytonstone, who won himself an honourary membership for his troubles. Given his geographical location, Mark is yet to take up his prize, although being given the honour of naming a golf club may be reward enough.
Despite sounding very much like a desert resort course in the wilds of Nevada, the name actually references a pre-historic standing stone in Pyrford that, so the story goes, is believed to turn around at midnight each night.
While not everyone with a connection with Traditions was delighted with 'Twisted Stone', which became the new name in April, that's what it's called, and that's what it will remain until someone else comes along, as they will surely do in the future, and change it to something different.
Twisting Stone, Traditions, 'that other club next to Pyrford Golf Club', call it what you will, is definitely turning over a new leaf following its change of ownership. Pin High Golf's experienced management team has already set in motion a whole raft of expenditure to improve the quality and condition of the 18-hole golf course, while plans have already been approved to renovate and extend the existing clubhouse.
Judging by the comments on many of the course review websites, the rescue package couldn't have come at a better time, as the attractive 18-hole parkland course that was designed by Peter Alliss and Clive Clark at the turn of the last century was in danger of slipping into obsolescence due to a lackadaisical approach to the art of greenkeeping, shall we politely suggest.
These things take time to put right, and while the new management, led by managing director and PGA Professional Tony Healy, is keen to get the course back in mint condition, the vagaries of the UK climate means that the vast number of jobs that need doing – including bunker renovations, fairway drainage improvements, sprinkler head repairs and such like, won't happen overnight – but rest assured, they are happening, and will continue to happen.
Funds have already been invested in new greenkeeping equipment to facilitate these improvements, while the appointment of new head greenkeeper Steven Haire, whose CV boasts spells at Ealing and The Grove – both of which are famed for their superb presentation and excellent greens – speaks volumes about the ambitions the new owners have for the course.
The investment required to polish up this undoubted gem will be money well spent, as Messrs Alliss and Clark did some great work in creating a 6,300-yard course that looks and plays well beyond its 18 years. Enjoying an attractive location in open countryside besides the River Wey and the Pyrford Marina – but just 10 minutes from the M25 and two miles from the A3 – Twisting Stone offers a constantly enjoyable golfing test.
Not too long, and with not too much rough, it's challenging enough to demand careful course management – especially on the early and late woodland holes, and on the many parts of the layout where water comes into play – yet it remains playable for those new to the game, as well as more experienced golfers looking to boost their confidence. The large, subtly-contoured putting surfaces certainly offer a good chance to boost your greens-in-regulation stats if your approach play is in shape, while the numerous bunkers are not the deep-pitted evil death traps that you find at some venues.
Another significant change that regular visitors to the course will soon notice is the removal of a row of electricity pylons that currently straddles the course. While not an uncommon sight at many courses across the UK, their disappearance is both welcome and timely, and will only serve to increase the enjoyment of a round here.
Although predominantly operated as a pay-and-play venue, with green fees starting from just £15 for midweek off-peak rounds, Twisted Stone also offers membership, with seven-day fees costing £1,050 a year, and five-day £750, while juniors aged 14-18 can enjoy a year's golf for only £150. In a laudable attempt to help grow the game, free membership is offered to under 14s, and without the need for a full-paying adult, although there restrictions on tee times.
Always a popular society and corporate golf day venue, midweek packages for the summer season start from £28.50 for coffee, bacon roll and 18-holes, up to £42 for the addition of a two-course meal to finish.
Visitors to Twisted Stone will be rewarded with a warm welcome, excellent hospitality, and a great value for money round of golf, and with the promise of better things to come, now is the time to join in the fun at the UK's 'newest' old club.
BOOK YOUR NEXT ROUND AT TWISTED STONE
Golf News readers can enjoy an exclusive, one-off discounted two-ball green fee of £30 (representing a saving of £20) by quoting 'GolfNews offer' when booking a round between now and September 30, 2017, subject to availability.  A buggy can be added to the package for an extra £10. To make a booking, call 01932 350355. 
For more details on membership rates, and society and group packages, email sales@twistedstonegc.co.uk or visit www.twistedstonegc.co.uk. 
Stay up-to-date: