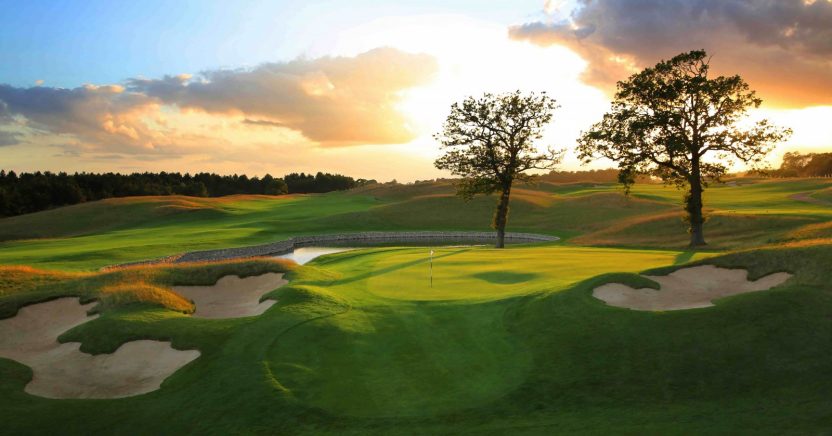 CENTURION CLUB

17 October 2016

The opening of an impressive new clubhouse, which features Michelin-stared fine dining, signals the next chapter in the development of the Centurion Club, a relaxed and inclusive Hertfordshire-based venue where first-class service matches the quality of the championship course
There's been a lot of talk of late in the corridors and conference rooms of golf's governing bodies about the need to bring the game into the 21st century. Nearing the close of 2016, it seems like these conversations have come several years too late for many clubs up and down the county, with many having already closed the pro shop shutters and mothballed the fairway mowers as golf's popularity wanes in the face of competition from less time-consuming, more family-friendly activities.
While there is no doubt that some venues, for whatever reason, were surplus to requirement – with their land worth more for housing than it was for golf – the loss of any golf club should send out a strong signal to all golfers that we should be spending less time seeing what our friends are up to on Facebook and more hours stretching our legs and our minds on the golf course if we are not to see more clubs go under, or be built over, in the near future.
The reasons for golf's declining popularity are many and varied, but among those that encouraged the owners of the Centurion Club to set up shop on the outskirts of Hemel Hempstead in 2013 was golf's failure to keep up to speed with the lifestyle demands of the modern member.
The lack of a genuine service culture, draconian dress codes, the endless tee time restrictions, and a diminishing pride in the presentation of golf courses and clubhouses – many of them worn down by years of under-investment – gave the team behind Centurion hope that a club that dared to do something differently could not only survive, but positively thrive.
Located a few miles west of St Albans, and just a few minutes from junction 8 of the M1, Centurion has shaken up the traditional private golf club model by offering a genuinely five-star members-only experience, while remaining both affordable, yet refreshingly unencumbered by the stuffy and elitist attitudes that many high-end private clubs insist on adhering to.
Providing a blueprint for how a golf club for the 21st century should be operated, Centurion has been open for the best part of three years now, and in that time has attracted a significant number of golfers from nearby clubs who have become disaffected with years of underinvestment and an inability to put the needs of the members first.
With Centurion's ethos, it will come as no surprise that you'll find no club captains or green committees here – and you'll certainly find no posters explaining the dress code (there isn't one), there is a refreshing absence of noticeboards. It's access all areas, with not a 'keep out' sign in sight.
While the 18-hole golf course – more of which later – has been open from the beginning, the clubhouse, as is often the case in new builds, came later. And after accommodating its off-course facilities in a small, but extremely well-appointed temporary building, the next and arguably, most impressive phase in the club's development saw the opening of a brand new clubhouse in July.
An impressive two-storey structure that spans the entire length of the large pond that guards the right-hand approach to the course's closing hole, the £5 million edifice is the icing on a particular appetising cake, the likes of which are no doubt being baked by the club's in-house chef, the Michelin-starred Jeff Galvin, whose eponymous restaurant, Galvin at Centurion, occupies a stunning spot on the ground floor overlooking the aforementioned final hole.
Jeff, along with his brother, Chris, have long been among the UK's most revered chefs, and their French-influenced restaurant portfolio has expanded to a dozen venues in many of the world's major cities, including two in central London: Galvin at Windows and Galvin La Chapelle.
A keen golfer and local resident, Jeff has taken the opportunity to spread his talents to a section of the catering industry whose reliance on 'pub classics' no long quite cuts the mustard when it comes to the demands of the discerning golfer. And while you can still get a damn fine bacon sandwich – on home-cooked bread, of course – in the relaxed surroundings of the upstairs bar before your round, downstairs in the more formal 80-cover dining room, the seasonally-changing menu offers a slightly more refined culinary experience.
And while it's undeniably fine dining, you'll find no foams, smears and emulsions here – just stunning ingredients treated with plenty of respect and a lightness of touch. Take away the view of the golf course, and you'll believe that you're in the swanky confines of a luxury hotel, rather than a golf club. Bring back the view, and it just gets even better.
Open for lunch and dinner seven days a week, the word about Galvin's talent is already getting out among the local foodie population – the bar and restaurant are also open to non-members – and pre-booking is already essential for Fridays and Saturdays.
It's a clever part of the clubhouse's design that it disguises its true purpose with such skill. All the golfing elements – the locker rooms and the golfer's bar and lounge – are located upstairs, tucked away from the more public spaces, while the ground floor wouldn't look out of place in a boutique hotel. Walk into the side entrance, and past the pro shop – which is also akin to a boutique emporium – and you'd be hard-pressed to know you were in a golf club at all. There are no endless rows of wooden noticeboards and not a silver trophy in sight. It's a light and airy space that moves seamlessly from one area to the next, feeling intimate, yet spacious, and above all, relaxed.
Elsewhere within the building there are separate rooms for private dining and conference spaces, although only members and companies with connections to the club are allowed to host corporate golf days here.
And while the main entrance at most clubhouses are often cluttered with a haphazard scattering of trolleys and golf bags, here, all of the accoutrements of golf, including a small buggy fleet, are hidden behind high stone walls – out of sight, yet close at hand.
The club's managing director is Scott Evans, a genial Scotsman who brings over 25 years' experience working in golf club management at the likes of Loch Lomond, Bearwood Lakes, London Golf Club and, most recently, Troon Golf Management, to the table – and he knows better than most what it takes to keep discerning golfers happy.
"Our plan from the outset was to create a club that rivals and goes beyond the very best for its quality, while getting rid of all the stuffiness and small-mindedness that permeates many traditional members clubs. You won't need a certain length of sock or type of trouser to play here, let alone a jacket, and we encourage all our members to bring their families and to treat it as their golfing home from home."
Evans adds: "Our aim is to focus on providing the very best facilities for our members, and let the reputation and standing among the golfing community evolve. The challenge has been to create a quality product worthy of our location so close to central London, and to be considered one of the finest available."
While the clubhouse is suitably impressive, the reputation of any golf club still quite rightly hangs on the quality of its golf course, and this is where the Centurion more than lives up to the hype.
While many courses state their claim to fame on a handful of good holes, it's as hard as it is unfair to single out any one hole at Centurion, given the quality and variety of the challenges on offer. Measuring 7,195 yards from the back tees, which play to a par of 72, the middle and forward men's tees take it down to a more manageable 6,850 and 6,555 yards respectively.
The layout begins in an attractive area of pine woodland on the western edge of the 250-acre site, where the opening five holes cut a green swathe through the tree line. A sweeping downhill right-to-left par five opens up proceedings nicely, before switching to a stunning par three, where a raised green provides a tempting, if often elusive target. This is followed by a superb 405-yard par four, which swings right to left, with a greedy bunker guarding the corner of the dog-leg.
After the beautiful par-three fifth – a 160-yard downhiller to a flat green with little margin for error on all sides – the course opens out over more rolling terrain, although thanks to sizeable mounds between the fairways, a sense of individuality is maintained for almost every hole. The 450-yard sixth is a really testing par four, with a big drive required to bring a flag that is hidden behind a raised bank into play, while the eighth introduces the first of four significant water hazards, although the toughest of them is probably the 12th, a 400-yard par four with a pond fronting the putting surface to catch under-hit approaches.
The 190-yard 14th is as testing a par three as you'll find, playing uphill all the way to a raised green that has trees back, right and left, and bunkers at the front, while the 150-yard 17th is another stunning short hole, with two trees standing like sentries behind the green, while water lurks to catch anything hit left.
The holes have all been given Latin names, such as Alma Mater, Pro Forma and Hydro, to reflect the Roman history of the local area, and the course closes with the aptly-named Ad Infinitum, a 545-yard par five whose green sits below the clubhouse. With the putting surface protected by a large lake bounded by a stone wall to the right, it's a fitting finale to a thoroughly entertaining round that will test all parts of your game.
Prepared to tournament specifications, the course offers all year-round playability, with arguably some of the best putting surfaces to be found anywhere in the country. Built on sand, the bent grass surfaces are like carpets – fast, true and firm, yet receptive to the right kind of shot.
Five membership categories are currently offered, including a limited number of founder 'Senate' memberships, seven-day memberships, as well as corporate, business, and international. These memberships are the only way to access the course, as visitors can only play as a member's guest.
"The different membership categories offer greater flexibility to suit each member's lifestyle," says Scott. "We want people to feel that it is their club, and they can come and go as they please. There are no tee times, no visitors, and the course will never be bunged up with endless inter-club matches. We have created a club that is already renowned for its friendly atmosphere and outstanding standard of service. We want to create a distinct 'wow' factor which ensures that once you've visited the club, you'll never forget it."
I, for one, certainly won't, and I believe there'll be plenty of others out there who will agree with me once they've had a glimpse of the way they do things at Centurion. As they say, it's all in the detail.
For membership enquiries, or to make a reservation for Galvin at Centurion, call 01442 510 520, email hello@centurionclub.co.uk, or visit www.centurionclub.co.uk.
Stay up-to-date: