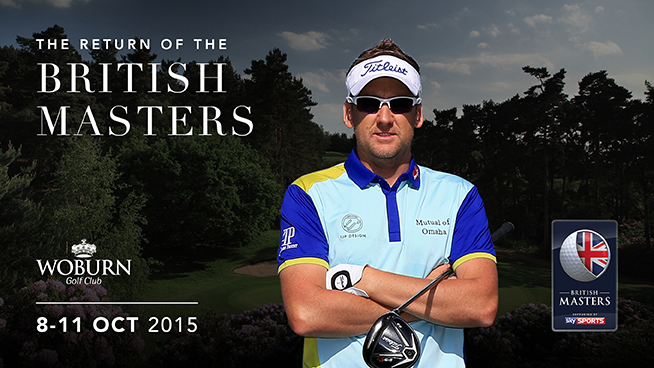 woburn and poulter to host British Masters in October
Featured News Tour News
4 March 2015
The British Masters is return to the European Tour schedule for the first time in seven years later this year, backed by the sponsorship of Sky Sports, and with a quartet of Britain's leading golfers rotating as the tournament host over the next four seasons.
Ryder Cup players Luke Donald, Ian Poulter, Justin Rose and Lee Westwood will each take it in turn to host the tournament, last played in 2008, and will help to select the venue each year.
First to assume the role will be 12-time European Tour winner Poulter, who will take the British Masters back to Woburn Golf Club – the club with which he has a long-term association – from October 8-11, increasing the number of Race to Dubai events on British soil this year to six.
It will be the 17th time that Woburn has hosted the British Masters, and the first occasion since 2002, the year that Poulter and Rose battled it out for the title, with Rose prevailing by a single stroke.
That contest took place over the Marquess Course, one of Woburn's three layouts, which will again host the tournament in October. The tournament will have a prize fund of £3 million.
Poulter said: "It is fantastic news that the British Masters is back on the European Tour schedule and I am proud and delighted to be bringing the tournament to Woburn Golf Club, which is obviously a place that means a great deal to me. British golf has been in a good place for a number of years now, with the success we have had internationally, and as players we have all been keen to get more tournaments on British soil, and in England in particular, so we are grateful to Sky Sports and The European Tour for helping to make this happen.
"As a young boy I dreamed of becoming a professional golfer, and being able to watch my heroes play the game inspired me to chase these dreams.  I am now passionate myself about encouraging young people to try to enjoy this game that I love so much, and I'm looking forward to working closely with Sky Sports and The European Tour on staging the British Masters at Woburn and making it an event that truly inspires young people.
"I know Woburn is going to be a great venue for a European Tour event having hosted the British Masters previously, and I'm sure the fans will come out and really support the event again."
Stay up-to-date: