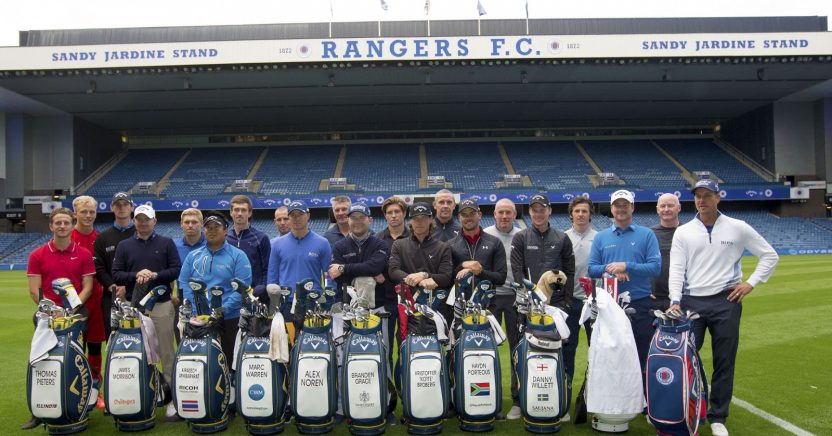 WILLETT'S ON TARGET AT CALLAWAY IBROX CHALLENGE
Club News Featured News
12 July 2016
Masters champion Danny Willett and world No.6 Henrik Stenson, and life-long Rangers fan Marc Warren were among a squad of Callaway Golf Tour staff who put in an appearance at Rangers Football Club's iconic Ibrox stadium last night (July 11), to take part in a special Par 3 Challenge ahead of the 145th Open at Royal Troon.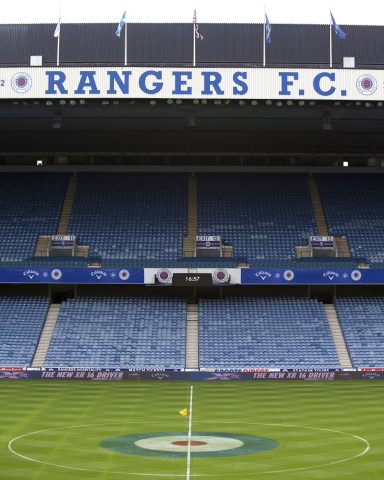 Rangers' big summer signing and 6-handicapper Joey Barton, manager Mark Warburton, and other Rangers stars were paired up with the golf pros to form two-man teams – taking on a special 118-yard shot from a lofty tee position built in the directors' box, aiming at a makeshift green in the centre circle.
Points were awarded for nearest the pin and, to bring in a football skill, the competitors then headed onto the pitch for a penalty shootout.
At the end of the competition, it was Willett and Barton that ran out as overall winners, by just five points, after Willett converted one of his two penalties and Barton netted both of his.
Match winner Willett, said: "You could say the pitch shot got me ready for Troon's famous 'Postage Stamp' 8th – almost exactly the same distance. It was great fun to partner Joey, even though I'm a Liverpool fan!"
Barton added: "As a huge golf fan, it's a privilege for me to be paired with Danny. I've followed his rise to become current Masters champion closely. He is a superb example of what can be achieved with hard work and total inner belief. Hopefully, as a squad, we can use his winning example going into the new season and, like Danny, go on to achieve great things."
Rangers Manager, Mark Warburton, joked: "This was certainly 'pre-season training' with a difference for our players. I didn't realise how good some of them were with a wedge in their hands, and how deadly some of Callaway's professionals were from the penalty spot! It was great fun and a pleasure to get The Open week off to such a memorable start."
Adding to this unique occasion, Callaway created one-off red, white and blue 'Rangers' versions of its Chrome Soft golf balls, and special footballs, both featuring the company's revolutionary Truvis technology.
Life-long Rangers fan Warren, added: "Taking part in this event was like a dream come true for me. I never thought I'd ever stand on the pitch and take a penalty at Ibrox, and I will remember this for a very long time. "
Footage from Ibrox can be found on by following @CallawayGolfEU and @RangersFC or accessed via a video at https://we.tl/KvcZ8Zbuc2
Stay up-to-date: