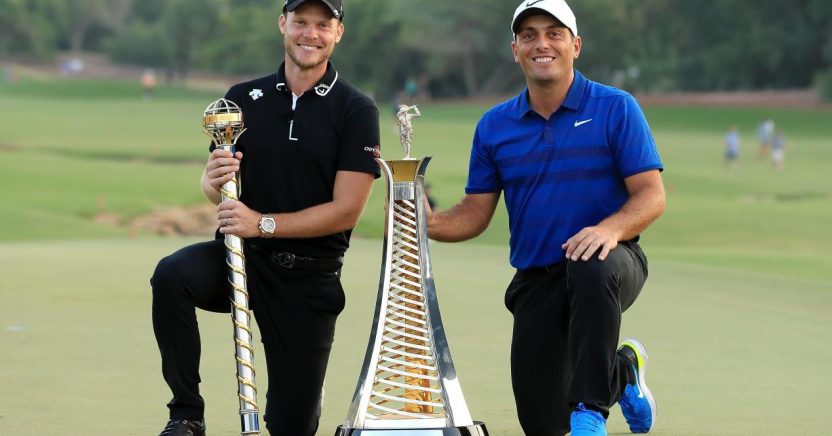 Willett wins DP World Tour Championship as Molinari tops Race to Dubai
News
19 November 2018
Danny Willett made a triumphant return to the winner's circle on a dramatic last day of the DP World Tour Championship in Dubai, the final event of the European Tour's 2018 season.
Willett, whose last win came at the Masters in 2016, made three birdies in his last five holes to get to 18 under par and finish two shots clear of fellow Englishman Matt Wallace and reigning Masters champion Patrick Reed, who took second place in the Race to Dubai rankings behind Francesco Molinari.
Willett made his major breakthrough at Augusta over two-and-a-half years ago, but when he arrived this week in Dubai that remained his last win after battling with injury and a dramatic loss of form. He missed five of his first seven cuts this season, but a tie for eighth at the Italian Open ignited his campaign and two more Rolex Series top tens followed before he claimed his sixth European Tour title number six on the Earth Course with a final round 68.
Willett, who moved comfortably back into the world's top 100 with the victory, said: "I'm pleased to have won the tournaments that I've won over the last few years, and obviously Augusta is always going to be special, but this win, coming on the back of everything that has happened this year, is the most pleasing from my point of view. I've not been in a position to challenge for a title for a long time, so to finish off those last five or six holes in the manner that I did is very satisfying."
He added: "At the back end of 2016, I picked up a couple of bad injuries, just as I was in prime position to win the Race to Dubai. For a long time after that my game wasn't in a good place, and I didn't really want to play golf. I just wasn't enjoying what I was doing, and I was in pain. Regardless of what would happened today, I'm now in a much better place than where I was. I knew that things were going the right way, and I was doing all the work possible to give myself chances to do this."
The tournament also saw Francesco Molinari wrap up the Race to Dubai title and be crowned European number one. After a stellar season that included a first major title at the Open, a Rolex Series victory at the BMW PGA Championship, and a record-breaking five points from five at the Ryder Cup in Paris, the 36-year-old Italian entered the final week of the season knowing that only a win by closest rival and great friend Tommy Fleetwood could deny him the money list title. Despite finishing 12 shots off the lead, Fleetwood's tie for 16th meant that Italy had its first European No.1.
Molinari said: "I'm relieved more than anything, to be honest. Clearly, I wasn't bursting with energy over the last few days, but I did what I could, and luckily it was good enough. I'm really incredibly proud to know that my name is going to be on that trophy with some incredible names."
He added: "I can't wait to go back and sit down and really relive the last few months. I'm not very proud of this week for the way I played, but obviously I will remember winning the Race to Dubai for a long time. It's just an incredible achievement. If I think back to where I was before Wentworth this year, if someone told me I would go on to win there, win on the PGA Tour, win The Open, and get five points at the Ryder Cup, I probably would have laughed. It doesn't sound real, but it's happened, so evidently I've done something right."
Photo credit: Getty Images
Stay up-to-date: