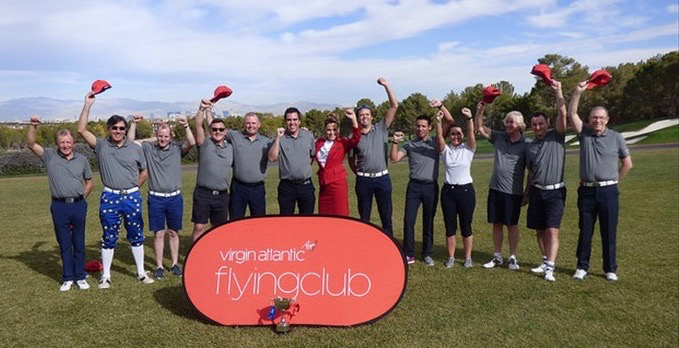 Virgin Atlantic Flying Club Swingers launches 16th Season
News
11 March 2019
Flying Club Swingers, Virgin Atlantic's hugely popular golf loyalty programme, returns this March with new partners and new competitions which are sure to bring much excitement to its 16th season.
Long-term sponsors Stewart Golf, Dirty Dog, SkyCaddie, Gleneagles, Blunt Umbrellas, Hertz, Level 4 Golf and GolfNews all return, providing amazing prizes and giveaways throughout the season. And this year they are joined by two new names.
First up is Titleist, which will not only supply balls and some amazing prizes, but will also be a partner for the Swingers Ambassador competition, giving Flying Club members an opportunity to win personalised staff bags, Pro V1 golf balls and more.
Also new for 2019 is premium clothing brand Glenmuir, which will provide collectable season goody bag shirts, as well as shirts for all our finalists.
This year's Flying Club Swingers grande finale returns to the UK for the first time in six years, as it heads to the North West coast this autumn to take on two of the UK's finest links courses – Open Championship venue Royal , and former Ryder Cup venue Southport & Ainsdale.
Each year, the lucky 24 qualifiers compete in a Europe v Rest of the World Ryder Cup-style contest. The final is, for most, unlike anything else they will have experienced in amateur golf. Captains, chosen from within each team, host team meetings each night, where pairings are announced for each day's play and tactics are decided.
Hearing their names read out over the PA on the first tee 'Representing Europe' or 'Representing Rest of the World' sends a tingle down the spine. Every putt and every shot is not just for themselves, but for their team and the players they represent at home who didn't make the final.
There's nothing like the pressure and excitement of the Swingers Final, as finalists get to play foursomes, fourballs and singles matches to decide the overall winners. By the end of the week, finalists have not only had a truly memorable experience, but they will also have made new lifelong friendships through their passion for golf and the Virgin Atlantic brand.
The Final is not the only opportunity for the Swingers members to get together this year, as there's a whole host of days planned, with visits to West Lancs in the north, Little Aston in the Midlands, and Walton Heath and Knole Park in the south. And, if players fancy getting some sun, there's also a very special day at Ballyowen Golf Club in New Jersey, USA, this August.
The Flying Club Swingers programme remains an incredible draw for amateur golfers around the world, and it's easy to see why with high quality events to attend, and a whole range of prizes to be won on the website each month. Register now to start your Flying Club Swingers journey, and if you're one of our first 150 Swingers to enter six scores, you will win a fabulous goody bag containing some fantastic gifts from our partners.
To join now, visit www.flyingclubgolfleague.com. To find out more about Virgin Atlantic, visit www.virginatlantic.com.
Stay up-to-date: