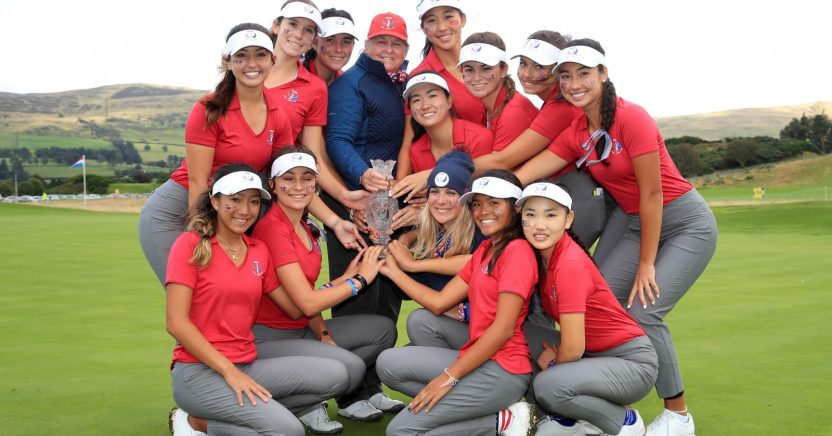 USA WINS PING JUNIOR SOLHEIM CUP
Featured News
11 September 2019
USA held off a spirited fightback from Europe to claim a 13-11 victory in the PING Junior Solheim Cup at Gleneagles.
The visitors took a 7.5-4.5 lead into Wednesday's singles session after drawing the foursomes 3-3 and then convincingly winning the fourballs 4½-1½ on Tuesday, and closed out the win when Brianna Navarrosa beat Mimi Rhodes 1up.
Earlier in the day, Hannah Darling, out first, grabbed a half point for Europe against Lucy Li, and wins for Annabell Fuller, Amalie Leth-Nissen and Pia Babnik, who birdied four straight holes to win 2&1, narrowed the gap.
However, Rose Zhang stemmed the tide in match two, and triumphs for Amanda Sambach, Briana Chacon and then Navarrosa took the USA to the all-important 12 points needed to retain the trophy, and Christine Wang made it 13 points when she beat Paula Shulz-Hanssen in match 10. Team USA has now won the PING Junior Solheim Cup four times in a row.
American captain Mary Bea Porter-King said: "'It was quite the victory, very close, it went up and down all day, they were ahead, then behind. I'm exhausted and I didn't hit a shot. I'm very proud of my team, there wasn't a whole lot I could do to help them, these young ladies are so talented, on both sides. I am so impressed to see the golf swings and how they play the game, which makes me feel good about the future of the game."
Mickey Walker, the European captain, said: "I'm incredibly proud of the European team. They're very, very talented and we've had a wonderful time here. It's been just amazing, one of the best experiences of my life. I think we were good enough to win, but we just missed out by virtue of a poor session in the afternoon yesterday. That's what did for us. If you took the singles as a standalone competition, we won today. But we knew we needed to get eight-and-a-half points and we came up just short. It's wrong to mention individuals, because we really are a team, but Pia Babnik is the first ever junior to play in this from Slovenia and beat Rachel Heck today – an incredible scalp. Rachel's one of the best American golfers and Pia is relatively inexperienced. The same for Lucie Malchirand beating Alexa Pano in the final match. So it augers very well for the future, and a lot of our team will still be young enough to play in two years' time."
Stay up-to-date: