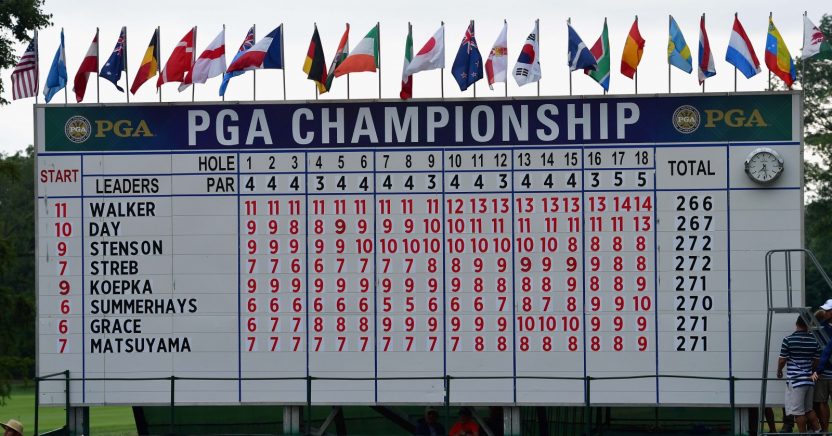 US PGA TO BE MOVED TO MAY from 2019
News
8 August 2017
The US PGA Championship, traditionally the season's final major, is to be moved to a new date in May from 2019.
The tournament, which began as a match play event in 1916, and only switched stroke play in 1958, has been contested in July or August every year apart from 1971, when it was staged in February. However, officials from the PGA of America and PGA Tour have been considering moving the Players Championship from May to its old March date, with the US PGA switching from August to May.
PGA of America chief executive officer Pete Bevacqua said: "It provides our PGA Championship a strong landing spot on the calendar and a consistent major-championship rhythm that golf fans can embrace. For nearly 85% of our membership, May is also on the front-end of the golf season."
Next year's US PGA, which marks the championship's 100th anniversary, is to be staged at Bellerive Country Club in Illinois, while the 2019 renewal is scheduled for Bethpage Black in New York.
The switch means that a major championship will take place in each month from April to July, with the Open Championship becoming the final major of the season.
The biggest benefit to the PGA Tour is being able to complete the FedEx Cup play-offs before the start of the NFL and college football seasons.
Moving to May would limit the available courses for the US PGA due to weather conditions, but going from last to second has obvious appeal to a tournament which has previously used slogans such as 'Glory's Last Shot' in an attempt to make a virtue of its place in the schedule.
The knock-on effect of the move has ramifications outside of the PGA Tour schedule, with the new May date forcing the European Tour's BMW PGA Championship to be moved from its traditional slot at the end of May to a new date in September from 2019.
Stay up-to-date: