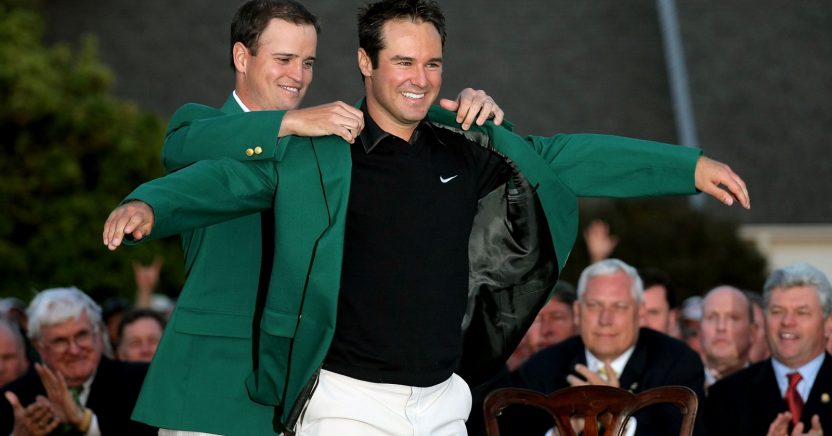 Taking a look at the biggest upsets in Masters history
News
1 March 2019
There's no two ways about it, winning the U.S Masters is often regarded as the pinnacle of a golfer's career. From Jack Nicklaus' six title wins to Tiger Woods' amazing record-breaking success in 1997, the world's best have all revelled in the glory at Augusta National.
But the Masters isn't just a platform for the strongest players to highlight their talents, as upsets are a regular feature and the 2019 edition promises to serve up a surprise or two. Naturally, this got us thinking about some of the biggest underdog stories at Augusta over the years, so we've compiled a list of the best upsets to get you in the mood for this year's first major.
Danny Willett – 2016
Three years ago, Danny Willett became just the second-ever Englishman to win the Masters but it was Jordan Spieth's collapse that was the main talking point. The defending champion looked to be cruising to a successive Augusta win, having a five shot lead with six holes left to play. Spieth's meltdown was one thing, but Willett sunk three birdies in the last six to complete a brilliant, yet unexpected victory.
Charles Coody – 1971
Two years prior to his 1971 Masters win, Charles Coody missed out on the Green Jacket by a whisker, but it wasn't going to elude him this time. The Texan wasn't heavily fancied by the gallery, but he let his golf do the talking, even holding off the challenge of Nicklaus who was two shots behind going into the last round. But it was another relative unknown who posed the biggest threat, Johnny Miller, but Coody held firm and won by two shots.
Trevor Immelman – 2008
South African Trevor Immelman created quite the fairy-tale story when he won at Augusta 11-years-ago. Just four months before the Masters, Immelman had surgery to remove a non-cancerous tumour on his diaphragm, yet quite literally romped home to the Green Jacket. Immelman was on fire during the first three rounds, carding 68, 68 and 69 going into the last. Although he didn't play as well during the last, his earlier work was enough to see off the challenge of Woods. Immelman hasn't come anywhere near winning another major which makes this win all the more special.
Herman Kaiser – 1946
The 1946 Masters was the first after World War 2 and saw an unlikely winner in Herman Kaiser. The Navy veteran almost missed his tee-time owing to it being changed without him knowing! Once Kaiser got underway, there was no stopping him. Favourite Ben Hogan provided a stern challenge to Kaiser but it wasn't to be after he missed a two-foot putt to force a playoff, thus providing Kaiser a shock win.
Larry Mize – 1987
Larry Mize's Masters' success in 1987 is arguably the biggest upset in pro golf, not just at Augusta. The relative unknown played the best golf of his career and ended up in a playoff with Seve Ballesteros and Greg Norman, who were at the height of their powers. On the first hole of the playoff, Ballesteros was eliminated which left Mize and Norman to battle it out.
The two ensued in a tense finale and Mize's second shot landed way off the green whereas Norman's shot put him into pole position. Mize then completed the most iconic shot in Masters' history, landing a 140-yard chip to clinch a birdie. Norman wasn't able to tie and Mize was left in a state of pandemonium. The Augusta-born local had achieved the impossible, and now you can pick out your own diamond in the rough with the US Masters 2019 odds  now available.
Stay up-to-date: