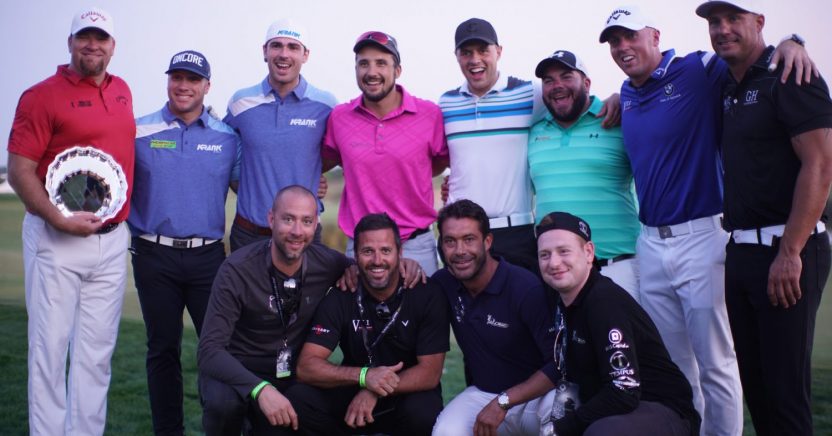 Reisbeck wins Long Drive World Series in Portugal
Featured News
26 September 2017
Ryan Reisbeck won the final leg of the Long Drive World Series at the Oceanico Victoria Golf Course in Vilamoura, Portugal, narrowly edging out Joe Miller to be crowned Portuguese champion. 
The action took place at the same venue which played host to this week's Portugal Masters, part of the European Tour.
Hundreds of spectators witnessed Reisbeck edge a close contest with a winning drive of 389 yards.
Prior to the hotly contested final, eight of the biggest hitters in the world battled it out, including Sweden's Emil Rosberg, Ilija Djurdjevic, Ryan Steenberg, Scott Bevan, Kevin Shook and James Tait.
The final four were made up of Reisbeck, Miller, Rosberg and Tait, with Reisbeck and Miller progressing to the final.
Following the win, Reisbeck commented: "I was very fortunate to come away with the win against such a strong field of competitors and at such a beautiful venue.  Portugal and the Long Drive World Series exceeded all of my expectations today. It was a great show for the fans and spectators and we look forward to coming back next year."
The longest recorded drive of the evening was 389 yards, achieved by Reisbeck himself in the final.
Runner-up Miller said: "It was another fantastic event and it was great to be associated with the European Tour. I thought all the boys put on a great show today and it was a good end to the season. I'm looking forward to coming back stronger again next year."
As well as watching the long drive action, members of the crowd in attendance on the day were invited to have a go at hitting the ball as far as they could, testing themselves against the pros.
Martin Westney, CEO of Long Drive World Series, said: "Once again it was a fantastic evening of adrenaline fuelled, fast paced long drive drama, right up until the last hit. We couldn't have asked for a better way to round off this year's Long Drive World Series. Congratulations to Ryan who fully deserved to win.
"2017 has been a hugely successful debut year for Long Drive World Series and we have been overwhelmed by the response from people who have taken to this new, exciting form of golf. We'll be confirming more details about the 2018 schedule in the coming weeks but I can promise one thing… it will be even bigger and better than 2017. We have some very exciting plans for the future."
Stay up-to-date: