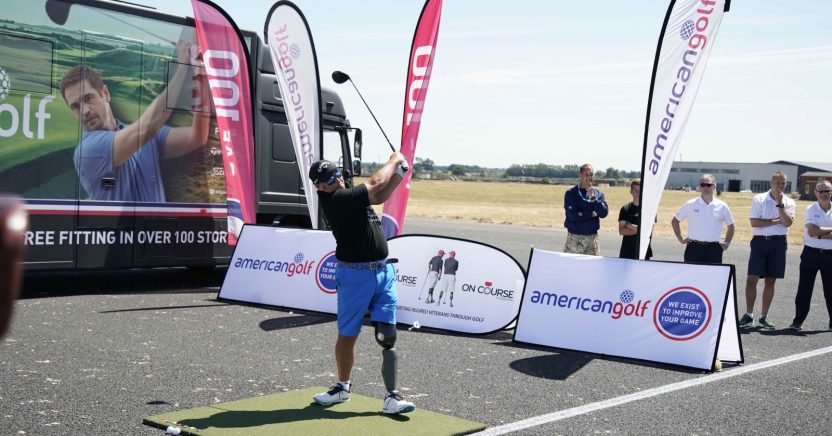 READY FOR TAKE OFF! STARS FROM THE AMERICAN GOLF LONG DRIVE FINAL RUN AWAY WITH NEW WORLD RECORDS
Featured News
6 July 2018
While the UK has been sweltering in record temperatures, there has also been some pretty hot driving taking place, with some of the stars of the UK Long Driving scene taking part in a special attempt to break some long-standing records with the benefit of the 900-yard runway at RAF Honington in Suffolk.
American Golf challenged some of the Long Drive stars who'll be appearing at its 2018 UK Long Drive Final this August to set various Long Drive world records, and in doing so help celebrate the anniversaries of On Course Foundation and the RAF.
First up on the temporary tee positioned at the end of the main runway at RAF Honington was On Course Foundation beneficiary and Gecko Tour player, Mike Browne (pictured above). Despite never taking part in Long Drive before, Browne, who is a single leg amputee, belted a staggering 564-yard drive using a Callaway Epic Driver to record the longest ever golf drive by a single leg amputee.
What is most remarkable about Browne's world record is that before his leg was amputated in 2013 he had never hit a golf ball. He commented: "I have never done anything like this before, so I can't believe how well I struck the ball! I was at my lowest ebb when I came across the sport for the first time with On Course Foundation. Since then it has taken me to some incredible places, and enabled me to do some amazing things, but setting a world record, whether it's official or not, has to be one of the highlights."
Using her Callaway Rogue Driver, current American Golf UK Long Drive champion Ilona Stubley hit an impressive 460-yard drive to set a new – unofficial – Long Drive world record for women. Since winning the American Golf UK Long Drive Championship last year Ilona has been training for the sport and her consistent performance today bears testament to that.
She commented: "I've worked really hard this winter to make sure that I am in great shape to defend my title at Chester Racecourse in August, so when American Golf invited me to try and set a Long Drive World record in the meantime I was obviously delighted to take part. It's been a fantastic day, and it was great to see everyone else perform, including the golf team from the RAF."
The biggest hitter of the day was Long Drive European Tour champion and American Golf staff member Matt Nicolle. He smashed his Callaway ball 657 yards, which is shorter than some of the unofficial records out there, but is the longest drive on a flat surface using conforming golf equipment, and will be submitted to Guinness for its consideration alongside the other two records.
All the records were documented and verified by independent adjudicators, including members of the RAF, who kindly donated their time and their runway as part of their own 100thanniversary celebrations.
Matt Bacon, Head of Events at American Golf, said: "It's been a pleasure to be here with the RAF and OCF. We can't thank them enough for arranging the loan of their runway, and for helping us collect all the evidence we need to submit the records to Guinness.  I can't think of more reliable witnesses, so we're confident the applications are in safe hands!"
Stay up-to-date: