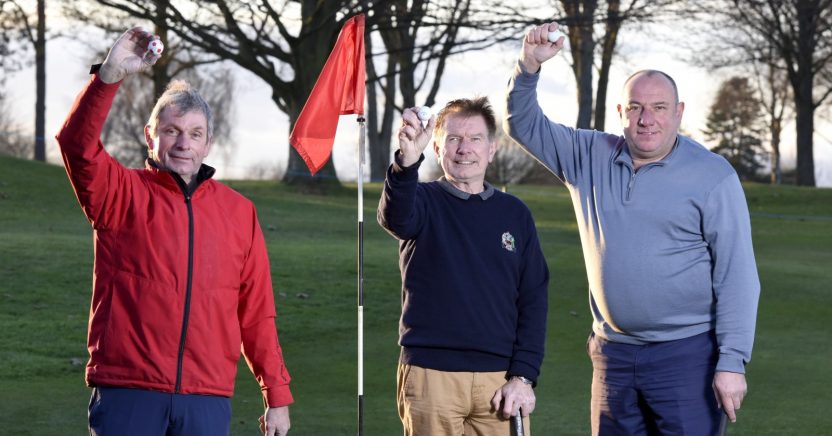 OXFORD GOLFERS CELEBRATE TRIPLE ACE AT THE LUCKY 15TH
Featured News
9 January 2018
The odds checkers were sent scurrying to their record books earlier this month when three amateur golfers bagged hole-in-ones at Oxford Golf Club on the same day, with two of the aces achieved consecutively in the same group on the same hole.
Michael Bidmead and Milos Bilic achieved their 17 million-to-one feat at the club's 201-yard 15th hole. Bilic teed off first, and struck his ball with a six-iron, but because the green is located in a dip, he was unable to see where his ball ended up. Bidmead then struck a six-iron straight at the flag, and similarly unaware of his feat, walked up the fairway after the third player in their group had taken his shot.
It was only when they reached the green that the group was surprised to find only one ball on putting surface. After a brief search behind the green, Bilic hesitantly walked towards the pin only to find not one, but two Callaway golf balls nestled at the bottom of the cup.
"I was buzzing," said Bilic, who plays off ten. "It's a bit of a blur, but we punched the air with delight, hugged and shook each others' hands. Some guys on the next tee, who saw it, came over and congratulated us."
He added: "I've been playing golf 18 years and it was my first hole-in-one. The following week I teed off on the 15th and ended up an inch away from the hole – it'll probably be another 18 years before I hit lucky again! It was the best shot I've ever played, but it's luck really – I should have got a lottery ticket that week."
Bidmead, who plays off seven, added: "We both hit our shots right at the flag, and knew we were close – but we didn't expect to see both our balls in the hole. "
Remarkably, it was Bidmead's tenth hole-in-one since he took up the game as a youngster in 1978. "This one was probably the best one – it was brilliant to share that magical feeling with Milos."
After completing their round, the pair went into the clubhouse to get the drinks in – only to discover that fellow member Alan Green had already been lining them up, having aced the same hole earlier in the day.
"The barman couldn't believe it when we walked in and told him," said Bidmead. "It's tradition at Oxford Golf Club to buy a bottle of spirits if you get a hole-in-one, and Alan had already got a bottle of whisky in by the time we arrived, although he had already left for the day."
Green, who also used a six-iron to tee off, said: "It was my first hole-in-one and I've been playing 38 years. I was delighted. A few of my friends have got aces and it is something you dream about, so it felt fantastic. When I went back to the club the following week, I couldn't believe it when some of the boys told me that Michael and Milos had also aced the 15th!"
Green was playing in a competition and won a £250 Hugo Boss watch for his hole-in-one. Bilic bought a bottle of port and the party at the 19th hole continued long into the evening. "We're still waiting for Michael to buy his bottle, we won't let him forget," said Bilic.
The trio has been the toast of the club since their astonishing feat. Stephen Nicholson, the club's general manager, said: "It's a really special achievement, and the boys have rightly been the talk of the club. A hole-in-one is what we all dream of, so to have three members achieve it on the same day and on the same hole will go down in folklore at Oxford Golf Club."
Stay up-to-date: