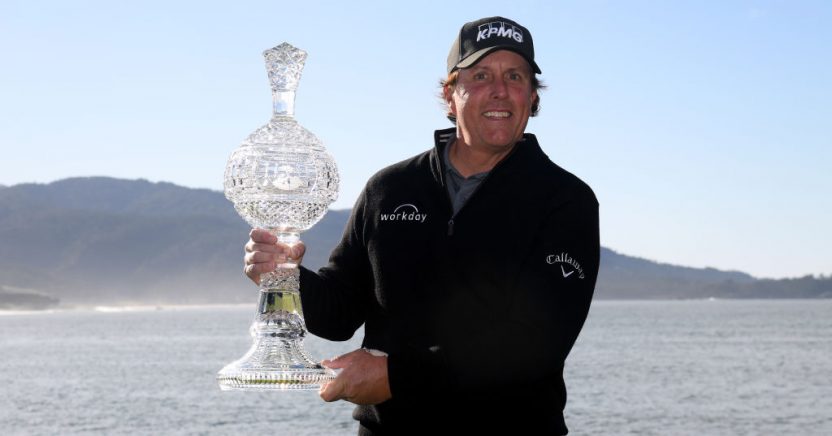 Mickelson bags fifth Pebble Beach Pro-Am title
News
11 February 2019
Phil Mickelson won the AT&T Pebble Beach Pro-Am for a record-equalling fifth time, closing out the tournament when play went into an extra day.
The 48-year-old American held a three-shot lead with two holes to play when fading light ended play prematurely on Sunday. He came back on Monday and birdied the final hole for a seven-under-par 65 to finish on 19 under par, three shots clear of Paul Casey.
The win, which was Mickelson's fifth in the tournament and his 44th on the PGA Tour, saw him become the eighth oldest player to win at this level.
"There are so many great players out here that it takes our best to win," Mickelson said. "But I think I'm going to have a real good year this year. The challenge is playing my best and that's a lot more work off the course. It's very gratifying to play some of my best golf on a Sunday and be able to catch such a good player in Paul Casey, it means a lot to me."
Reflecting on his recent form, Mickelson said many players saw their form drop off after turning 40 due to putting problems and a slowing swing speed, but he believes he has improved both aspects. "My putting is the best it's been and my swing speed is as fast as it's ever been I had a jump in swing speed of over 5mph in the last year. It's been a lot of work and a long process – nine months of hard work, a lot of time in the gym, but days like this make it worthwhile."
Casey held a three-shot lead over Mickelson at the start of the final round, but the five-time major winner made up the deficit with three birdies in the front nine and four more after the turn. Casey's final round 71 marked the fourth time that he has held the 54-hole lead at a PGA Tour event but failed to win. Casey had the consolation of winning the Pro-Am part of the tournament, after pairing up with Don Colleran, the executive vice president of FedEx, to win by two shots with a score of 34-under-par for 72 holes.
"There were some testing conditions out there on Sunday, and it was a bit of a battle," said Casey. "Phil played a phenomenal round of golf – seven under in those conditions is tough to compete with. Overall, my game has progressed a lot, and fruits of my labour are already showing."
Phil Mickelson's winning clubs
Driver: Callaway Rogue Sub Zero (9°)
Fairway Wood: Callaway Epic Flash Sub Zero (13.5°)
Utility: Callaway X Forged UT (3)
Irons: Callaway Epic Pro (4); Callaway X Forged 18 (5); Callaway Apex MB (6-PW)
Wedges: Callaway Mack Daddy PM Grind 19 (54°, 60°, 64°)
Putter: Odyssey Versa #9 White
Ball: Callaway Chrome Soft X (featuring Triple Track)
Stay up-to-date: