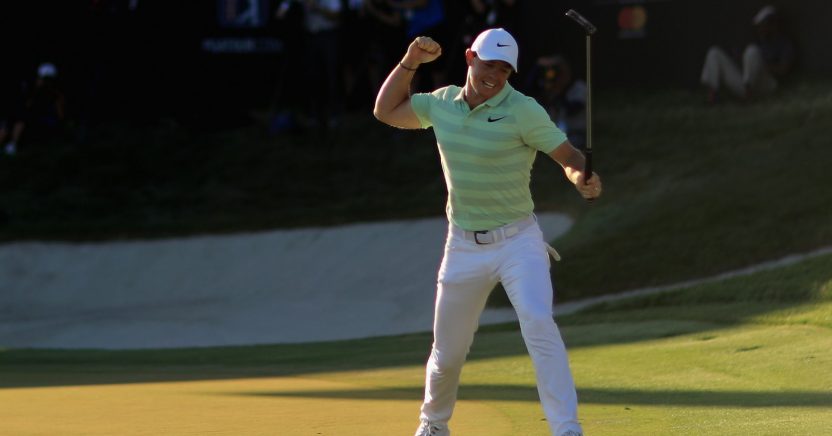 MCILROY HAS MASTERS IN HIS SIGHTS AS GRAND SLAM BECKONS
Featured News
3 April 2018
Rory McIlroy heads a strong contingent of British players who will be gunning for green jacket glory at Augusta this week, with the first major of the year just days away.
The 28-year-old Northern Irishman is the narrow favourite to win the Masters ahead of Justin Thomas, Jordan Spieth and Dustin Johnson, but the field is packed full of talented players capable of capturing the jacket.
McIlroy won his first tournament in 18 months when he landed the Arnold Palmer Invitational a fortnight ago, and he now looks set to dominate headlines in the build-up to the tournament. Justin Rose is a strong English contender, but do not write off the likes of Tommy Fleetwood, Paul Casey and Danny Willett.
McIlroy will be targeting a career grand slam in Augusta this week. He has already won the Open, the US Open and two US PGA Championship titles during his glittering career, and he just needs The Masters to complete the set. He has not won a major since 2014, but there are signs that he is returning to his brilliant best. McIlroy has regularly been labelled the most talented player ever, and luminaries such as Gary Player and Jack Nicklaus have heaped praise on him, but he has not delivered on his potential of late. If he can carry his strong recent form into a major, however, he will be a force to be reckoned with.
After winning the Arnold Palmer Invitational, he said: "It's huge for my confidence going into Augusta. I kept saying I didn't need a win going into the Masters to feel like I had a chance. Thankfully I've now got one."
The victory propelled McIlroy back into the top 10 in the world, and it is telling that he is ahead of world number one Johnson and several other superstars in the betting to win The Masters. Make sure to check the top Betting sites for the latest odds and you will find McIlroy as low as 7/1 and 8/1, while Johnson is 11/1, Thomas is 12/1 and Spieth – who has a superb record at Augusta – is 12/1.
Another couple of names stand out in the betting. Tiger Woods, who has made a long-awaited comeback to form and fitness, and Bubba Watson, who is enjoying a magnificent resurgence this year. But Olympic gold medallist Rose will also be a huge threat to McIlroy's chances of completing a career grand slam this week. The Englishman is up to fifth in the world rankings, two places ahead of McIlroy and behind only Johnson, Thomas, Jon Rahm and Spieth, and he has been supremely consistent over the past year.
He has been making similar noises to McIlroy regarding his confidence ahead of the big tournament. He came within inches of winning this tournament last year, only to lose a tense playoff against Sergio Garcia, after they could not be split in four rounds.
"After last year it was important to be on site before I have to compete there again, and get that first walk out of my system and remember the shots that were hit, what could've gone better, where things could've changed," said Rose said. "That was something I needed to do. There's not one blade of grass there that was there last year. It's a fresh body of work and that's how I'm going into it. I'm playing much better."
He added: "I was trending nicely 12 months ago, was going through the gears slowly, and obviously began to peak at Augusta, which was lovely. But now I'm more confident and definitely putting better.  I'm where I want to be, knowing I'm going in as one of the favourites, and it's my time really to do it."
Fleetwood has been on an upward curve of late and he is an intriguing long shot to gain a first major at Augusta this week. Willett, the 2016 Masters champion is all the way out at 300/1 to win it again following a recent drop in form, but those odds could prove tempting. But Casey could be an even more appealing prospect.
The 40-year-old Englishman has never won a major, nor has he ever been in serious contention on day four, but he has finished in the top six in each of the last three years at Augusta, so his pedigree is impeccable. Mark O'Meara won for the first time here aged 41, and Nicklaus won it at 46, so late bloomers have enjoyed success here, and Casey could join that elite group.
Stay up-to-date: