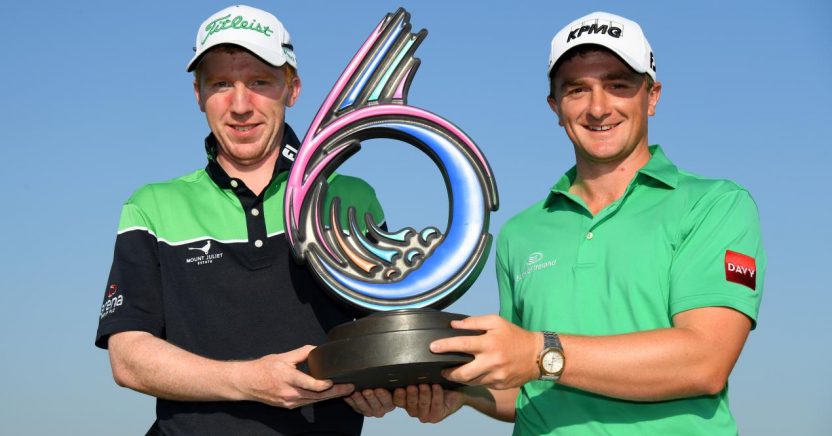 IRELAND MARCHES TO GOLFSIXES GLORY AT CENTURION
Featured News
6 May 2018
Ireland won the European Tour's GolfSixes tournament held at Centurion Club in Hertfordshire after Paul Dunne and Gavin Moynihan defeated the French team of Mike Lorenzo-Vera and Romain Wattel 2-0 in the final match on Sunday.
The St Albans venue was bathed in glorious sunshine over the weekend, as over 10,000 fans came to witness the second staging of the six-hole format of the game. This year's renewal saw women's and mixed sides join the 16-team field, with the England Women and European Women's teams both making it through to Sunday's knock-out stages.
Ireland met the England women's pair of Georgia Hall and Charley Hull in the quarter-finals, defeating them 2-0, and then secured their place against France in the final after defeating South Korea in a sudden-death play-off, with Moynihan chipping in from off the green after the teams finished their semi-final 1-1.
Ireland were birdie or better on 12 of the 17 holes they played on Sunday, after finishing top of Group C. In fact, the only match Dunne and Moynihan lost all week was to the French team in Saturday's group stage.
The Irish pair – who played together in the victorious 2015 Walker Cup team – started quickly in the final, winning the first and third holes to forge an early 2-0 lead, which the French were unable to pull back.
Dunne claims his second victory on English soil in the last seven months, after winning the British Masters in October, while it was Moynihan's first victory since joining the European Tour in 2016.
In the third/fourth place play-off, the South Korean pair of Soomin Lee and Jeunghun Wang birdied the second, fourth and fifth to beat Australia 3-0. Sam Brazel and Wade Ormsby had earlier beaten European Women 2-0 in the quarter-finals, with South Korea beating Thailand 2-1. England's men's team of Eddie Pepperell and Matt Wallace also went out at the quarter fina stage, losing to the French pair 2-0.
Dunne said: "Apart from the group match against France, I think we were three-under or better in every match through six holes. We just played really solidly all week. Gavin was hitting some amazing iron shots, and obviously the pivotal moment for us was him chipping in on the playoff against the South Koreans. But I'm not surprised, anybody who Gavin through amateur golf knows he chips in at least once a round.  He was due one. It's a fun event, but when we have the tricolour besides your name, it becomes a little bit more serious. So we're happy to represent Ireland well, have a nice trophy under the belt, and kind of sets well to kick on for the rest of the season."
Moynihan added: "We know each other's games so well, and we're comfortable with each other. So we had kind of had a game plan coming in, and the course set up well for us, I think. It was the best fun I've had on the golf course since I've turned pro.  It was honestly a great few days."
Stay up-to-date: