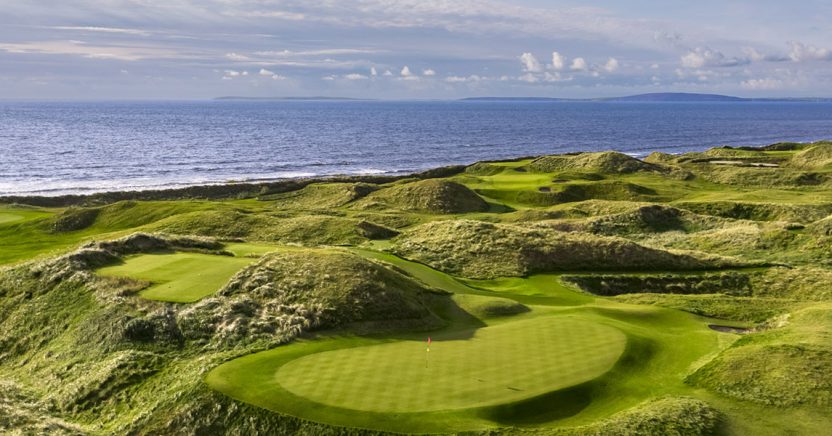 IRELAND: A SAFE BET FOR A GREAT GOLFING BREAK
Featured News
6 January 2020
If you're looking for top quality golf and hospitality to match, there's nowhere else to go but Ireland, says Nick Bayly
With over 400 courses to choose from, including a third of the world's natural links, and a selection of exceptional layouts in some jaw-dropping locations, it's no wonder that Ireland has long been one of the most popular golf holiday destinations in the world.
Although just a 50-minute flight from London – or two hours across the Irish Sea if you're travelling by ferry from Holyhead – Ireland, both Republic and Northern – is a world away in almost every respect.
Blessed with a gentler pace of life that is uniquely suited to getting in the holiday mood, yet possessed with an intoxicating party spirit that is hard to resist, Ireland is my kind of place, and you don't need to be a lottery winner to enjoy or afford its many charms.
Golf's a serious business in Ireland, and there's some seriously good golf to be enjoyed within its 85,000 square miles. From the fabulous links layouts on its Wild Atlantic Coast and along the North East coast, to the parkland gems around Dublin, Ireland ticks all the golfing boxes. And they're all within easy reach – as you can drive the entire length of the island in eight hours, given a fair wind and not too many tractors.
While a carefully-planned itinerary, with pre-booked tee times, hotels and restaurants is all but essential for those playing the top courses in the peak summer months, there's also a lot to be said for a less structured trip when playing out of season, where the flow is gone with, and you let the craic be your guide. This more laissez-faire attitude might result in you stumbling across those hidden gems that don't appear in all the top 100 lists, and discover what golf in Ireland is all about.
Flying into Dublin, your first port of call should be Portmarnock, where Bernard Langer's Portmarnock Links track always kicks off a golf trip in the best possible way – especially if you've booked a room in the five-star hotel that overlooks the course. After taking a peak at Padraig Harrington et al practicing at the K Club, chose from The Island, Druid's Glen and Co Louth, all of which are within an hour's drive of the capital.
Steer north and two masterpieces await which are likely to define your visit. At Royal County Down, Old Tom Morris broke ground first in 1889, followed with changes by Harry Vardon and Harry Colt in the 1920's. It is easily an Open-calibre layout, with groves of gorse and heaving dunes set before the most magnificent of backdrops, the Mountains of Mourne.
Continuing north, you will come to Royal Portrush, the only course in Ireland to have ever hosted The Open, which it did in 1951 and again so impressively in 2019, when Ireland's very own Shane Lowry lifted the Claret Jug in front of record-breaking crowds. Sharing a 25-mile stretch of the dramatically-duned North Antrim Coast, clubs Portstewart, Castlerock and Ballycastle are also all longstanding favourites in the area.
Those in search of fewer Americans and more Irish should consider turning left on leaving Dublin and strike out to the South East, where the delights of Faithlegg, Waterford Castle, Tramore, Mount Juliet, The European, Druids Glen and Powerscourtare located.
Faithlegg is a good place to start a week of holiday golf, as it is testing but not severe. Designed by Irish architect Paddy Merrigan, it runs alongside the River Suir and includes five lakes. The course is characterised by tricky doglegs and blind tee shots but has generous fairways. The greens are large, and in some cases severely contoured, so two-putts are by no means a given.
The most noticeable thing about Waterford Castle is its setting. It sits on an island and can only be reached by ferry. The course was designed by Des Smyth, opened in 1992 and features a number of changes in elevation – in other words, it's hilly. Some of the views from the higher parts of the course are beautiful and, after climbing to a few of the tees you might be grateful to spend a few moments taking in the sights and getting your breath back.
Here too, just two hours from Dublin is Mount Juliet, former host of the WGC-American Express Championship. Designed by Jack Nicklaus, and opened in 1991, Mount Juliet offers a challenging test that nevertheless is playable by virtually all standards of golfers. A relatively innocuous start quickly leads to some of the best holes you are likely to play anywhere in the world. After a round find time to play the club's infamous 18-hole putting course, which offers wicked slopes and a lot of fun. No matter how good a putter you are, to break par involves skill and luck in equal measure.
Fly into Shannon airport, on the west coast, and you've got two of the finest links course known to man, Lahinch and Doonbeg, less than an hour and a half away.
Ireland is not short of world-class links courses – it provides 60 of the 150 in the world – but it had to make room for another following the opening of Doonbeg in 2002. Greg Norman's grand design in County Clare has achieved universal praise from the lucky few who have had the chance to play it. Nestled amongst a narrow crescent of rugged sand hills around the rim of Doughmore Bay, the course is protected from the worst of the Atlantic winds by the towering dunes. It looks and plays like it has been there for a hundred years, with fairways pitching and rolling with every rumple of the earth. The green contours are also designed  'as the land lies' and the bunkers are hand-dug, with some edged by tall layers of stacked sod, others by shaggy tufts of native grass. The result is a genuine Irish links of unexpected breaks, unanticipated results and undeniable thrills.
Proceed south and look forward to Ballybunion, one of Ireland's most beloved layouts played through some of the most dramatic dunes in links golf, plus Palmer's gem at Tralee, the Killarney Golf and Fishing Club, and recently restored Waterville, which has been remodelled by Tom Fazio, who has doubled the character of an already treasured links.
This path also leads to Old Head, several hours east on Ireland's southern coast. There is no more spectacular setting in the game than this 220-acre headland perched hundreds of feet above the Atlantic on nearly every side. You are now in line to visit the Waterford Crystal factory, which it is well worth the two-hour tour as you make your way north en route to The European Club.
Should you prefer roads less travelled from Shannon, you will find none to match those that lead to the sensational links courses in north west Ireland. The collection of Connemara, Carne, Enniscrone, Rosses Point, Donegal, plus Ballyliffin's Old Course and Glashedy Links stand as tall as any in the entire British Isles.
It's safe to say that whichever part of Ireland you chose to visit, and which ever courses you decide to play, be they championship layouts or less exalted, but equally enjoyable venues, will provide lasting memories, and if you're very lucky, a little bit of that Irish luck might just rub off.
Stay up-to-date: