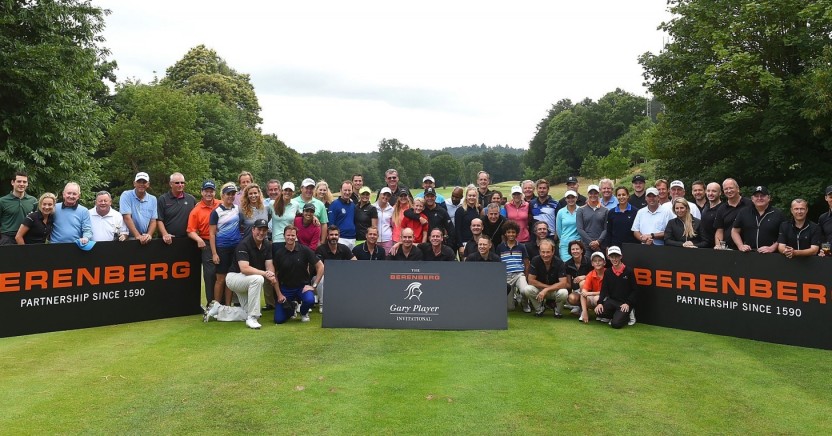 gary PLAYER's charity day at Wentworth raises over £150,000
Featured News
22 July 2015
Despite the absence of Zach Johnson, who was busy trying to win the Open Championship at St Andrews, Wentworth's West Course was awash with golfing stars on Monday July 20, when Gary Player played host to the Berenberg Gary Player Invitational at the famous Surrey venue.
The Black Night was joined in the charity event by a host of major winners, including Tom Watson, Ian Woosnam, Tom Lehman, Sandy Lyle and Mark Calcavecchia, while leading European Tour players Robert Rock, Oliver Fisher and George Coetzee all changed their schedules at the last minute in order to ensure a full field.
The over-running of the Open at St Andrews sadly resulted in a big group of pros being forced to miss the event, with all three players who contested the playoff – winner Zach Johnson and runners up Marc Leishman and Louis Oosthuizen – absent from festivities. Other players held up by events in Scotland included Padraig Harrington, David Howell, Hunter Mahan, Charl Schwartzel and Mark O'Meara.
Player, who turned 80 earlier this year, has been celebrating the 50th anniversary of his career Grand Slam this season, whilst title sponsor Berenberg celebrates its 425th anniversary. The golf day, which included a gala dinner and auction, helped to raise over £150,000 for DepaulUK, a charity that works to prevent youth homelessness.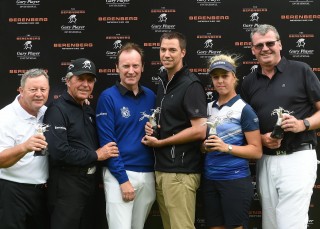 The winner of this first leg of the global invitational series, was the team led by Ian Woosnam, which also featured rookie Ladies European Tour player Georgia Hall, and amateurs James Grigg and Robert Baur (pictured)
Speaking after event, Player said: "I am really thrilled about what has happened here today. The support we have received by all our participants, as well as some of the world's leading golfers, celebrities and businessmen, is out of this world despite the dramatic challenges from this year's Open Championship. I send my personal congratulations to Zach Johnson, who was due to play with us today. It's the only excuse I would have accepted from him for missing our event! I feel very humbled by everyone's efforts in such a special year for the event and I am delighted about the money raised."
Stay up-to-date: