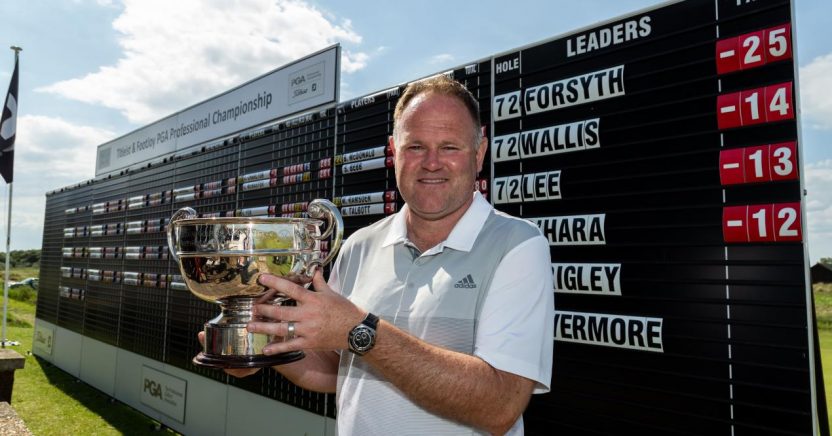 Forsyth trounces field at Titleist & FootJoy PGA Professional Championship
Featured News
21 June 2019
Former European Tour player Alastair Forsyth outclassed a strong field at the Titleist & FootJoy PGA Professional Championship at Hunstanton, winning by 11 shots and recording the lowest winning total in the tournament's history.
The Scot, who is attached to Mearns Castle Golf Academy in Glasgow, had begun the fourth and final round 11 shots clear of the field and that margin of victory at the end after he signed off with a 68 for a 72-hole total of 263 – 25 under par.
It was the lowest total posted since the tournament began in 1973, eclipsing the previous best of 268 carded by Little Aston's Brian Rimmer at Northop County Park in 1997.
"I slacked off a wee bit today!" said Forysth, who recorded to wins during a 15-year career on the European Tour. "It's been a great week, but it was a strange experience having a lead like that at halfway and with a round to go. Today was probably the easiest final round I'll ever play. I can't think of ever having a winning margin such as this in any tournament of this magnitude."
Forsyth, who dropped only two shots in four rounds, attributed his success to a liking for a course that suited his game and almost unerring precision with his irons. No matter where his ball landed off the tee, it was as though his approach shots were radio-controlled.
"Sometimes a course fits your eye," explained Forsyth, who qualified as a PGA Professional last year. "I was looking forward to playing the course because I'd heard a lot of good reports about it. I played it for the first time in a practice round on Monday and really enjoyed it.
"My long game has been solid for a couple of years now, and if you stay out of the bunkers and keep to the fairways there are good opportunities to score. My iron play was the real key and from there it was just a case of trying to get the putts in. Obviously on the first two days especially, I managed to do that very well."
In addition, to claiming the £10,000 winner's prize and booking his place in the GB & Ireland PGA Cup team that will tackle the USA in Texas in late September.
The race for the runner-up spot was filled by Canterbury's Richard Wallis, who posted a closing 65 to finish on 14 under par. Scotland's Craig Lee also finished with a 65 to take third, while there was a three-way tie for fourth Paul O'Hara, Jason Levermore and Alex Wrigley.
Stay up-to-date: