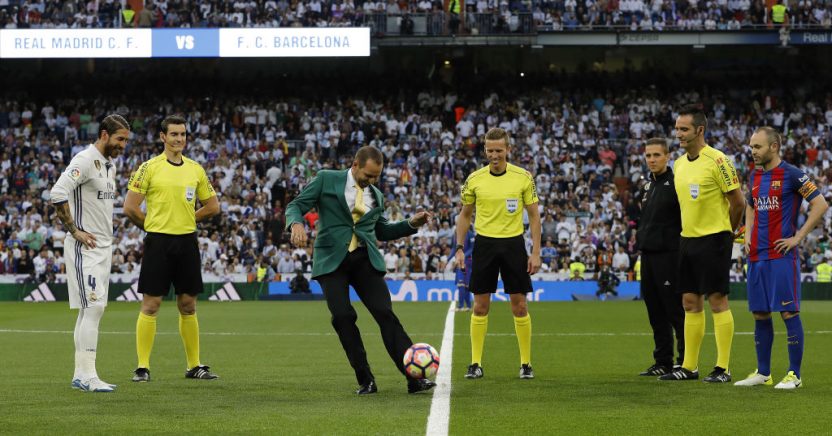 FOLLOWING THE FAIRWAYS AND THE FOOTBALL LEAGUE
News
6 March 2018
The worlds of professional golf and professional football have always enjoyed a close association, with many top footballers enjoying a relaxing round during the summer holidays or during mid-season breaks to luxury golf resorts. And while pro golfers might enjoy the odd five-a-side kickaround with their mates, their love of The Beautiful Game is often limited to catching with up with matches on Sky Sports in between tournament rounds.
However, many top golfers take their footballing allegiances much further, sitting in the stands and cheering on their favourite team whenever their schedule allows, or in some extreme instances, even turning out for their team.
Rory McIlroy, who is a season ticket holder at Manchester United, is such a big Reds fan that he got booed by Liverpudlians after winning the Open Championship in 2014 at Hoylake. He made the mistake of revealing his footballing allegiance at the start of his acceptance speech – not a great idea when you're playing a golf tournament just a few miles from Anfield!
The likes of Manchester United and Liverpool aren't just football clubs, they are global institutions. The Unibet Premier League fan base website demonstrates just how many fans the Red Devils have in South America and Africa, for instance.
Ryder Cup star Ian Poulter is a self-confessed Arsenal fan, and followers of his Twitter feed will be in no doubt about his feelings about manager Arsene Wenger's recent run of form. Poulter is often seen on the golf course wearing Gunners-branded clothing, and his on-course celebrations are every bit as energised as when Alexandre Lacazette finds the back of the net. So, when EurAsia Cup skipper Darren Clarke presented Poulter with a Spur's shirt for his birthday, you can understand his explosive reaction.
Fellow Ryder Cup Sergio Garcia is also a massive football fan when he's not masterminding major victories. He's a huge Real Madrid fan, and was lucky enough to be given the honour of performing the honorary kick-off at the Bernabeu stadium in the last's year's renewal of El Classico against Barcelona.
Like many football fans, Garcia supports teams in different leagues, and his allegiances are split between Real and his local non-league side, CF Borriol, of which he is club chairman. Garcia even donned the Borriol strip to play on the left wing in a match about eight years ago.
Former US Open champion Justin Rose is another big footy follower who has supported Chelsea for many years. He formed a close friendship with former Chelsea skipper John Terry, who gave the Rio Olympic gold medallist a tour of the Blues' Cobham training ground where he met many of the squad.
Stay up-to-date: