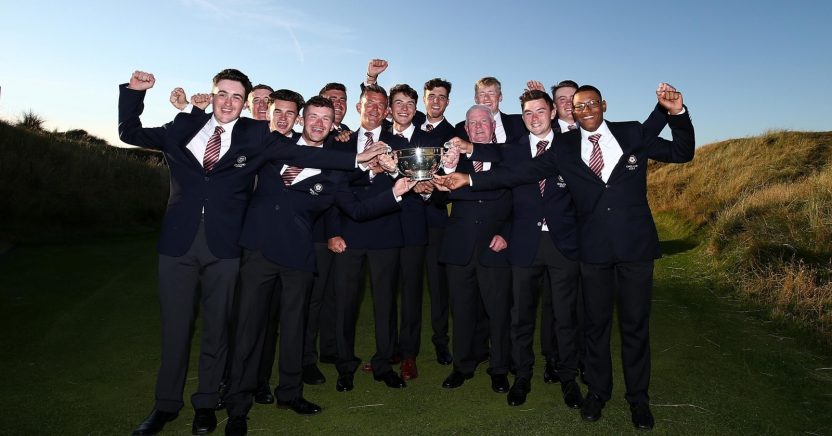 ENGLAND WIN BOYS HOME INTERNATIONALS
News
11 August 2017
England were crowned the 2017 Boys Home Internationals champions after winning all three matches against Ireland, Scotland and Wales at St Annes Old Links in Lancashire.
Team captain Derek Hughes' side successfully defended the trophy which they won at Ballyliffin in Ireland last year, and England have now won the under-18 team event 16 times since 1996.
An English victory was sealed during the final morning foursomes' match against Scotland when they took a 4-1 lead, while Wales, who had held a slim chance of catching them, lost their foursomes against Ireland by the same margin.
Despite the main prize having gone, Scotland restored some pride in the afternoon singles, which they won 6-4, although narrowly losing the contest 8-7 overall.
Scotland got their first singles point on the board when Callum Bruce beat Ben Jones 4&2. Bruce, who had had to miss Wednesday's play with a stomach upset, was three up with three to play when he hit a 6-iron to 4ft at the short 16th.
Jones was in an awkward lie in a greenside bunker, splashed out over the green and when he missed his chip, conceded the hole and the match.
Toby Briggs beat Darren Howie 2&1 to level the afternoon's proceedings for England and Charlie Strickland beat Eric McIntosh by one hole, having been four up with five to play, to put his side ahead. Then Alex Fitzpatrick extended the lead with a 4&3 victory over Greg Dalziel.
England's Joe Pagdin and Robin Williams, who both went into the final singles with five wins out of five under their belts, both had their 100 per cent records broken when they lost on the 18th by one hole as the Scots fought back. Pagdin was beaten by Jack Broun, while Williams fell to 13-year-old Calum Scott, who was chalking up his fifth victory in six matches.
Conor Gough, England's youngest player at 14, beat another Scot, 13-year-old Aidan O'Hagan, 3&1 to put the host nation 4-3 ahead but then Scotland won the last three matches of the afternoon: John Paterson beat Jack Cope 4&3, Marc Watt beat Thomas Plumb 3&2 and Lewis Irvine beat Harry Goddard 2&1.
Ireland finished on a high against Wales winning six of the ten afternoon singles and the match overall 10-5.
Stay up-to-date: