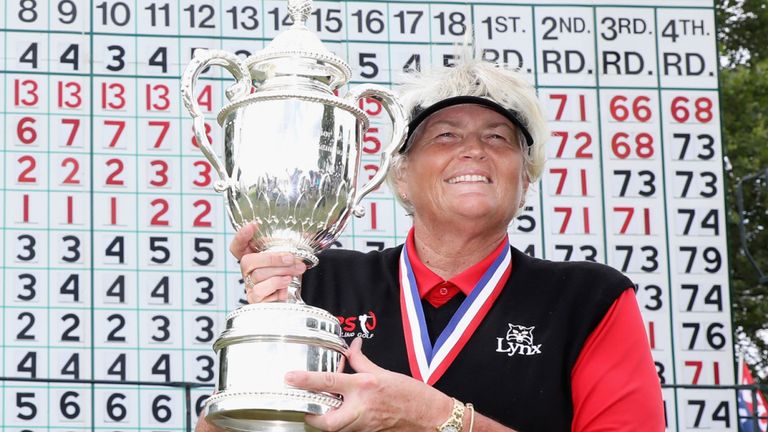 DAVIES WINS US SENIOR OPEN BY TEN
Featured News
16 July 2018
Dame Laura Davies won the inaugural US Senior Women's Open after a dominant display at Chicago Golf Club in Illinois.
The 54-year-old from Surrey held a five-shot lead heading into the final round, and her advantage was never threatened as she extended it to ten with a five-under-par closing round of 68.
Davies avoided the trouble her main rivals found on Sunday, making five birdies in a bogey-free round to close on 16 under, well clear of nearest challenger Juli Inkster.
Inkster finished with a 73 to claim second ahead of Davies' former Solheim Cup team-mate Trish Johnson, who was the third of only four players to finish under par across the 72 holes.
Danielle Ammaccapane was the fourth of those, but she was some 15 shots adrift of runaway champion Davies. Sweden's Helen Alfredsson and Liselotte Neumann shared sixth place on three over.
"It's great, seeing this thing paraded down for the very first time," she said of the trophy. "And I get my name on it first. You know, this championship will be played for many years, and there will only be one first winner. Obviously quite a proud moment for me to win that."
Only two other players finished under par — Trish Johnson of England, who was third at four-under 288, and American Danielle Ammaccapane, at one-under 291.
Both Davies and Inkster have remained active on the LPGA, playing 12 and nine events, respectively, this year. But only Davies has been competitive, having tied for second in the Founders Cup and losing to Inbee Park, No. 1 in the Rolex Rankings. Inkster has missed the cut eight times.
Davies was now won 85 professional tournaments around the world, but this was her first since 2010. Inkster, meanwhile, has four Legends Tour victories, her most recent win coming last year.
"I haven't won for eight years. The pressure you're playing under when you're trying to just do something for yourself, prove to yourself you can still win, this ranks highly up there," she said. "And obviously because it's a USGA event, it's hard to compare tournaments, but this is very high on my list of achievements, I can assure you."
Stay up-to-date: