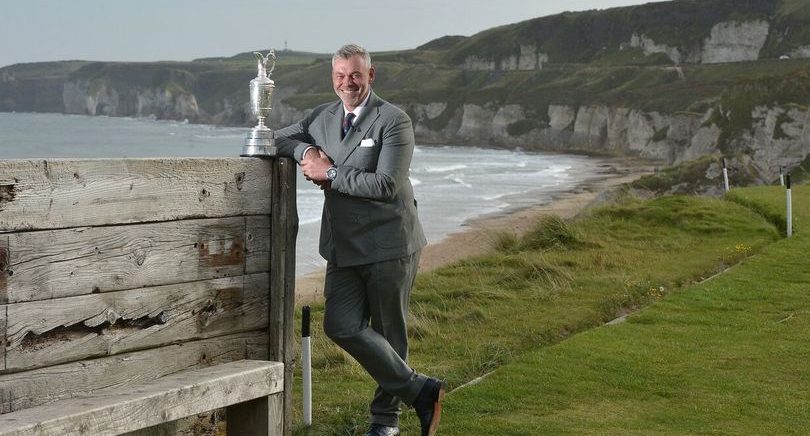 Countdown to Open at Portrush tees off in Belfast
News
4 February 2019
The countdown has well and truly begun to one of the most eagerly awaited events on this year's sporting calendar when The Open Championship makes a historic return to Northern Ireland after a near 70-year absence.
The 148th Open will be played at Royal Portrush, in County Antrim, from July 14-21, 68 years after it was last held at the world-renowned course in 1951, when Max Faulkner became Champion Golfer of the Year. Such has been the interest in this year's tournament that all four championship days are already sold out, with only practice-day tickets remaining.
And to help celebrate the 2019 Open, stars of sport, screen and culture gathered in Belfast at the award-winning Titanic Belfast experience last week to mark the opening of a spectacular year for Northern Ireland.
Over 400 guests, including legendary golf commentator Peter Alliss and record-breaking champion jockey Sir Anthony McCoy were treated by Tourism Northern Ireland to an impressive combination of vibrant sports, arts, culture and tourism talent to celebrate the arrival of 2019.
Allies made his debut in the championships at Royal Liverpool in 1947 at the age of 16, but he failed to qualify. Speaking at the launch he recalled: "I was only 20 when I played at Portrush and had just finished my national service in the RAF regiment. My brother was my chaperone, and I have no idea how we got here or where we stayed. But I do know that I opened up with a 69 and thought, 'This is a wondrous place, I love the sand dunes and the sea. I'm having a glorious time. Then my brother and I went to a little dancing place near Portrush, and we met two girls there from Hertfordshire who were on holiday, and we had a very quiet, lovely evening. Somehow or other I took 87 the next day and didn't qualify, but the memory will stay with me forever."
R&A chief executive Martin Slumbers said: "This July in excess of 190,000 people from around the world will experience first hand the thrill of one of the world's greatest sporting events, the 148th Open. Combined with an expected worldwide TV reach of 600 million people, they will see the golf, Northern Ireland's glorious coastline, and hear stories of its people
"We have seen unprecedented demand for tickets which has led for the very first time to all four championship days being sold out.  That this has happened so far in advance is testament to the excitement about the Open that is so obvious every time I come here."
As part of the evening, the specially commissioned 'We've Come A Long Way' film was premiered at the celebration – a short film set to an original poem written by County Down poet Paul Matthews. To view the film click here.
For more information on the 148th Open Championship and to buy tickets, click here. Or for further details about playing golf in Ireland, visit www.ireland.com/golf.
Stay up-to-date: