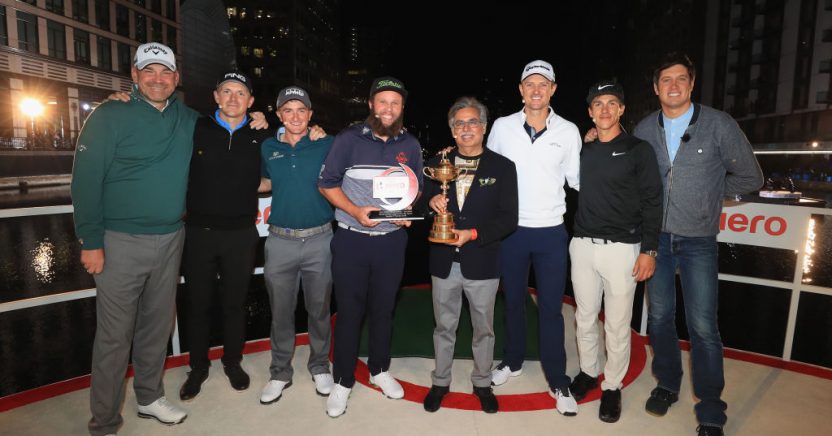 BEEF'S THE HERO AT CITY SHOOTOUT
Featured News
9 October 2018
Andrew 'Beef" Johnston won the latest edition of the European Tour's Hero Challenge held in front of a sell-out at Canary Wharf in London.
Johnston competed against Justin Rose, Thorbjørn Olesen, Thomas Bjørn, Paul and Matt Wallace in the one-hole shootout as part of a curtain-raiser for this week's British Masters, which tees off a few miles west of London at Walton Heath Golf Club in Surrey on Thursday.
British Masters host Rose got off to an almost perfect start when his opening tee shot to the purpose-built floating green 100 yards away landed just inches from the hole, while his next two shots also found the target to top Group One, with fellow Englishman Johnston and Wallace second and third respectively.
In Group Two, Dunne led the way, while Olesen finished second to progress to the semi-finals, as Ryder Cup captain Bjørn made an early exit.
Rose and Olesen bowed out in the semi-finals, and it came down to Irishman Dunne and Johnston, as the contest concluded with a closely-fought finale. With his penultimate shot, Johnston notched up 20 points to claim the title on his second attempt – having taken part in the Hero Challenge in Scotland last July.
"It was great," said Johnston. "To do it in front of the home fans is always good. I always get great support wherever I go but London is special because it's my home town."
He added: "When we started warming up and hitting a few shots, it felt like quite a nice comfortable distance, even though it was difficult to land it on there. It's a small target, anything left was rolling off and anything a bit long bounced straight over, so I had to be patient.I'm looking forward to getting out now and seeing the course tomorrow in the pro-am and getting some good practice done."
Johnston was presented his trophy by Pawan Munjal, the chairman of event sponsor Hero MotoCorp Ltd.
"It was a great way to kick off the week," said Rose. "It was high energy and to see so many people come out and support it, there was a little bit of a Ryder Cup aftermath feel out there, with lots of 'olé, olé, olés' and people just having a good time.Obviously, I appreciate the guys turning out. and it was a tough challenge, it really was a Hero Challenge! You had to hit a great shot to keep it on the green. But just to be in the bright lights of London, iconic buildings all around us, and to be at Canary Wharf, was a great way to start the week."
The British Masters takes place at Walton Heath Golf Club from October 10-14 and tickets, which start at £18, can be found here. Entrance for U16s to the event is free.
Stay up-to-date: