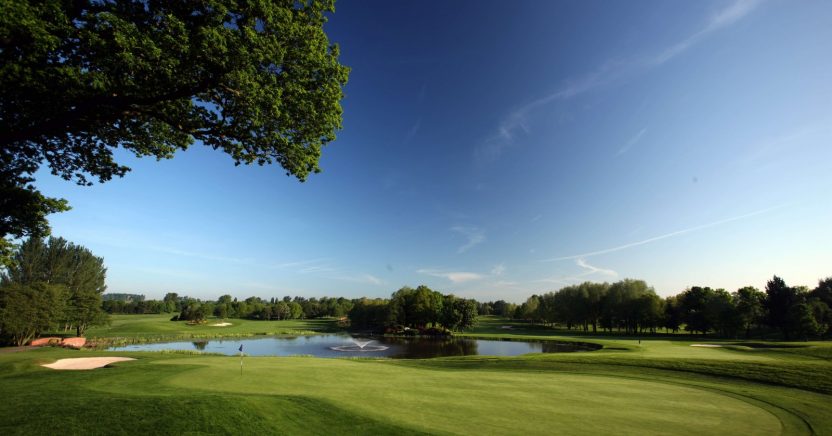 BATTLE AT THE BELFRY FOR MILLION DOLLAR FINAL SHOOTOUT
News
1 September 2017
The finalists will line up at the world-renowned Belfry on September 7, where they will get the chance to shoot for an ace on a specially designed 150-yard par-three 18th hole at the iconic Brabazon course.

Telford duo Chris Gilbert and James Showell,, Mick Barnes from Stoke, Steve Rowe from Epping, Richard Hannam from Prudhoe, Jonathan McKee from Chester, Billy Turner from West Malling, Chris Johns from Dunblane and Georgina Wrixon from Wimborne, will all battle it out after taking part in the MDHIO competition at American Golf stores across the UK.
As part of the American Golf Industry Day, there will also be eight contenders from the golf industry, whose names will be drawn out of the hat in a lucky prize draw, as well as two from On Course Foundation, a charity that supports the recovery of wounded, injured and sick service personnel and veterans through golf. They will all be playing in the hope of bagging a hole-in-one and scooping $1million for the OCF.
More than 5,000 golfers took part in the MDHIO and American Golf competition across the UK and Ireland, with the top 10 who were nearest the pin making it into the Belfry showdown, where the entrants will also enjoy a complimentary night's stay and a gala dinner, when the possible $1million winner will be presented with their cheque.
MDHIO director Martin Tyrrell said: "The response from the public has been absolutely phenomenal.
The Belfry is a great course known around the world, and to get the chance to shoot for $1million makes it even more thrilling. We have our qualifiers, while some lucky people from the golf industry will get the chance to play.
There are some very good golfers taking part, but this is a unique sport and even those with higher handicaps have experienced the buzz of claiming a hole-in-one in the past – as our qualifying sessions at American Golf stores over the past few weeks have shown.
"However, unlike if somebody manages it in normal circumstances, when they traditionally will be out of pocket with a round at the bar, anyone who does it at the Belfry next week will be celebrating winning a life-changing amount of cash. It will be a thoroughly exciting day."
MDHIO is also running a parallel competition to win another $1m, with this year's final taking place at the Golf & Spa Grand Tirolia Kitzbühel in Austria, on September 11.
Stay up-to-date: