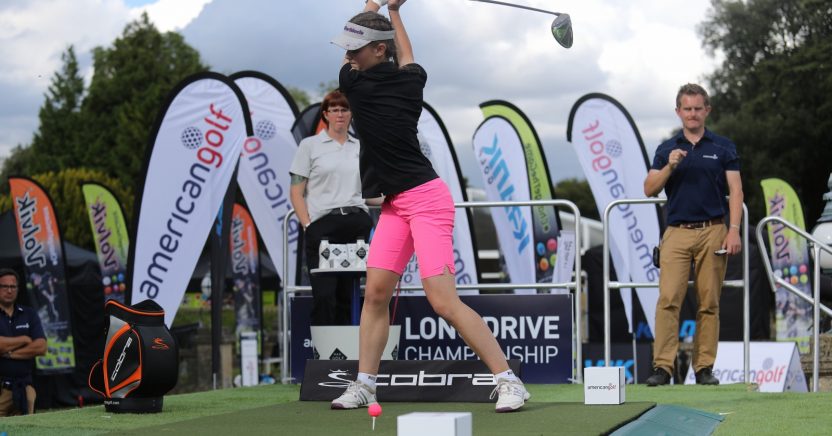 BARNET TEENAGER TAKES SECOND IN AMERICAN GOLF UK LADIES LONG DRIVE CHAMPIONSHIP
News
10 August 2017
North London golfer Elle Gibson has amazed the crowds who gathered at the American Golf UK Long Drive Championship with an incredible second placed finish at the national final held at Heythrop Park in Oxfordshire.
Gibson, who is just 14, blasted a series of enormous drives – including one of 326 yards – to take down the best senior long drivers that Europe has to offer. She only fell one step short of glory against some brilliant hitting from Glaswegian Ilona Stubley in one of the most hotly contested Long Drive events ever recorded.
After finishing as runner up, Elle, who lives in New Barnet and attends Queen Elizabeth girls school, commented: "I've been working really hard with my coach, Chris Whitelegg, but I really didn't expect to get through the first round. So to get through to the final was fantastic. American Golf have put on an amazing event, the venue was incredible and I think it made everyone play their best. When I hit 326 yards in the first round, I couldn't believe it. That gave me so much confidence I just kept going and swinging fast. I'd love to try again next year, it's probably a good job I didn't win this year, as we're on holiday at the same time as the World Championships!"
It was clear from the seeding rounds that the bar was going to be set high. In the first set the championship record was smashed by Stubley, who sent out a 338-yard monster. Gibson held her nerve though, qualifying second with a 326-yard drive – ahead of current world No.3 Rebecca McGinley.
The quarter-finals brought Gibson up against Bronwyn Davies, whom she fought all the way for a 2-1 win, including a best of 297 yards. The semis brought Gibosn together with Becki O'Grady, who had just taken down McGinley in the quarters. The match again went down to a third set, but Gibson's amazingly consistent hitting won the day, with drives of 293, 299 and 300 yards taking her through 2-1.
The final paired Gibson with top qualifier Stubley. The pair had consistently topped the scoring charts through the day, and didn't disappoint the fans with their final performances. Gibson was first to strike as she took set 1 with a best of 296 yards. The Glaswegian golfer brought things back to level in the second, just pipping Gibson 299 to 295 yards, setting up a tense finale.
Neither player disappointed as they both brought out their top form, Elle setting the pace with another 299-yard drive. With the stage set, Stubley drew on all her experience and with the last drive of the day pulled out a mammoth hit of 307 yards, just pipping Gibson to the title and the prize of a place in the World Championships.
Daniel Gathercole, Director of marketing and communications at American Golf commented after the thrilling finals, "We started the American Golf UK Long Drive Championships three years ago to encourage more people to get out hitting balls and having some fun. This year we've had over 5000 people take part and this really has become the premier long drive event in Europe. It's such a competitive environment, but every player has shown fantastic sportsmanship and support for each other. I'm very proud of what American Golf has achieved with this Championship and hope to go even bigger with it next year."
All three category finals of the championship will be shown on Sky Sports.
Stay up-to-date: