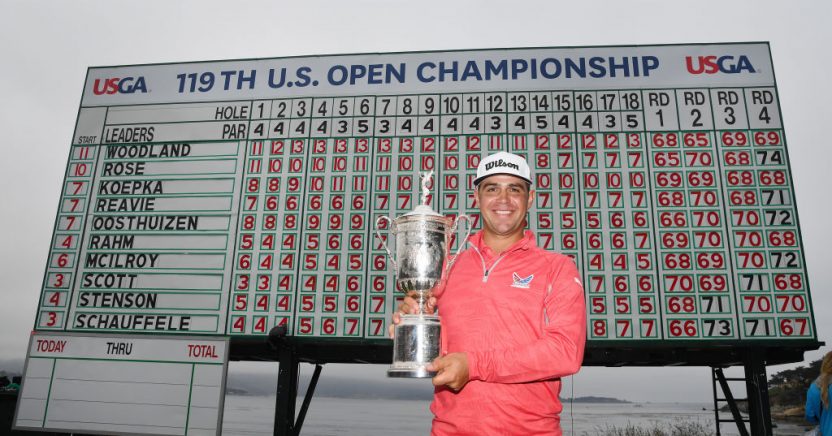 A look back at the U.S Open
News
25 June 2019
The U.S Open has come to a close for yet another year and American Gary Woodland has played his way to that highly sought-after trophy. Pebble Beach came alive with golf professionals and fans on Sunday, while they were subjected to unseasonable weather, it was Woodland's impressive performance that really caught their eye and made the day a worthwhile visit.
The turbulent game saw Woodland hold off the likes of Koepka and Rose, shooting a two-under 69 which ultimately led him to finish 13 under overall, just three shots clear of Koepka.
Prior to this tournament, Woodland was often considered to be nothing more than a big-hitter. He'd secured a few PGA titles along the way, but it wasn't until 2018's PGA that we began to see the prowess, nerve and expertise behind his moves. This year's U.S Open at Pebble Beach, on the other hand, was full of well-executed hits and chips that offered crucial moves, right when they were needed.
At the beginning of the final, there was everything to play for, with a number of key contenders performing under the watchful eye of the crowds. The arguably simpler course was a welcome change from the controversial complicated alternatives of previous Opens, yet allowed the leading four to truly lose themselves in the game. It was English golfer, Justin Rose, that started off the week as the leading force, earning one of the lowest opening rounds in Pebble Beach history with an opening round 65.
Despite initially being in the lead, however, Woodland was soon climbing up through the rankings with a two-stroke lead by the end of round two. That rose to a four-stroke lead, but it was back down to one-stroke by the end of play on that day.
By the final, there was still no clear winner, even up until the last few holes. Given that Woodland hadn't secured this title previously, and that Koepka was world number one, most fans were leaning towards the latter as the potential winner. However, Woodland gained and kept the lead right up until the final play, coming through as the worthy winner.
However, the U.S Open wasn't all about Woodland. In fact, there was plenty of incredible play worthy of recognition all on it's own. Even Koepka himself became one of the very few players to secure four rounds with scores in the 60s and not end up winning the full tournament. Despite falling short of the winning title, he did comment:
"It was some of the best ball striking I've had… Unfortunately, I wasn't making the putts but Gary did and congratulations to him. That was a cool way to see him finish it off, and go out in style like that."
"I thought we had a game pretty early on. I closed the gap and you never know what's going to happen down the stretch. I just tried to keep the pedal down and make some putts but I didn't hole enough… I'm very pleased with how I played. I played my heart out. It just wasn't good enough this week."
Tiger Woods also played pretty well, but it was clear the cooler weather wasn't doing him any favours. With a long-standing career behind him, it's only right that one of the world's best players is starting to feel every hit he makes, and that much was showcased when he came out with KT taps on his neck. The cold, chilly air led the 15-major-title winner to experience a higher level of pain than other, warmer alternatives. Maybe his Open at Portrush will see warmer days and an easier play for Woods.
Stay up-to-date: