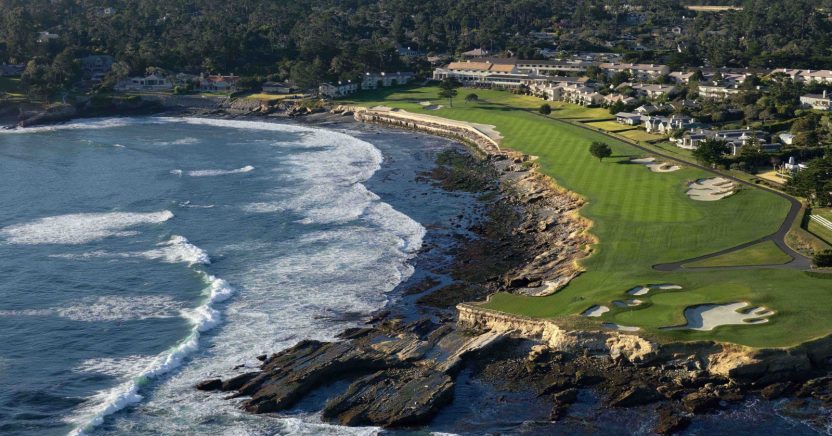 2019 US OPEN: BETTING ON A MORE PLAYER-FRIENDLY PEBBLE BEACH
News
7 June 2019
Only four American courses have hosted a PGA Tour event and a major championship in the same year. Pinehurst No.2 had the honour in 1936, Riviera Country Club in 1995, Torrey Pines in 2008, and now Pebble Beach, host of February's AT&T Pro-Am, and, later this week, the 119th US Open.
It will be the sixth time that America's oldest major will return to the fabled California links, and nine years since Graeme McDowell became the first European to win the US Open in 40 years.
Every golf fan can remember iconic Major moments at Pebble Beach. Tom Watson chipping in for birdie at 17 in 1982, and going onto to win his first US Open; Tiger Woods' extraordinary 15-shot victory in 2000, which saw him claim his first national open, and then there was GMac's cardigan-wearing triumph in 2010, when a closing 74, for a level-par total of 284, was good enough to lift his one and, to date, only major title of his career.
Of course, the fact that Pebble is a regular stop on the PGA Tour gives those that ply their trade in the US a head start when it comes to its hosting of major championships, but as McDowell so brilliantly showed, you don't need to be an old hand around here in order to come away with the trophy. What it does take is straight driving, brilliant approach play, a hot putter and a nerveless state of mind that won't be easily distracted by the stunning views.
With the churning waters of the Pacific Ocean dominating one side of the course, and wind often a key factor, Pebble Beach is a suitably demanding test for the game's best performers and there are any number of holes where a round can come unstuck. Hopefully, the USGA will have learned a lesson or two from last year's US Open at Shinnecock Hills, where they let the greens get stupidly quick, and will ensure the putting surfaces remain with the realms of playability, while the hole locations are reasonably accessible for the conditions of the day.
USGA's John Bodenhamer, the man in charge of setting up the course, has gone on record that he wants to let the players show their best, rather than make it another horror show, so all fingers are crossed that the set up will allow them to do just that.
Finding the winner is never easy, but which ever player you choose to bet on, you can maximize your potential winnings by checking with best UK bookies sign-up bonuses, where you will find some great offers, including Coral's 'bet £5 get £20 free bet', or claim 50% up to £50 bonus with MansionBet.
The strong favourite in all books is the game's hottest player, Brooks Koepka, who is strongly fancied to complete the hat-trick of US Open triumphs following his wins in 2017 and 2018. Fresh off winning the PGA at Bethpage Black, not since Willie Anderson in 1905 has a player won three US Opens on the bounce. The USGA has enough data on Koepka to make Pebble as daunting as possible, but the big hitter from Florida has all the shots in his arsenal to reduce any course to a drive and a pitch.
The same could be said of world No.2 Dustin Johnson, who famously blew a three-shot lead entering the final round of the 2010 US Open at Pebble, and he's ready to avenge that collapse. He said at Wednesday's PGA Tour event in Canada: "I'm playing pretty solid. I feel like the game's in good form. Obviously had a pretty good week at the PGA a couple weeks ago." Johnson placed second behind at the PGA, after tying with Koepka and Xander Schauffele for runner-up honours at The Masters. Johnson is three years removed from his only major victory: the 2016 US Open at Oakmont.
One player who won't simply be hoping to add to his major tally is Tiger Woods, who returns to the scene of his most dominant major victory – that 15-shot one-man show in 2000 – bidding to add up another US Open title to the four he already has, and take another significant step towards chasing down Jack Nicklaus's target of 18 career majors. Woods didn't play in this year's AT&T – he rarely does – choosing instead to tee it up another of his favourite courses, Torrey Pines, just down the coast in Los Angeles in the previous week's Farmers Insurance Open, but the reigning Masters' champion returns to Pebble Beach as one of the form horses on a form course that will perfectly suit his new 'fairways and greens' style of play. Cutting out the mistakes is the key to getting a good score going at Pebble, and Woods is fast becoming a master at that, as he learns to play within himself, while still playing aggressively when the situation demands.
Top betting tips:
Tiger Woods to win @8/1 (9.00) (Bet365)
Tiger Woods to finish in Top 10 @5/3 (2.66) (Bet365)
Brooks Koepka to finish in Top 10 @3/2 (2.50) (Bet365)
Rory Mcilroy to finish in Top 10 @2/1 (3.00) (Bet365)
Jordan Spieth to finish in Top 10 @5/3 (2.66) (Bet365)
Stay up-to-date: