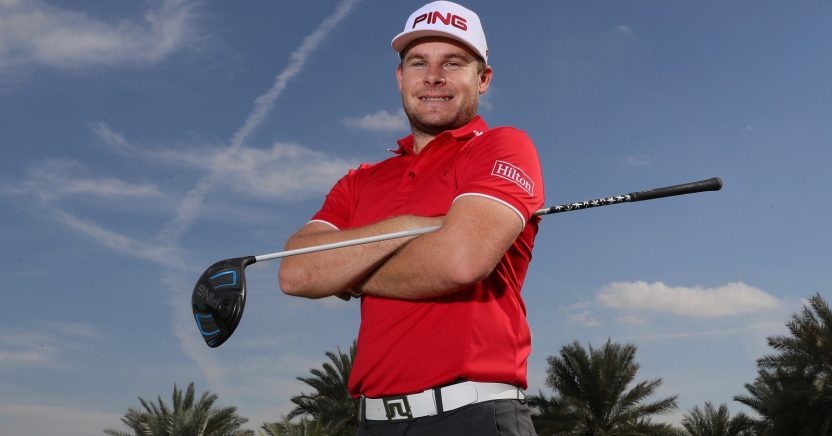 TYRRELL HATTON

11 December 2017
A top-ten finish in Dubai brings the curtain down on a superb season for Tyrrell,
which resulted in two wins and a move back into the world's top 20 
It was great to sign off the 2017 season on a bit of a high, with an eighth-placed finish at the DP World Championship and a top 20 in South Africa. It was always going to be hard to keep the momentum going from the wins in Scotland and Italy, but I was pretty pleased with the way I kept my focus going until the bitter end.
With those final two tournaments of the season to go, I had an outside chance of winning the Race to Dubai, but needed to finish no worse than third at the Nedbank and then win in Dubai, so while I didn't manage to pull that off, it gave me an added incentive to keep my foot down.
I've always struggled a bit at Sun City for some reason, so it was always going to be a bit of a challenge to chase down Tommy [Fleetwood]. I didn't really get anything going over the four days in South Africa, and a third round 76, on what was a very windy day, put paid to my chances.
Once the R2D was gone, I was purely focused on shooting four good rounds in Dubai, and trying to win some world ranking points. I had finished second last year, and feel like the Earth Course really sets up well for me, so I went there feeling pretty confident.
My putter was pretty cold in the first round, resulting in a level-par 72, so I put a new model in the bag for Friday's round, and it seemed to have the desired effect. I shot a nine-under 63, which got me right back into things, although it could have been a 60 or a 61 if my ball hadn't plugged in the greenside bunker on the par-five 18th. That hole seems to hate me for some reason, but hopefully one day I'll play it well. That's professional golfers for you – never happy!
I shot 69 on Saturday, and started the final round just three behind Justin Rose, and in with a decent chance. I got off to a great start, making birdies at the first two holes, and another at the seventh, but with Justin enjoying a similarly good front nine, I wasn't able to make any inroads into his lead. I pushed hard on the back nine, but could only make a couple more birdies, and, after bogeying 16, ended up shooting 68 to finish eighth.
I was really pleased for Tommy to have won the Race to Dubai – he played pretty much a full season in Europe, and really deserved it for his consistency along with those two wins. I was happy to take fifth, given the way my season dipped, and having drifted out to 30th in the world rankings over the summer, it was good finish the year back inside the top 20, and virtually where I was after the WGC in Mexico in March.
Next season I'll be looking to keep progressing up the rankings, but each move upwards gets harder and harder, so It's going to take some better performances in the majors and the big events to get me there, and that is clearly something I'm going to have to focus on in 2018.
For now, I'm going to take stock of what has been a long but rewarding season for me, and enjoy a few weeks off away from golf, starting with a holiday in Mexico with my girlfriend. Then it's back home for Christmas with the family, and then I'll be back hitting balls in the new year, before I head out to Malaysia to join Team Europe in the EurAsia Cup – an event that I'm really looking forward to playing in.
I'm looking at following a similar schedule to the one I had in 2017, playing in Abu Dhabi and Dubai, and then the GolfSixes in Australia, before heading over to America in March for the build up to the Masters, and returning to Europe for the run of Rolex Series events in May and June.
The good news on the caddy front is that my good friend Jonathan [Bell], who has caddied for me since the autumn, is going to be with me next season. He's been a brilliant addition to the team, and hopefully we can carry on where we left off next year.
This is my final column for Golf News, so I hope you've enjoyed a little bit of an insight into my life on and off the golf course this season. It's certainly been one I'll remember for a long time, and hopefully there will be even better ones to come in the future. Have a great Christmas and a happy New Year!
Stay up-to-date: