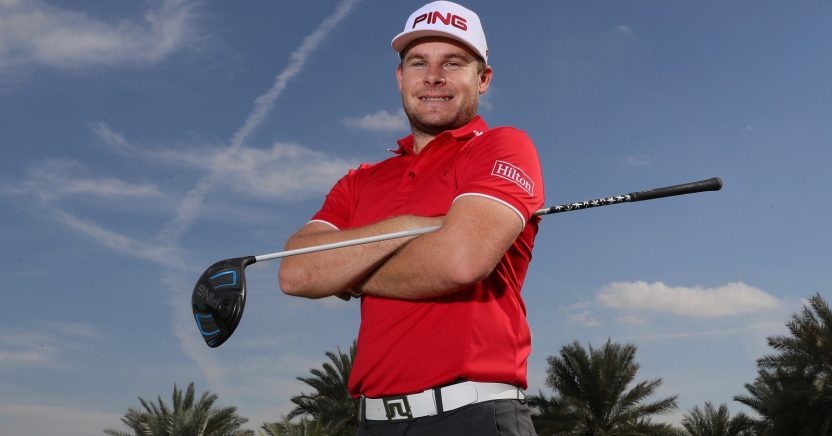 TYRRELL HATTON

18 September 2017
Tyrrell gets his season back into gear with a third place in Switzerland, while a return to Harleyford Golf Club to host his own tournament brings back memories of where it all began
It's been a relatively quiet month for me since the end of the major season, and it has been nice to spend some time at home recharging the batteries, catching up with family and friends, settling into our new house, and, of course, putting in some practice in an effort to turn around my season.
I finished off the major year at the PGA Championship in pretty much in the same form as I started at the Masters back in April, shooting a poor first round and then leaving myself too much to do to make the cut.
Missing all four cuts in the Majors wasn't quite the goal I set myself at the beginning of the year, so in that respect it's been hugely disappointing, so I've just got to knuckle down and come back next year and do better.
There's no deny that the majors are special tournaments, and the ones we all want to do well in, but sometimes I think I put too much pressure on myself to perform on these weeks, rather than just playing my natural game.
My putter misbehaved at Quail Hollow, much as it has done the whole season, and it's been hard to try and get some confidence back overnight, so I'm just trying to remain patient.
I had pretty much a full month off after the PGA, and came back at the Omega European Masters in Switzerland. I've always loved playing at Crans – it's a beautiful spot and the course seems to suit my eye. I've have had some good results there in the past, so I was delighted to finally get my season somewhere near to being back on track by finishing third there. I was never really within touching distance of the leaders on the final round, as I birdied four of the last six holes to get myself up the leaderboard, but it was a solid week, and a huge turnaround in relation to how I've been playing this summer.
I shot my lowest round of the season so far, a six-under-par 64, to tie for the lead after the first round, and although things unravelled a bit on the back nine of the second round, I was pleased to shoot 68 and 66 over the weekend to get myself back into things, especially with the weather delay on Saturday. It was properly cold out there on Saturday, and I was wearing three layers, although sadly I forgot my bobble hat! I won't make that mistake at the Dunhill next month.
I had a new caddy on the bag in Switzerland, as my old caddy, Chris [Rice], and I parted company after the PGA. It was his decision to call it a day, and after listening to what he had to say, I thought it was probably for the best. My new caddy, Jonathan Bell, is an old mate of mine, and we have known each other since our junior days competing on the amateur circuit. He's a great player, and has been playing on the EuroPro Tour, although he found it tough financially, and has been doing some odd jobs to try and get some money together to get back on tour. He's agreed to caddy for me for the rest of the season, so I hope for both our sakes that I can get back into form. We worked really well together at Crans, and he knows my game really well, so fingers crossed.
One of the highlights of my downtime between tournaments was hosting the Tyrrell Hatton Juniors Masters back at my club, Harleyford. The tournament had been a long time in the planning, and required lots of help from the club and my sponsors, to get it off the ground, but we had a really good turnout and hopefully it can push on next year and become even bigger and better.
The greenkeeping team did a brilliant job in presenting the course in top condition, and we did our best to give it a proper tournament feel. I watched all the competitors tee off, and it was great to see so many good young players out there. Two-thirds of the field were category one players, and it was brilliant to see Harleyford's Taylor Paul, who I've known since he was eight, take the title. He's only 15, but he equalled my course record 63 en route to victory, and I'm sure he's destined for great things. He's just been accepted on Stoke Park's scholarship scheme, so I expect I'll be seeing a lot more of him when he comes over to practice during the off-season.
I would have loved to have been able to play in events like that when I was a kid. I played in all the usual county tournaments, but nothing quite like that. I do remember winning the U15 section of the Faldo Series some 10 years ago, when we played at Walton Heath. I think I beat the score of the U21 players that day, and won through to the finals in Brazil.
I've now got two weeks off, and then a big run of tournaments, starting with the British Masters at Close House in Newcastle, then up to St Andrews for the Dunhill Links, where I'm hoping to defend my title, and then off to Italy for the Rolex Series event. It's coming to the business end of the year now, so I need to keep improving my world ranking so I can nail my place down for next year's majors.
Stay up-to-date: