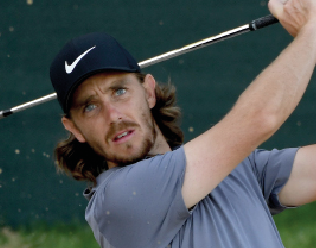 TOMMY FLEETWOOD

12 February 2018
Two months after winning the 2017 Race to Dubai and becoming top dog in Europe, Tommy Fleetwood was back to his winning ways in Abu Dhabi, putting a world-class field to the sword in thrilling fashion. Golf News catches up with the 27-year-old from Southport, who is looking to strut his stuff on the global stage in 2018
After such a breakout season last year, how important was it for you to draw a line in the sand on 2017 and come out all guns blazing again?
After having the year of my life by a long, long way last year, I really wanted to come out and keep it going, and prove to myself that I still had it. Over the winter break, I talked with my team about the need to keep progressing, keep improving. And while I celebrated winning the Race to Dubai, I also recognised that if Justin [Rose] had shot level par for the final nine holes in the final tournament, I wouldn't have won it. It might sound odd, but I kind of wanted to have the feeling of having had it snatched away from me, and feel that hurt. That gave me the desire to come out and validate my position as European number one.
Defending my Abu Dhabi Championship title was hugely satisfying, not only in the manner of the win, but also under the microscope of what happened last year, and the expectations that are now placed on me. I just really wanted to win this one. It's a weird feeling coming to defend a trophy, because it's yours and you don't want to give it away. So keeping hold of it for another year is very nice.
Shooting 30 over the back nine on that course, and in those conditions, to win the tournament: was that as close to perfect golf as you've come?
Yeah, I think without going over all the tournaments in my head or rounds I've played, I think that back nine will definitely be at the top of the list. It's funny, because when you're out there you're so in the moment that you're not thinking about how well you're playing, or what your score is. I wouldn't have known I shot 30 on the back nine when I came in. Scoring was tough, and we had to keep going. It's a cliché, I guess, but it was simply a case of taking each shot as it came. When conditions are that difficult and that windy, it actually helps that you have to focus so hard on executing each shot, because there are never any 'gimmie' shots.
After ticking so many boxes last year, what goals have you set for yourself this season? 
I started this year in a very different place to where I was last year, that's for sure. I came out last year just looking to try and win a tournament again. Anything beyond that was going to be a bonus. The win in Abu Dhabi 12 months ago came out of nowhere really. I hadn't done much over the winter, and it was a course where I had not had much previous joy, and suddenly I found myself up there on the last day, and then winning the tournament.
It couldn't have come at a better time for me. It was just the confidence boost I needed, and started what turned out to be a great run for me.
This year, I'm obviously starting out with a lot more expectation. I'm in a much higher place in the world ranking, so the goals have had to shift a bit, but, then again, finding the little improvements that are going to take me up another notch is that much harder. You have to put a lot more extra work in to get smaller gains, but generally, the goals are simply to keep progressing and hopefully win some more tournaments.
It's easy to say, 'Oh, I want to win a major, I want to make the Ryder Cup team', but you have to remember to keep progressing. I know how easy it is to go off-track, and I also know what it takes to stay on track, and I know I am surrounded by the right people that are going to keep me going in the right direction.
Where do you see the most room for improvement in your game? 
I made so many big strides from where I was, so, as I just said, I have to keep in perspective that the next strides aren't going to be as big. Game-wise, I'm pretty happy with my driving and general iron play, so I'm focusing a bit more on improving my short game – wedge play, putting.
Off the course, I have a wife and a baby now, so time management has become so much more important. I'm not going to be spending 12 hours a day working on my game and improving it that way, so I'm going to have to work smarter, and make better use of my practice time.
Will you be playing on both tours this year?
Yes, the schedule for the season is all mapped out, and I'll be playing in Europe and on the PGA Tour. I can't remember how many tournaments I'll be playing, but, either way, the family will be travelling with me or I'll be at home. My family comes first and that's it, so I'll make sure I get the timings right.
There are obviously going to be times when you don't play well, or maybe miss the odd cut. How well are you able to cope with the fact that you can't always bring your 'A game' to the table?
I think the hardest thing about it is, the better you get, and the higher your expectations get, the less leeway you give yourself when you don't play very well. It can get frustrating very quickly and very easily. You might not play well one week. Nobody is going to make the cut every week. So you've just got to take it in your stride and recognise that that's the game of golf.
I feel like I have a good mind-set about the ups and downs. I feel like I put the hours in, and I do the right things to make myself a better player, and I just have to go out and trust that I've done the work, and if it doesn't go right, you have to go onto the next week and try again. So I welcome the new challenges and new experiences that will come along, and we'll see how we go.
You obviously had a good week in the EuroAsia Cup last month, winning all three of your matches – how much has that whetted your appetite for the Ryder Cup?
The whole thing was just such a great experience. Funnily enough, I was the most nervous I had been in a while, with it being a team event, but I had great partners in Paul [Casey] and Henrik [Stenson] for the first two days, and thankfully we won both our matches. And then to come out in the singles and get an early point on the board for the team was such a relief. We all wanted to win so badly, especially for Thomas, and for the European Tour, it was great to get the win. The whole team atmosphere was great, and the feeling of winning as a team was brilliant. I really, really enjoyed it, and if I'm lucky enough to make the team in Paris, I'll love that too.
Have you made any equipment changes from the end of last season?
I have experimented with a few new bits of kit, but I'll only change if I feel 100 per cent comfortable with what it is, and if I feel it's working right. At the end of the day, your golf is the most important thing. I'm not a tinkerer or one to change things for changes sake. I've had my Nike irons for a long time now, and I will eventually have to use something else, but there's no timeframe on it. It will happen when it happens.
How much an honour was it to win the Seve Ballesteros Award, which is given to the European Tour's players' player?
Of all the trophies I've won, receiving that award made me feel the most emotional. That it was voted for by the players makes it so special, and perhaps more meaningful than any one tournament win. It reflects the accumulation of what you've achieved over the course of a year. It was very flattering and very humbling.
It's obviously a bit early to be talking about the Open Championship, but, given the 63 you shot at Carnoustie in the Dunhill Links last year, how much are you looking forward to competing for the Claret Jug there?
Yeah, Carnoustie is a course that I like. I've had a lot of good scores there. To be fair, I found a couple of spots that day that you probably wouldn't have broken 70 for an Open set-up, but I do like the course, and I like how the holes set up. We'll see where my game is at in July. The hype and expectation around my appearance at last year Open at Birkdale was amazing, and I did well in the end to make the cut, so it will be interesting to see how we get on.
Stay up-to-date: