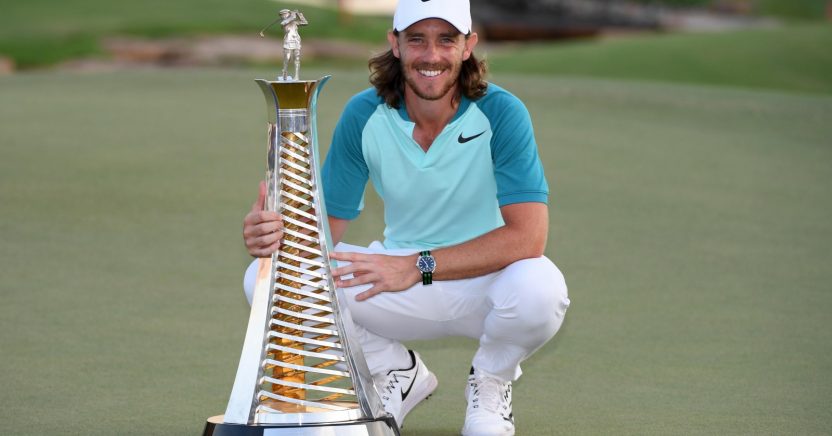 TOMMY FLEETWOOD

11 December 2017
Having lead the Race to Dubai for almost the entire season, Tommy Fleetwood managed to hold onto the top spot after a gripping finale in Dubai. Here's his reaction to being Europe's No.1 and how he hopes it will kickstart his push to even greater achievements
It's not often you get to celebrate for finishing 21st in a tournament, so how hard was it to deal with your emotions after the final round in Dubai?
For a while I didn't quite know how to react, as I obviously hadn't finished off the tournament the way I would have wanted to, so the Race to Dubai was effectively out of my hands. I was just relying on someone else's performance. It was a weird situation, as I didn't feel like I could take any credit for what I had just achieved, even though I'd played well for most of the year.
The whole final week was an emotional rollercoaster for me. The first round was poor, and then I got it back on the second day, and then the third day was up and down. And then I didn't get anything going in the final round, but I still won the Race to Dubai.
How much sympathy did you feel for Justin Rose?
Golf's a funny old game, but it can also be such a cruel and difficult game at times. Justin played unbelievable golf for three-and-a-half days, and then just let it slip a bit on the back nine. He was very gracious, and came over and congratulated me, and it says a lot about his character that he was able to do that. It's never nice to lose, but that's sport. We all have good days and not-so-good days.
You led the Race to Dubai for almost the entire season. How would it have felt to have had it snatched away from you at the end?
It's the nature of being in front that you're there to be shot at, and past years have shown that are always going to be two, three or more players who are in with a chance of winning the Race to Dubai at the final event. The achievement of winning a season-long title is massive. The Race to Dubai is held in very high regard by all the players on tour. It rewards a level of consistency, and I'm proud that I've managed to keep my game ticking over for such an extended period of time.
Were all these permutations roaming around in your head, and did that affect your performance at all?
No, I was trying to win the tournament, and I felt like I could; I was playing well. It just didn't turn out that way. I was right back in the tournament after the second round, and was only two shots off the lead on Sunday, but when Justin pulled ahead, it became harder to concentrate on what I was doing, and not look at what he was doing. But for the most part, I stayed in the moment, and played my own game, taking it hole by hole. It's not an easy thing to do, but I'm pleased with how I handled it.
Was there a point when you thought you'd blown it?
It's hard to say, really. After I'd come off the 18th, having made bogey at the last two holes, I sat on the couch and was just watching the TV, not being able to do anything. It was all out of my control. It was tough. I thought the way Justin was playing, it was going to be hard for me to win, but he struggled over a few holes coming in, and that was that. Of course, I would have preferred it to have been easier, but at the same time, it's been absolutely brilliant going head to head, and having a bit of a dogfight with Justin, who, in my eyes, is one of the greatest players in recent times.
Justin was a similar age when he won the Order of Merit for the first time and we've seen what he's gone on to achieve. Do you see it as a springboard to majors and Ryder Cups?
I hope so. I have nothing but respect for Justin and what he has achieved so far. He's got one of the strongest records around, and he's got a hell of a mantelpiece. He's had a great career to date, and hopefully this will be the beginning of the next stage of mine. I want to win a lot more golf tournaments, and play well in the big events, so we'll sit down at the end of the year and reassess where my goals lie.
What is the one thing above all others that you think won this for you?
It's an obvious thing to say, but my consistency ultimately won it for me. Even these last five or six events, when I came back after having the baby, I didn't do anything special really, but I had a couple of top tens, and I was never outside the top 25. When your good golf comes, you have to make the most of it, which I did a lot of the time. Sometimes it doesn't always happen when you're in form. You don't quite get the performances you want. But I won twice, I finished second twice, and one of them was a WGC, and I finished fourth in the US Open. I had the big finishes when I was playing well, and when I wasn't – I missed only four cuts – I felt like I was always making headway.
If somebody told you 18 months ago that you'd be sitting here now with the Race to Dubai trophy in your hands, what would you have thought?
It's certainly been a big turnaround. Looking back to the BMW at Wentworth in 2016, I genuinely considered pulling out there, because I didn't think I'd be able to get it off the first tee. I was that embarrassed about how I was hitting it. In all honesty, I was scared of what I was going to do. So that has always been like a benchmark for me to see where I've been, and where I've come from, because that was my lowest moment as a pro. Eighteen months or so later, and I've won the Race to Dubai. I couldn't have got here without the help of a lot of people – they know who they are – but I can't give them enough credit. I know I am out there hitting the shots, but there's a lot of work goes into it that people don't see. I'm just so grateful to everyone around me.
After winning in Abu Dhabi at the start of the year, what did you say to yourself? And how did you keep it all going?
Well, I'm quite a determined person, and I have a lot of goals in my career and in my game. It was a goal to win again, of course, but it wasn't the be-all and end-all. I hadn't won in three or four years, so to come out and win early on told me that my game was back to somewhere near where I wanted it to be. So I wanted to win again, and I was very confident that I could. And I nearly did so again at the WGC in Mexico.
A lot of players who haven't won in a while, or before, tend to take their foot off the gas when they do win, but I didn't see that as the time to relax or step off. I see why it happens, because it's such a high, winning, and it's a skill to be able to not get too ahead of yourself, or stay at a certain level, because it is a massive come-down. But, you know, once you've won a tournament, you get to the next venue two days later and nobody cares. I was practising in Qatar the following week, and people were coming over and saying 'well done', and they were happy for me, but they've got their own games to worry about. You have to stay focused, because there's always another week where 155 guys are out there that want to win.
How good do you think you can you be?
Very, I hope. My ultimate goal is to be the best player in the world. That will always be the overall ambition. Whether I achieve it or not is another thing, but I'll always strive for that. I think this year has been a big year in terms of my career. I feel like I've put myself on the world stage with my performances in Mexico and at the US Open. When we sit down after this year, we'll make sure that the goals are set high, and that I push myself to achieve more.
I've got a lot of experience under my belt over the last two or three years, and I think I've learned from those experiences. I know that you can go down the wrong path very easily, and I think I've got people around me that know how to help me stay on the right path.
Is the next stage playing more in America?
I obviously want to play a bit more over there next year, and with three of the four majors being there, and most of the WGCs, I will be there a lot more. I've really enjoyed the tournaments I've played in the States, and think the courses suits my style of play. Playing against the best players in the world has to make you a better player. It's still a big learning curve for me, but I'm excited about the prospect of testing myself out in different conditions and on different courses, and seeing where it takes me.
You became a dad for the first time at the end of September. How did that impact on your season?
I took six weeks off after the birth, but, if anything, it gave me a bit of a welcome breather, and just allowed me to take my mind off golf for a while and focus on looking after Claire and Frankie. It felt like I hadn't played for a year when I came back, but I was surprised how quickly I was able to get back into the swing of things again. It's important to find a balance in life, so I'm sure the demands of parenthood will make sure I get that.
Stay up-to-date: