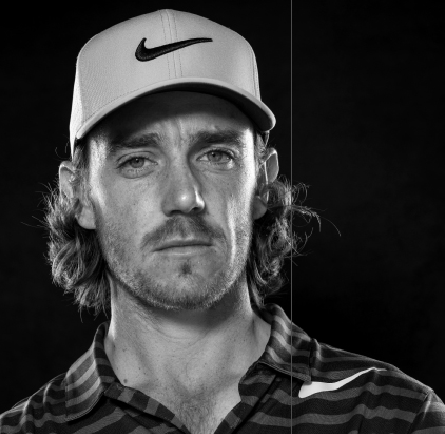 TOMMY FLEETWOOD

19 July 2017
After winning twice on the European Tour this season and finishing fourth in the US Open, Lancashire's TOMMY FLEETWOOD has moved in the world's top 15 and has Majors on his mind
"I'd never contended in a major before last month's US Open, so it was all a bit a learning curve. I wasn't sure how I'd react to being in the final groups over the weekend, but I felt fine and actually enjoyed the whole experience. Saturday was brilliant, and I played fantastic, and I was really proud of myself. It didn't quite all go to plan on the Sunday, which was a bit scrappy, but I shot level par without playing that well, so there were lots of positives to take away. I definitely feel like I'll be in a better position to handle myself if I ever get into that situation again.
Brooks Koepka was very impressive. I played alongside him on the final day, and although I was focusing on my own game, it was hard not to be impressed by the way he played, and the way he kept his composure. It was good stuff to watch, but I wished it had been me. 
Golf is a funny game. Before things came back together last year, I was definitely in a bit of a slump. I peaked at 47th in the world at the Open in 2015, when I shot a good first round, and literally the very next day had a terrible round, and my game never came back for a year, and I dropped down to 188th. I was properly struggling. I had the odd top-20, but it was mostly missed cuts, and firing it all over the golf course. Practice sessions would sometimes go ok, but when I got out on the course it was always hard work. My main strength has always been my driving, and I couldn't even do that.
I tried to change my swing to become a world-class player, but I couldn't make it work. Looking back, I was really naïve, as I didn't understand that all golfers have a way of swinging it, and it's very hard to change that, or go against what you have been born with. So I went back to my old coach, Alan Thompson, who has known my swing since I was 13, and he knows better than anyone what it takes for me to play my best golf. In a sense, I've gone back to my basics, but also added a lot, too, and it seems to have paid off.
Winning in Abu Dhabi was just the culmination of a long period of improvement. It was a massive goal. At one point last year I was just trying to make cuts to make any money, but as everything came together we started targeting the top 60, the DP World Tour Championship, thinking that would be a decent outcome, considering my struggles. By the time we got into the start of the 2017 season, I was already thinking about winning. Thinking, hoping, it would just be a matter of time – which it turned out to be. Getting over the line in Abu Dhabi was just the final piece in the jigsaw.
I know everybody talks about my ball striking when it's good, but I felt like my short game was equally impressive during the French Open. I had to rely on my short game a lot to get out of trouble, and I had to remain patient enough to stay in the tournament when I wasn't playing well. Paris National is such a tough track, especially those holes down the stretch, and the shots you have to hit. I was really proud of the way I managed to execute those shots under that pressure. I hit a great 3-wood off the final tee, and then was just pleased ot find the green with my second. I left myself a five-footer to win, inside left lip, and in she went. To win on that golf course, in a Rolex Series event, was a massive bonus.
I wish the points tally for next year's Ryder Cup could have started a few months ago, given the form I've been in. I won at Gleneagles the year before the 2014 Ryder Cup was held there, and didn't manage to get in the side, but hopefully the omens will be different this time. Winning in Paris, and showing good course form, certainly won't harm my chances, and hopefully I can keep up my form and get there next year.
My sights are definitely set on winning the Race to Dubai points list. It's going to be tough. I was a long way ahead before Sergio won the Masters. You can't control what other people do. With how strong the Tour is, there's no reason why people can't win majors. It might be me; it might be someone else. But it's great to be leading the Race to Dubai. It is something that I'll look at now and, no matter what happens, come the last event, I'm going to have a chance of winning it. It's something new, something I've never done, but it's very exciting. Not a lot of people get the chance to win it – it's a very exclusive club.
I'm really excited about The Open being held at Royal Birkdale. I tried to qualify when it was held there in 2008. I was 17 and, out of nowhere really, I got to the final of the Amateur Championship. When anybody wins the Amateur the first thing they're told is, 'You're going to Augusta', but the night before, lying in bed, I wasn't that fussed about the Masters. It was all about Birkdale. I ended up losing the final and have basically waited since then. My dad walks the dog past the course every day, and when I was seven or eight we used to sneak on and hit a few shots when nobody was looking.
It'll be nice to go to Birkdale in form, and having contended in a major for the first time. I played it a few months ago with my dad and there were posters advertising the players who were going to be there. One of them was me, and I said, 'Dad, that's weird!' I guess I'll have to get used to being in the spotlight there now.
My caddy, Ian Finnis, and I have been mates for a very long time. He caddied for me when I was an amateur, and when I first turned pro, and we've got a great friendship. He started caddying for me again in July last year, and it's been great having somebody who has worked with you and trusted you during all the dark times, and then, a few months later, when you're coming down the stretch, and you've got your best mate next to you. There's no-one better to have on your shoulder at those moments.
A lot of players who used Nike clubs have switched to using other brands since they stopped making new clubs, but right now I'm happy with what I've got in my bag. I've been with Nike since I was 13, and always used their equipment. I've switched ball brands, but I still love my Nike irons. My Nike 5-wood is my favourite club in the bag. I could never change that. And the driver, I've just not found anything that is better yet. The time will come eventually. I'm sure I'll make a change, but at the moment it's the best equipment for me. It's hard to change just for the sake of changing – I've just not found anything better yet.
I got a bit of stick for wearing those Nike joggers at the BMW at Wentworth. I really like them – I genuinely think they are great – but it's not everyone's style. I asked Keith Pelley if it was ok to wear them, and he said 'I love them'. I wear them all the time at home and when I'm going out, so I might as well wear them on the golf course. I like trying new things and try anything that Nike throws at me.
I'm playing lots of event this summer because my fiancée Clare and I are expecting our first baby in October, so my schedule will slow down a bit in the autumn. It would be nice to still be challenging for the Race to Dubai title, but my family will come first. 
Stay up-to-date: