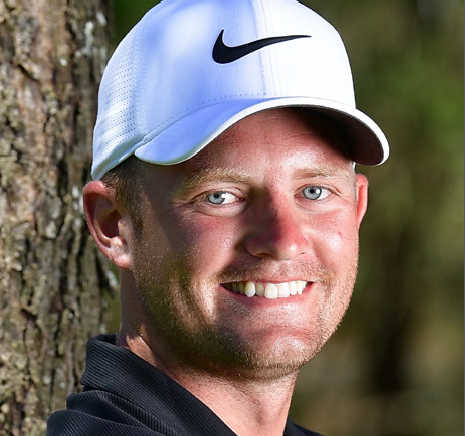 TOM LEWIS

12 December 2018
Seven years after securing his debut victory on Tour, Hertfordshire's Tom Lewis is back in the winner's circle again after a successful return to form at the Portugal Masters, where it all began for him back in 2011. 
If you can cast your mind back to the summer of 2011, and more precisely to the first round of the Open Championship at Royal St George's, you may recall a young man by the name of Tom Lewis briefly grabbing the spotlight when he shared the 18-hole lead at the world's oldest major.
Far from over-awed by playing in the company of the five-time Open champion Tom Watson, the 20-year-old from Welwyn Garden City relished the added attention that such hallowed company deserved, and rose to the occasion magnificently. His first round 65 included seven birdies, while a stunning ace at the par-three by Watson resulted in a suitably enthusiastic high-five from his slightly less experienced partner, and a friendship of sorts was formed.
Lewis added rounds of 74, 76 and 74 to win the Open Championship's low amateur Silver Medal – although he was disappointed to 'only' finish 30th. A month later he helped GB & Ireland secure a stunning win in the Walker Cup, and, immediately after that, made the decision to turn professional.
But unlike most good amateurs, who have to serve an extended apprenticeship in the lower leagues, learning the ropes and finding out the all-too-painful process of playing for real money, Lewis came out of the traps like a greyhound, winning his first tournament in only his third event on the European Tour, capturing the Portugal Masters at Vilamoura with a score of 22 under par.
To put his achievement into perspective, it took Tiger Woods five attempts to get off the mark, while Rory McIlroy laboured away for 38 events before he crossed the line in front. While comparisons with either of those players are obviously rather futile, the manner of Lewis's victory in Portugal – where he shot 22 birdies in the final 52 holes – and the maturity he displayed throughout that golden summer, gave rise to the impression that we were witnessing the arrival of someone truly special.
But golf has a strange way of cutting down its tall trees. And while the £400,000 prize money – and the two-year exemption – was a godsend for a young player struggling to pay his way and secure appearances, the overnight success proved something of a millstone around young Lewis's neck, and he struggled under the burden of expectation to regain that form – let alone winning form – for six long years after that.
Lewis, who possesses an old head on young shoulders, was suitably alert to the dangers that an early win might present. Speaking to me back in 2012, he said: "Of course, it was amazing to win so early in my career, and to know that I had it in me to win, but at the same time I am worried about it kind of killing my ambition before I've even had a chance to know what it is like to grind it out week in, week out. There's a feeling that you have to put in the hard graft for a while in order to earn your first win, and that you might be missing out by not doing that. But, let's be honest, we'd all take a win, whenever it comes, so I wasn't complaining. I've just got to kick on from here, and not feel like I've cracked it."
And cracked it he hadn't. Lewis missed the cut in the remaining three events of 2011, and made only eight cuts in 2012, finishing 117th on the money list. With the cushion of the two-year exemption ending in 2013, he made only 11 cuts that year, but saved his card courtesy of a €200,000 payday for finishing third at the Dunhill Links.
Both 2014 and 2015 were a struggle, with a 116th placed finish in 2015 resulting in a lost card. He regained it in 2016 at Qualifying School, where he finished tied 11th, and he got some vital consistency in his game in 2017, with just five missed cuts from 21 events. However, a lack of high finishes meant that it still wasn't enough to earn his full European Tour playing rights for 2018.
Lewis is in no doubt about where the source of his problems lay. He says: "I was so keen to prove myself as a pro. In hindsight, I think I tried too hard. When I think back to 2011, and my amateur career, turning professional after the Walker Cup, I ended up working on my game so much that I got to a point where I didn't enjoy it. It had become work and a grind, and I had lost the joy and fun I had playing the game as kid growing up.
"The challenge I found difficult playing in Europe was the fact that we play for money, not points. I got far too focused on how much I needed to earn to get to a certain world ranking, or what finish I needed to move up the money list, that I stopped focusing on the things I should have been working on – myself, my game and the individual areas to improve, but I focused on the wrong things. By chasing the wrong goal I lost my game and my confidence."
Thus Lewis arrived at the beginning of this year with nothing more than a Challenge Tour card in his back pocket, a few invites to less popular European Tour events, and the inner belief that good things would come again provided he stuck to his processes and believed that his luck would change.
And so it proved. After qualifying for The Open and the US Open, he finished third in the Swedish Challenge and sixth in the Czech Masters in August, and then blitzed the field at the Bridgestone Challenge in September, winning by five shots against a decent field at Luton Hoo in Bedfordshire.
Unsurprisingly, given his wretched run of results, the win served as a massive confidence boost to Lewis. "It doesn't matter whether you win a huge event or a small event, this victory means a lot to me," he said after picking up the trophy and the €28,000 first prize. "I've probably had more fun this week then I did seven years ago. I appreciate the win a lot more now. I've struggled over the years and when you struggle, or lose something, you appreciate things more. That is something that I took advantage of when I was younger, so if I can continue to play like this and get a few more wins, then I can really appreciate what I'm doing."
After finishing third in the following week's Kazakhstan Open, the Challenge Tour's most lucrative event, Lewis teed it up in the Portugal Masters in Vilamoura, the scene of his finest hour all those seven long years ago. Playing with a new spring in his step, following his Challenge Tour success, and buoyed by a return to a happy hunting ground of the Victoria Course, Lewis belied his world ranking of 184 to regain the title he won in 2011 in typically gung-ho fashion, firing a final round 66 to haul in overnight leader Lucas Herbert and finish on 22 under par for the week.
Perhaps understandably, Lewis had a slight wobble on the par-five 17th, where a nervous tee shot found the water, but he quickly recovered his composure and, after his rival found water on the 18th hole, only needed to par the last to secure the €300,000 first prize.
Walking off the 18th green, and confronted by Sky Sports' cameras, Lewis looked more than a little stunned. "It is unbelievable. I am so happy. It has been a rough ride," he said with a certain level of understatement. "I think this wins means more than it did in 2011. The next win was always going to mean more because of how much I have worked for it. Hopefully I can push on now and keep the momentum up. I want to be moving forward all the time."
Since the two wins, Lewis has been like a star reborn. Having secured his place on tour for the next two seasons, he bagged 10th place at the Dunhill Links, tied fifth at the British Masters, 14th at the Turkish Airlines Open and tied seventh at the DP World Championship. All of which took his prize haul in 2018 to over €950,000, and his world ranking up to 80th – up from a lowly 623rd in 2016.
Lewis is too experienced a campaigner to get carried away with this latest run of form, but now, aged 28, he feels more at ease with his game and his life.
"I'm enjoying my golf more than ever," he says, with a broad grin on his face. "And when I'm enjoying it, good things will happen. I understand now what it means, and I feel that this is just the start of better things to come."
Stay up-to-date: