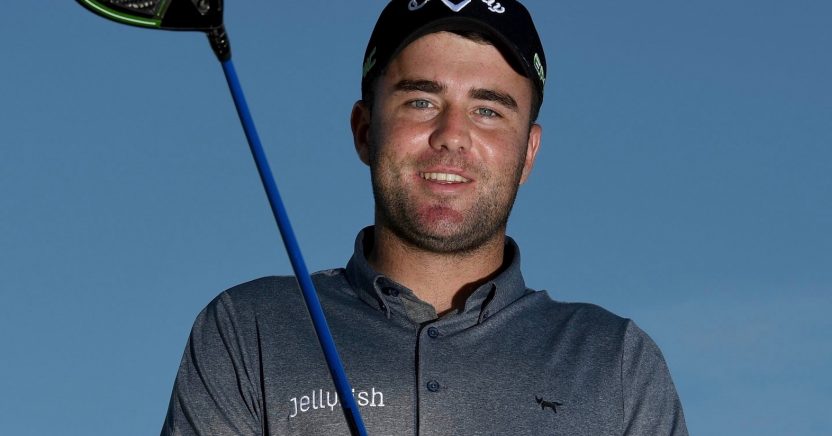 TOBY TREE

24 August 2017
Clive Agran catches up with Sussex-based Challenge Tour player Toby Tree, who leapt into the public consciousness last month when battling through qualifying to play all four rounds at the Open Championship at Royal Birkdale
Toby Tree's previously unspectacular career as a professional golfer received a massive boost last month when the 23 year old not only qualified for The Open Championship at Royal Birkdale, but made the cut and banked a sizeable cheque.
Ranked 689th in the world when he teed off at the qualifying competition at Woburn, the man from Southwater, near Horsham in West Sussex, rocketed over 100 places up the world rankings, and is more than €20,000 richer thanks to his heroic exploits over the famous Lancashire links.
Playing alongside the greatest golfers on the planet in the most important championship in the world won't have been in the forefront of the mind of the 10 year old football-crazy kid when he was first shown how to grip a club by his grandfather.
Did young Toby find the game ridiculously easy from the outset? "No, when I first picked up a club, I missed the ball and topped it, just like everyone else who starts out," he says.
Fortunately, he very quickly got the hang of the game most of us find fiendishly difficult and golf soon replaced football as his favourite pastime. After a few years knocking divots out of the fairways at Slinfold Golf & Country Club, Toby switched to Worthing, and more recently joined Golf at Goodwood as well.
His first big win came when he captured the Sussex Under-12s title and the trophies just kept on coming. A regular in various junior Sussex County sides, Toby was first selected to play for England when just 14, and went on to represent his country at both junior and senior amateur level. One of his finest triumphs came in 2008, when he won the English Boys Under 14 Open Amateur Strokeplay Championship, a competition that attracts a very strong field from right around the world.
On the international front, Toby was a member of the successful Great Britain and Northern Ireland team that won the Jaques Leglise Trophy against Europe in Spain and he also represented England in the prestigious European Team Championships. Another notable victory followed in 2010 when he trounced an international field of 118 with a four-round total of 10 under part to secure the coveted Sir Henry Cooper Masters. His rapid rise up the amateur rankings accelerated in 2014 when he won the Welsh Amateur Championship and broke into the world's top 15 amateurs. Almost inevitably at the end of the year Toby turned professional.
"I felt I had done enough in the amateur game and wanted to challenge myself by going pro. To be honest, it has been a struggle at times," he confessed. "I think I've improved mentally and that's helped me play better."
Although he's enjoyed some success on the Challenge and Sunshine Tours, surely nothing will have prepared him for the greatest championship of them all. But before Royal Birkdale came the not insignificant business of qualifying and a tough two-round test at Woburn. Was it stressful competing with so many other talented golfers desperately seeking a starting berth at the most important of golf's four major championships? "I didn't feel particularly stressed during the first round. Only in the second, when I hit into the water at 12, did I start to feel the pressure."
There were three places up for grabs, and Toby finished in a tie for second alongside Ian Poulter, just one shot clear of the next man. And so he travelled up to Southport on the Sunday before The Open and played several practice rounds, including one on Wednesday with fellow Englishmen Chris Wood and Matt Fitzpatrick, before stepping onto the first tee just before noon on Thursday.
Was he nervous? "No, I wasn't too nervous or overwhelmed by the occasion. In fact, I was pretty chilled. The two Americans I played with [Jamie Lovemark and William McGirt] were, like everyone else, very friendly and considerate. And I had a lot of support from my girlfriend, family and friends. All together there were about 30 of them following me around, which was great. I was level par at the end of the first round, but felt I hadn't played as well as I could."
Presumably at the start of the second round the plan must have been to make the cut. "I was lying 38th and wasn't really worrying about the cut. I was just trying to play well and enjoy it a bit more," he said.
It was only after his only double bogey of the week at the 13th – the hole that almost did for Jordan Spieth's Claret Jug dreams – that he started to think about the cut. However, a birdie at the 17th helped him finish five over for the first two rounds in very tricky conditions, and he thankfully squeaked into the weekend by just a single stroke.
"I found my game on Saturday," revealed Toby, who played alongside Australia's Aaron Baddely and began the back nine with five straight threes and finished with a one-under-par 69. Sunday's final round 70, played in the company of Ryder Cup player Andy Sullivan, was very steady, with just one bogey and a birdie. He reached over three-quarters of the greens in regulation, which was comfortably more than he had managed on any of the previous rounds, and finished in a tie for 54th alongside Justin Rose. He banked a cheque for €22,528 for his week's work – comfortably the biggest payday of his career, and twice as much as he had earned all season on the Challenge Tour.
Will this be the start of better things? "I'm hoping it'll prove to be a bit of a platform and not just a one off. Having played at The Open, it certainly left me wanting more."
But for the moment at least, it's back to grinding out results on the Challenge Tour, where Toby currently lies in 82nd place in the money list, and needing some Open inspiration if he is to jump up to the big leagues.
Stay up-to-date: