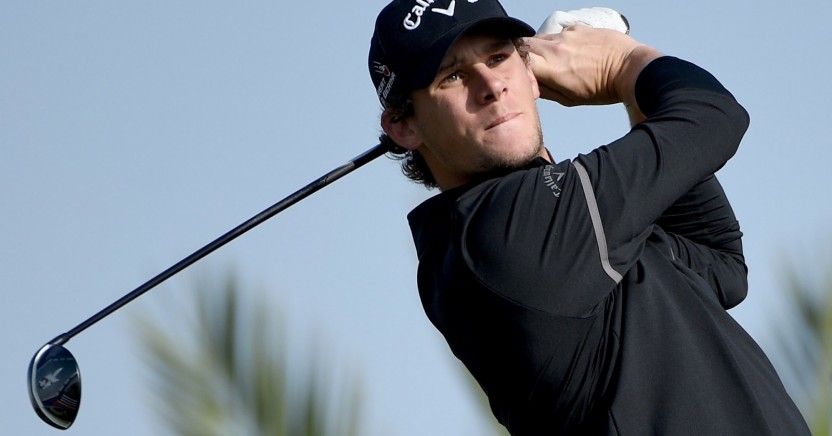 THOMAS PIETERS

16 March 2016
After winning twice last season, big-hitting Belgian Thomas Pieters is looking a lively outsider for a Ryder Cup spot. Nick Bayly recounts the rise and rise of the European Tour's tallest player
They make 'em big in Belgium. Maybe it's the mussels, the strong beer, or the waffles that add such stature, but whatever Thomas Pieters was fed on when he was growing up – probably not the beer – it certainly seems to have raised him considerably above the median height for golfers.
At just over 6ft 5in in his spikes, Pieters is vying for the Tallest Player On Tour title with Bristolian giant Chris Wood, and is fully three inches taller than Belgium's most successful ever player, Nicolas Colsearts.
Many statistics related to Pieters include impressive numbers – not just his shoe size and inside leg measurement. His clubhead speed with a driver is a distinctly rapid 120mph, while his average distance off the tee is an impressive 304 yards. Last year, he was ranked 240th in the world. Now he is 61st. In 2014, his rookie season on tour, he finished 83rd in the Race to Dubai. Last season he was 29th.
Pieters's rise has been nothing short of meteoric. Just 12 months ago, the gangly kid from Antwerp was just one of a promising crop of talented players emerging from mainland Europe. By mid-September, he had made his mark on the European Tour not once but twice, winning successive events at the Czech Masters and the KLM Open. Just 18 months into his professional career, and it wasn't a surprise to find his name cropping up in conversations about the 2016 Ryder Cup.
Rewind several years, and it's easy to see why Pieters was being talked about in such lofty circles. After representing his country at all levels on the amateur circuit, Pieters, like many top European players before him, took up a college golf scholarship in America. While playing for University of Illinois, he won everything there was to win, including casting aside some chap called Jordan Spieth, and the world's top-ranked amateur, Patrick Cantlay, en route to victory in the 2013 NCAA Division Championship.
Courted by all the top player management companies – he eventually plumped for Excel Sports, which looks after Tiger – he brought forward his plans to turn pro by a full 12 months and headed off to the European Tour's qualifying school at the end of 2013. Approaching the exercise with the fearless attitude of youth, he blitzed his way through three qualifying tournaments, before finishing 20th in the final six-round slog at PGA Cataluyna to earn his full European Tour card for 2014.
Rather than going all out for victories, Pieters focused more conservatively on keeping his card in his rookie season, and did so with four top-15s, including a runner-up finish in the Spanish Open at PGA Catalunya, where he lost a play-off against battle-hardened campaigner Miguel Angel Jimenez.
Although initially annoyed at not bagging a win during his first year on tour, Pieters showed plenty of maturity by taking the positives from the defeat and chalking it up as a learning experience. "Just after that losing the play-off I was furious with myself for letting the opportunity to win slip through my fingers," says Pieters, whose first language is Flemish, but who is a fluent English speaker following his three years in America. "But an hour or so later, once I'd calmed down, those negative thoughts faded away, and I thought of the good things I had learned. I watched really closely the way Miguel Ángel handled himself, especially in the way he approached the final round and the play-off. He always stuck to his game plan, never rushed things, and just waited for his chance. I took it all in, and tried to apply it to my own game."
Pieters's only other disappointment from his impressive rookie season was coming up short in the qualification for the Race to Dubai Final Series, where he finished 23 places outside of the top-60 mark required to win a start in the season-ending run of tournaments.
Fired up to not miss the party again in 2015, Pieters raced out of the blocks, making the cut in eight of his first 10 events, including a fourth-placed finished in the Abu Dhabi Golf Championship, and had all but sewn up his card for 2016 as early as the beginning of May.
With his job for next year safe, Pieters relaxed into playing his best golf in the summer, smashing his way around the Albatross Course at the Czech Masters to capture his first title with a 20-under-par total that included four consecutive rounds in the 60s.
While some players would have had a few beers, sat back and celebrated after their first win, or perhaps even had a week off, Pieters marched on to the KLM Open in Holland and proceeded to shoot another four rounds in the 60s – including a third round 62 – to capture his second win in successive weeks. Thirty-nine-under-par for 72 holes, Pieters had announced his arrival on tour in no uncertain fashion.
Able to crank it out huge distances – his longest drive has been measured at a towering 410 yards – it would be easy to pass him off as just another in a line of big-hitting youngsters, but he also possesses a lightness of touch that most taller players find hard to master.
Pieters is coached by Pete Cowen, who first met the youngster on a training camp in Belgium, where the 13 year old immediately caught his eye.
"Pure talent, that's what I see in Thomas," Cowen says. "I see hundreds of kids who can hit a golf ball, but I see very few who can play golf. Thomas always could hit it, and Mike Small (his college coach at Illinois) did a great job of turning him into a player.
"Thomas has got all the attributes of the modern player. He swings the club beautifully, hits it hard, has a good physique, long levers, and seems to have the hunger to go with it. He is able to take a course apart because of his pure length, which is a massive bonus."
Cowan adds: "It also helps that he is built like an athlete and he trains like an athlete. He was always the kid who if I said throw a tennis ball against that wall for half an hour would still be doing it an hour later. He does the drills in the room, too. Recently, he told me he was 86th in the world, and I said to him, 'where do you want to be with your golf?', and he said '85 places higher'. He's a bit like Henrik Stenson, in that he's got a good sense of humour. He doesn't mind somebody taking the mickey out of him. He is not too serious about himself. I've said to him: 'Thomas, you've got to remember that I had Henrik at the same age as you are now, and you are more talented than Henrik was then'."
It is high praise indeed from someone who has coached many top players, but Pieters is not one to let such comments go to his head. Grounded by the support of his close-knit family, he is unprepossessing and without a hint of cockiness.
While Pieters's height has been a bonus on the golf course, away from it has proved a costly business, as with such long legs he is unable to sit in economy seats when flying long haul. "The constant traveling is obviously one of the most negative things about life on tour. There's a serious lack of legroom on planes, so I have to fly business class for long distances. It costs a lot of money, but I consider it as an investment. Otherwise I arrive in a terrible state, and not ready to play my best golf."
Apart from his height, Pieters' only other issue as a professional golfer is his hayfever, a debilitating condition that effects him most in Europe, where tests have revealed he is allergic to a wide range of grasses, trees and bushes. Wearing sunglasses has little effect, and he often plays tournaments with tears streaming down his cheeks.
Although content to continue building his experience on the European Tour, as his world ranking creeps towards the top 50, he concedes that his long-term future may well lie on the PGA Tour in America.
"I really like the lifestyle in the States," says Pieters. "I lived there for three years and made a lot of friends. I speak the language, so much so that I even think and dream in English. Ideally, I would like to be a world player, and have a schedule that allows me to play the two tours, but for now I need to concentrate on winning more events in Europe and see where that takes me."
It's currently taking him in one direction – closer to that all-important top 50, which will lead to majors, WGC events, and a freedom to play wherever he chooses. With a second-placed finish behind Rickie Fowler in Abu Dhabi last month, his season is already up and running, and as things currently stand, he is agonisingly close to earning an automatic spot in the Masters. But should he fall short, you can bet that it won't be too long before Thomas Pieters will be mixing it in the major leagues. Thankfully, he has a head for heights.
Stay up-to-date: