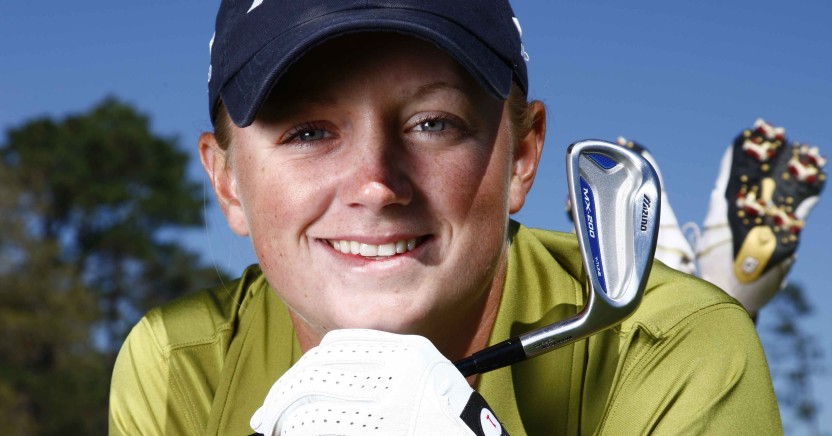 Stacy Lewis Q&A

8 January 2015
Despite not winning a major in 2014, America's Stacy Lewis has plenty of reasons to look back on the year as being one her best ever
It's been quite a year for you. Getting to world number one, winning the Rolex Player of the Year award, the Vare Trophy [lowest scoring average], and the LPGA money list – a feat that hasn't been done by an American since Betsy King in 1993. What does it mean to have acheived those honours?
It's just amazing. I feel like a ton of weight has been lifted off my shoulders. I have previously won the player of the year title and the Vare Trophy, but I really wanted to win the money list at some point. I thought it would be pretty cool if I could do all three together. I didn't think it would be this year or this quick with the way Inbee [Park] played last year, so it's amazing to be part of a little bit of golfing history. Scoring average and player of the year are the best indicators of who had the best year, and that's why I want to win them.
You've been trading the world number one spot with Inbee Park this season. What did it mean to you to be the top-ranked female golfer in the world earlier this year, and how important is it for you to regain that spot?
Honestly, being No.1 is just a number to me, it doesn't change the way I think about myself or the way I prepare, it's more of just checking a goal off the list. Of course it's important, but it's not the ultimate goal. I do think that having an American at the top of the rankings is great for the LPGA, so in that aspect I was glad it was me, and I'm pushing myself all the time to regain it. I don't really understand the whole points system and how it all works in the world rankings. I just pay attention to wins, money lists, and that kind of stuff.
Given the domination of players from the Far East, do you feel that you are striking a blow for America?
Not really, but I got tired of being asked the question 'where are the American players? 'We need someone to challenge Yani or Inbee', and I just got tired of answering those questions. So, I just told myself 'why not me? Why not get out there and work your butt off and get in that position so you don't have to answer those questions anymore. I've spent the past few years asking myself 'what are they doing that I'm not? You watch how they practice; you watch what they do in tournaments. Now it's me in that kind of position, so I know people are watching me, and watching what I'm doing. Now I have to keep at it and be that role model for everybody else. I think if I can show people that I can do this, and they've watched how hard I work, they've watched me practice, they've seen how I've played the past couple years. If they can see that, they can do that too. That's good for our game."
Do you know why American players have done so well this season, particularly at the start of the year?
I think a lot of the US resurgence on tour is a reaction to the Solheim Cup. We got spanked in the last two, and it was just down to poor individual play. I think we've taken some responsibility for those defeats and the girls are working hard. You've got the young ones, like Jessica [Korda] and Lexi [Thompson] getting in contention more and learning how to win, but it takes time. They're not going to come out at 20 and be worldbeaters every week. Look at Michelle [Wie], it's just taking some time.
Have you spoken to the other players about the Solheim Cup and how you might turn it around?
Not really specifically, but we've talked about it. I think leading up to the next one we've talked to Juli [Inkster] about some things and how to maybe do a few things different. We've just got to get out there and play some better golf.  We know we can, so I think we're going to be really motivated over the next eight months or so to show that.
So you won't be part of any US women's task force?
No, I would not want to be a part of any task force.
How do you think you handled the pressure of being number one?
There's a lot of good that comes with being No.1, but the hardest is time management. Everyone wants a piece of your time, and while it's hard to say no, I've learned that I can't do it all. My practice and preparation time is most important to me, so I make that a priority before anything else. I didn't get as much downtime as I would like, but that's the nature of the position.
You've been pretty consistent in the majors this season, with three top-six finishes, but no wins. What are your thoughts on those performances?
This year has been pretty good on the whole, but I've kind of tailed off towards the second half. I've had times where I haven't played as well as I would have liked, but then had other weeks where everything has clicked. I'm never really too satisfied with my game, because I think you can always do better. The year has been a little more up and down than I would like, especially these last few months, but I'm looking forward to finishing the year on a good note. The big thing that sticks out to me is that I didn't win one. But that's just me. I'm here to win. I've given myself chances, which is what you want to do, but the putts haven't quite dropped this year. If you look at a player's career, it's judged on majors and wins, not consistency, so in that respect I've had better years.
What happened the latter half of the year?
I felt fine physically, it's just that my game was a little bit off. One day it was putting, one day it was ball striking. I haven't had the weeks where everything has come together. We've been working on my swing trying to get that back a little bit more consistent. It's all down to scoring. You can hit all the good shots you want, but if you don't get the ball in the hole, the scorecard isn't going to show it. That's really all it is.
You've played a lot of events in the Far East this season. Has that taken its toll a bit?
I don't even want to know how many air miles I have racked up this year. We travel so much, and it does takes a lot of toll on your body. You got to have a great support system around you to keep it all on the road.
What things are you going to work on to come back a stronger player in 2015?
Everything. I think you can always be a little better at everything from actually hitting shots, to being stronger mentally and managing rounds better. One of my goals at the beginning of the year – although I've already said that I don't really like sharing them ­– was to be a more patient player. Taking the knocks and bad bounces, and riding the breaks. It's hard when you start trying to force things, so I've really tried to focus on the bigger picture rather than worrying about the small stuff. I've won three times, and I've had a bunch of top 10s, and I'm leading a lot of the categories I want to be leading, so it's just getting back to what's gotten me to that point. Golf is just a game that the harder you try, the worse you play. I know if I have an off day, I can still come back and have a chance to win, and I need to keep that in the back of my mind.
Did you always want to be a golfer?
I played golf growing up, but never imagined it would turn into all of this. I don't know what I would be doing if I wasn't playing golf; it would probably be something within sports, maybe using my finance and accounting degrees.
WHAT'S IN STACY LEWIS'S BAG?
Driver: TaylorMade R1 (10)
Fairway Wood: Mizuno MP650 (15)
Hybrid: Mizuno JPX 825 Pro (19)
Irons: Mizuno JPX 825 Pro (4-PW)
Wedges: Mizuno MP T-11 (52, 56, 60)
Putter: TaylorMade Ghost TM 100
Ball: Titleist ProV1x
Stay up-to-date: