SIR NICK FALDO

14 December 2015
Nick Bayly caught up with Sir Nick Faldo at the launch of his new range of wines, and found out what the six-time major champion makes of the so-called 'Big Three'; golf at the Olympics; and why he loves easy-drinking reds
You've launched six wines to represent your six major wins. Which is your most cherished victory, and which is your favourite wine in the collection?
The badge on the label on the bottles features six stripes, each of which represents a major. The claret stripe represents the claret jug, and the green stripe represents the Masters' jacket, and that's the order I won them in: Open, Masters, Masters, Open, Open, Masters. Each holds a special place in my memory and in my personal history. The first is life changing and the last is life affirming. The two in the middle came in the same year, a rare defense of the Masters and an Open win at St Andrews. I wouldn't give one up. They each mean something very special to me and today those six define my career. As that relates to wine and these wines, I do believe that each was selected because it really struck a chord with me; a taste or a feel. Each will match with its selected meal or occasion or company. One is perfect for one celebration and one is perfect for the next. In all honesty, it's been a fun project to be involved with. I think we've done it well, and I'll be happy if golfers around the world come up to me and say: 'Hey Faldo, I've tasted your wine, and it's all right'.
If you were describe your character when you were winning all your majors as you would a wine, what would you write on the label?
I was a detail-oriented player and a difficult taskmaster. I sought perfection. I put an incredible amount of time and practice into it all. I believed in that and still do. There was no science in those days. There was simply the feel and the muscle memory of a well-executed shot. Fortunately it was in my DNA, and I enjoyed the process of doing the same thing over and over again, day after day, year after year. Thousands of balls struck until I achieved the goal and the shot I was aiming to achieve under pressure; without question every single time.
And what would it say now, with a few decades of maturity?
I am still fully committed to the best. The DNA part, the part which drives me to reach for the best, is still very much part of me. That fits well with great wine making. I appreciate the process, the detail, and therefore the best end result.
Did you drink much during your playing days, or is wine something you've discovered in later life?
I remember when I won the Spanish Open in Las Brisas in 1987, I had a lot of friends down there and we had a dinner that night and one of my friends said, 'You have to try this Marqués de Riscal'. That kind of stuck with me and had a bit of extra meaning. Fortunately all the expensive wines I've had since, I haven't bought – my rich friends have. I've been a very moderate, very disciplined drinker all my life. I'm no connoisseur or anything, but I enjoy it, and probably drink it more for medicinal purposes, because it's got antioxidants and all that sort of thing. So I think it's better to drink red wine rather than beer as I get older.
Might you add any more wines to the collection in the future?
I'm under pressure from my connections in Germany to put a German wine in there, so who knows, we may do others.
What do you make of the concept of 'the Big Three', [Rory McIlroy, Jordan Spieth and Jason Day]? Is it too early to be talking about these players in those terms?
With Tiger having dominated the game for much of the past 10-15 years, it's been a long time since we've had a bit of competition at the top end of the rankings, so it's not surprising that the media is looking to stir up some sort of rivalry story. We had the big three moons ago, with Palmer, Nicklaus and Player, now it looks like we're approaching having another one. Of course, it's very early days for all three players – they're all still in their 20s – but it would be great for golf if these guys were able to go head-to-head down the stretch in the majors and other big events in the years ahead.
How hungry do you think Rory will be to regain the top spot after seeing the other two surge past him this season?
It will really motivate Rory. Rory loves the limelight, and he wants to be world number one again. He doesn't like the fact that these two other guys went 'whoosh' past him because of his injury, so he'll be gearing up big time for next season.
Most golfers suffer injuries at some point. How did you approach them during your career?
You've got to look after yourself. You're an athlete, and you have a window of opportunity. It doesn't mean you've got to wrap yourself up in cotton wool, but some things you've just got to think twice about. Your priority is to do everything right to be a golfer for the time you are out there. Once it's over, hopefully you've got 50 more years of the rest of your life to enjoy what you achieved as an athlete for 20 years.
Some observers have said that Spieth has to find some more distance off the tee if he is to stay at the top. Do you think that's the case?
He doesn't need to change a thing. I've been there, and when you're playing well you're always looking for more, but all you really need to do is just maintain things. If you're playing well enough to beat the best in the world, I wouldn't go and look to tinker too much with it. That's what so many players have done before, thinking 'I've got this good, I want to keep going', but maintaining it is a tough enough game. There's a knife edge between playing so well that it makes you feel so darn good that you feel 100 per cent confident, to then, very simply, hitting a few bad shots. That whacks your confidence.
What's your view on golf's return to the Olympics, and would you have liked to have won a gold medal?
I'm happy to see golf in the Olympics, but I don't think they've got the format right. It should be a proper team event, not just another individual stroke play event. Teams of three, with the best two scores counting would have been my ideal. I would have loved to have had a chance to win a gold medal. Of course, it's not the same as a major, but it's a huge global event, so who wouldn't want to win that?
Talking of global events, you must be thrilled with how the Faldo Series has grown into what it is today. How many countries are involved now?
I don't know, over 30. Next year is our 20th anniversary, so it's been quite a journey. We've produced some great champions over the years, many of whom are now household names, like Rory [McIlroy] and Yani Tseng. It's been great to take it to new countries – last year we went to Colombia for the first time – and see how inspiring it can be for youngsters.
You first saw Rory play when he joined the Faldo Series aged 12. Was he special then?
I could see his rhythm and tempo were very impressive from the off. My clearest memories of the young Rory are playing an exhibition match with him when he was 16. What was impressive about him in those days was that even when he was wearing waterproofs his swing didn't change. Of course, his rhythm has gone on to become his hallmark. Physically, he can spin his hips faster than anyone else. So when he is on, he can generate a ridiculous amount of power.
Many people thought that this year's Open at St Andrews was going to be your last, but I gather you're playing at Troon next year, before bowing out at Birkdale. Why did you change your mind?
The first Open I ever attended as a spectator was at Troon in 1973, so that has special significance to me, while Birkdale was my first Open as a player in 1976. St Andrews has a special place in my heart, so it was always going to be special to play that one last time, while I still had some level of ability left in me. I'm hoping to stay fit for the next two years, but time will tell.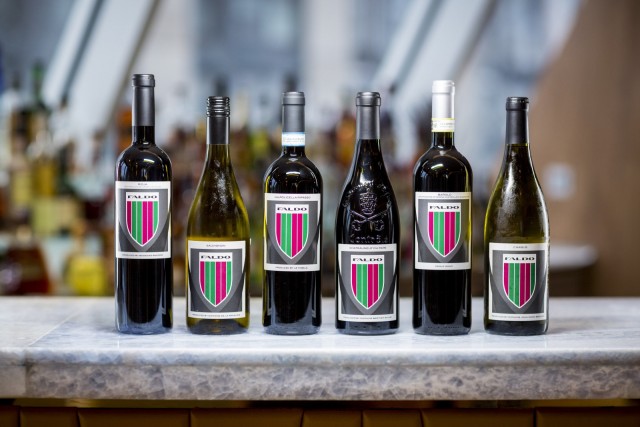 FALDO'S EUROPEAN WINE COLLECTION
THE WHITES
Faldo Sauvignon de Touraine, Domaine Renaudie, Loire, France, £10.99
Tasting notes: Less tropical than a New Zealand Sauvignon Blanc, but packed with powerful fruit. Lean acidities perfectly balanced with grassy notes and elderflower.
Faldo Chablis, Domaine Brocard, Burgundy, France, £15.50
Elegant aromas, with some richness of fruit, and a piercing, edgy finish.
THE REDS

Faldo Chateauneuf du Pape, Domaine Berthet-Rayne, Rhone, France, £22.50
Full ruby with fresh boysenberry and cassis. Concentrated with ripe dark fruits and floral pastilles.
Faldo Valpolicella Ripasso, Le Tobele Italy, £13.50
Chocolate and black cherry fruit with hints of raisins on the nose. Medium-full bodied and offering dried fruit, spice and a sweet core. Dry and fruity on the finish.
Faldo Rioja, Bodegas Baigorri, Spain, £15.50
Deep cherry-red, with plenty of depth and aromas of black fruit compote with notes of spice. Smooth and silky in the mouth, with a long, warm finish.
Faldo Barolo Bussia Monti, Piedmont, Italy, £44.99
Autumnal fruits, underlying leather and richness of fruit. Not overly tannic, but with wonderful balance.
To place an order for wines from the Nick Faldo European Collection, visit www.winecellarclub.co.uk.
Stay up-to-date: