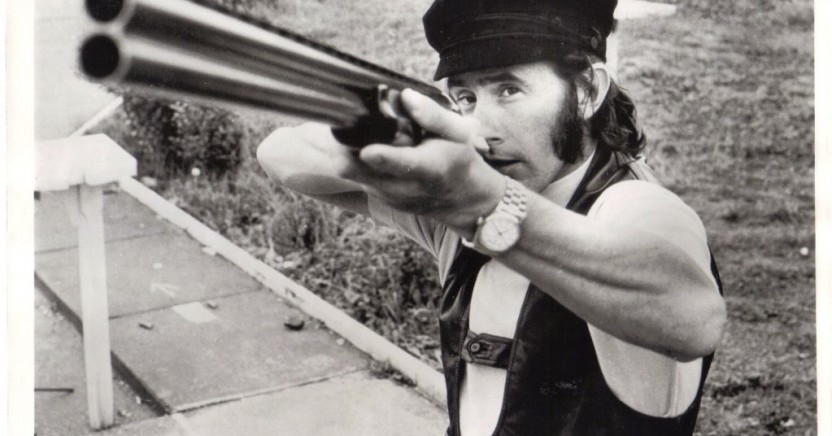 Sir Jackie Stewart Q&A

19 February 2015
Three-time Formula One world champion Jackie Stewart has an interest in many sports, but he has enjoyed a life-long love affair with golf, as he tells Jeremy Ellwood
How long have you been playing golf?
Since I was 12. I'm 75 now, so that's 63 years, give or take. I was a member of Cardross Golf Club between Dumbarton and Helensburgh. My father was a golfer and my brother was a good player, too. I was never very good – at my best I got down to 8, but I spent much more time as a 12- to 16-handicapper.
Where are you a member now?
I'm fortunate enough to be member of the Royal & Ancient, and I'm also a member at Gleneagles, and at three clubs in Geneva, where I live.
You attended the Ryder Cup at Gleneagles last year. What did that feel like as Scot?
It was a very proud moment for anyone connected with golf in Scotland, which has done so much to promote golf to the world. I attended the opening ceremony and have never seen so many people at the Ryder Cup on a Thursday before – the atmosphere was incredible and I think they did a terrific job in hosting the matches. And, more importantly, we got the right result!
Like the European team, you obviously enjoyed the pressure of being a favourite during your racing career. How did you cope with that?
There's certainly more pressure being the favourite, as you can't go in there with the attitude of an underdog, but you can't let it get to you either. All top sportsmen and women thrive on that pressure. Having all those other drivers wanting to beat me only made me more determined to win. Motor racing is an individual sport, and although I had teammates, everything I did, I did for myself. What I love about the Ryder Cup is the way the more experienced players look out for the younger ones coming through. They might be rivals for 51 weeks of the year, but for one week they pull together as one, from which lifelong friendships are built.
Are you as fiercely competitive a golfer as you were a driver?
Of course! There's hardly a sportsman or sportswoman at the top who's not viciously competitive at whatever sport they play.
Did you play golf for relaxation during an F1 season?
Absolutely. Graham Hill took up golf, as did Denny Hulme and Peter Gethin. After qualifying or practice, we would always try and nip off and play 18 holes, because there was always a course around the Grand Prix circuit somewhere. And because of my motor racing, I got invited to an awful lot of pro-ams.
When did you start driving?
I was driving round my dad's garage by the age of nine, but I didn't start racing and competing properly until I was about 23. There was no karting and no Formula Ford when I started. I left school at 15 with little or no education – I'm dyslexic – and my first sport was shooting. My grandfather was a gamekeeper, so I took up clay pigeon shooting, which I got quite good at. I shot for Scotland, then for Great Britain, and I won most of the European and Mediterranean championships. I'm the only guy who's won the British Grand Prix in two different sports – shooting and motor racing! But golf stayed with me until I had an ankle injury about five years ago, which has meant I've had to give it up.
Back then, safety in Formula 1 wasn't quite what it is today…
No, it wasn't. I've probably been to more funerals and memorial services than anyone I know, just because at that time the sport was so dangerous. If you raced in Formula 1 over a five-year period, there was a two out of three chance you were going to die. So golf was such a nice thing to do – it was peaceful, you were out walking in the fresh air, and you had companionship and competition all in one.
You managed to get through your racing career without serious injury. Was that down to skill or luck?
Without ever drawing blood from my body! I don't think it was luck, but I don't think it was necessarily skill either. What I unquestionably had was the finest collection of mechanics in the pit lane. I drove for Ken Tyrrell all my life, and I had at least four mechanics – Max Rutherford, Roger Hall, Roland Law and Roy Topp – who were better at what they did than I ever was at what I did. So I didn't have the mechanical failures other people had.
So you always had complete faith in your car?
Absolutely, and that was partly to do with Ken Tyrrell's ability to choose high-quality people. Once you've chosen them, they develop with you and they raise their game as much as you raise yours. It's not quite the same as a caddie on the golf course, because my whole life depended on their ability. I was lucky – I had a really good record, which is close to never having been beaten. I only raced in 99 Grand Prix and won 27 of them, with three drivers' titles in 1969, 1971 and 1973.
So you were the Jack Nicklaus of the Grand Prix world?
Well, the point is, that to finish first, first you've got to finish. There were loads of other drivers who were very good, but their cars were not as well prepared or reliable as mine, because Ken was driven towards producing a robust racing car that wasn't going to have mechanical failures that would stop us from finishing. The reason I won so many races was that my mechanics were so good.
You've been a critic of the design of modern F1 circuits, saying that they making overtaking difficult. Why is that?
The major reason for the lack of overtaking is down to the modern tracks, nearly all of which have been designed by the same man, German architect Hermann Tilke. Put simply, they are largely carbon copies of each other and they tend not to penalise mistakes. Thank heavens the tracks are a lot safer, but they also tend to produce dull racing, which doesn't make for great viewing. When I think of the great golf courses of the world – from St Andrews to Pebble Beach to Augusta – they all have green fairways and they all have sandy bunkers; some suit the longer hitters; others place a premium on accuracy; but they each have their own unique characteristics. Crucially, no two of the ones I mentioned were designed by the same person – and that's what makes golf fascinating, the variety of courses and conditions that golfers are required to overcome.
What did you make of Lewis Hamilton winning his second driver's championship?
Lewis certainly has the ability to become one of the great drivers, but there's a lot still to be done to achieve the greatness that I think everyone has perhaps placed on him prematurely. But he's a young man, so he has many more years in the sport, and I think we are going to see even greater things from him. To become a great, Lewis has to continue to win. He must choose the best teams to drive for and keep his head focused on being a professional.
Stay up-to-date: