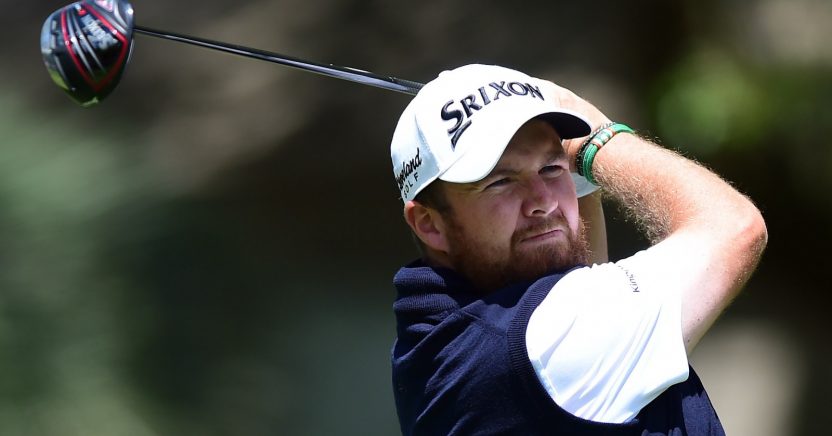 SHANE LOWRY

10 July 2019
After winning a WGC event in 2015, and finishing runner-up in the 2016 US Open, Shane Lowry looked to have the world at his feet. But following a move to America, he found life tough on the PGA Tour, and it has taken the talented Irishman almost three years, and a return to the European Tour, to rediscover his best form
Like so many top European players before him, it was inevitable that rising Irish star Shane Lowry would jump ship to America as soon as he had sniffed the sweet smell of real money that came with victory at the WGC-Bridgestone Invitational in 2015.
With a PGA Tour card in his back pocket, the then 27-year-old from County Offaly wasted no time in packing his bags and heading out to the wild west in search of gold and world ranking points. After six seasons on the European Tour, Lowry was looking for a new challenge. And the PGA Tour was just that.
And the gamble, such that it was, initially looked to have been a good one, especially when the following season he lead the US Open at Oakmont by four shots after 54 holes, and appeared to be heading for his first major title. But the history books show that it was Dustin Johnson who lifted the trophy, while Lowry crumbled under the intense pressure, closing with a 76, which dropped him into a share of second. 
That experience left a heavy scar on Lowry, and his subsequent form on the PGA Tour took a nosedive, with just one top-10 finish between then and the end of the 2018 season, which led to him finishing 138th on the money list and losing his card last September. Like many before him, trying to fight battles on two fronts, the PGA Tour and the European Tour, proved too much, and, like all good tacticians, he knew that he needed to regroup in more favourable surroundings if he was to get his career back on track.
"I feel like the last couple of years have been quite stale, going to the States, messing about with my schedule, playing too much golf and travelling too much," he admits. "For me to keep my card on both tours last season was very difficult. I think I played 18 events in America last year. But I'm not making excuses – that still provided plenty of opportunities for me to keep my card. It's been very hard on me these last few years, and I feel like that has been my downfall, to be honest. I have been travelling too much, and I have not seen enough of my wife and daughter, so something had to give."
With his focus now back in Europe, Lowry ended last season with good chances to win in Spain and Portugal, and, after a relaxing six-week break over Christmas with family, came out all guns blazing at the first Rolex Series event of the year at the Abu Dhabi Golf Championship. Firing a course record-equalling 62 in the first round, he charged to the top of the leaderboard. And, after adding rounds of 70 and 67, he entered the final day leading by three shots and all set for a long overdue return to the winner's circle. 
But Lowry hadn't accounted for Richard Sterne, whose blistering front nine of 31, compared to Lowry's own lacklustre 37, saw the South African lead by four with just seven holes to play. But Lowry is nothing if not a fighter, and helped by Sterne's stumble on the back nine, the Irishman produced three birdies over the last holes, including a vital one at the last, to clinch victory by the minimum margin.
It was, not surprisingly, an emotional win for Lowry, who, in true Celtic fashion, said it was one that he would 'celebrate to full'. "I'm going to really enjoy this one, because you just don't know when it's going to happen again," he commented as he lifted his first trophy in four years.
With his confidence sky high, Lowry has wasted no time in rebuilding his world ranking, which had dipped from a high of 21 in 2015, to a low of 92 last summer. Moving up to 41 following his win in Abu Dhabi, he's currently ranked 35, following a string of top tens in America, including an eighth place at the PGA Championship and runner-up finish behind Rory McIlroy at last month's Canadian Open. All of which has taken him into a strong position for a tilt at the Ryder Cup team in 2020, which will be captained by Padraig Harrington. 
"I feel good about my game," he says. "I'm now closing in on the top 30, and in all the big events, so everything and anything is possible. My main mid-term goal is to make the next Ryder Cup team, so I need to get on Padraig's radar. I really enjoyed watching our boys beat the Americans in Paris, but I will be doing everything I can to make it next time, and I'd love to play under Padraig's captaincy."
Like all the other Irish players on tour, Lowry is also delighted that the Open will be returning to his homeland in the summer, by which time he'll have just turned 32. "I love Portrush," he says. "I won the North of Ireland Championship there in 2008, so I've had a bit of success there already. I'm sure GMac [Graeme McDowell] is very excited about the prospect of playing an Open in his hometown. It's something he probably thought would never happen. It'll be an exciting build-up, that's for sure, and it's going to be massive for Irish golf, and Ireland as a whole."
While a serious competitor out on the golf course, Lowry is keen to let off steam when he's away form the pressures of the game, and is widely known for his liking for a glass or two of Ireland's most popular export when it comes to celebrating a good week's work. "Good days are pretty rare in this game for most of us, so when you have those good days you've got to enjoy them," he admits. "I count myself lucky as a golfer, in that most of the time I can get straight back on the horse, so to speak, after a bad tournament. I very much take the view that if you fall off the horse, you get up, dust yourself off, and get going again."
Stay up-to-date: