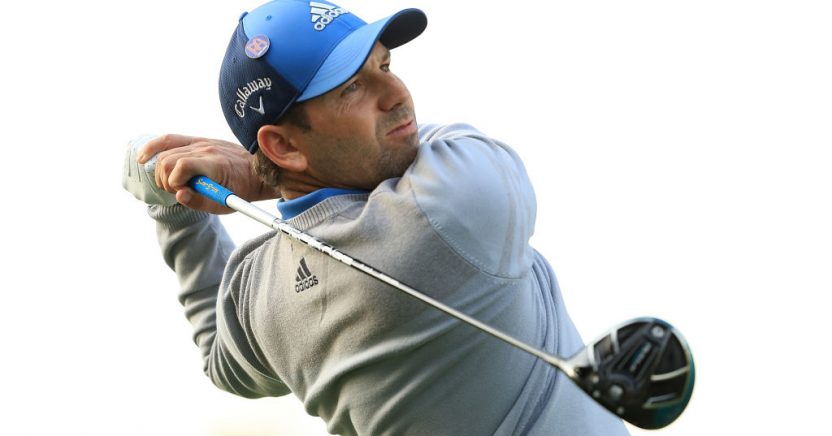 SERGIO GARCIA

12 March 2018
With a green jacket hanging in his wardrobe, a ring on his finger, a baby on the way, a re-invigorated SERGIO GARCIA is gunning for more wins and more majors in 2018, starting with the defence of his Masters' title
Winning the Masters, winning your home event at Valderamma, getting married, and now expecting your first child – 2017 must go down as a very special year, whichever way you look at it.
It was a wonderful year, no question. I've had some great years before, but given what I've experienced on and off the golf course, it has to go down as one of the better ones, for sure.
Given everything you achieved last year, how hard was it to sit down and set some new goals for 2018?
The goals are still the same: try to keep improving, getting better in all aspects of the game. The goals never change from year to year. Obviously, I would like to put myself into a position to challenge for more wins, but the priority is to feel like I'm becoming a better player, not just technically, but the way I build my score and manage my game.
Do you feel like it should be easier to win another major or two now that you've broken through?
I don't know if it's easier or not. Obviously, it's nice to have won one, but it doesn't mean that the next one is going to be easy, or easier, shall we say. It doesn't work like that. There is always huge pressure at any tournament, but hopefully, if I can get myself into contention to win another one, I might feel a little more comfortable with the situation, but it doesn't mean that it becomes easy.
Having to change equipment can be a difficult thing, so how pleased are you to have won as quickly as you did with the new gear at the Singapore Open?
To be totally honest, it hasn't been difficult. Callaway has amazing equipment. So that makes it easy. When you look down at the clubhead, and you like what you see, it obviously helps. It is very exciting. I'm obviously very pleased with the move, and, you know, hopefully we can keep having more weeks like that.
Some people would question why you felt the need to change your equipment after having such a brilliant year. What prompted the change?
Well, it wasn't only my decision. You know, I spent 15 years with TaylorMade, but unfortunately things come to an end. There were, of course, a few consequences of TaylorMade and Adidas going their separate ways. When a company has so many top players it is always going to be difficult to keep them all, and unfortunately we couldn't reach an agreement and the relationship kind of reached the end of the road. And now I've joined Callaway. I experimented with their equipment for a while towards the end of last season, and during the off-season, and what I tried felt great. Callaway is a great company and they make great equipment, so it's hardly a leap into the unknown. The team at Callaway seems excited to have me on their team, and I'm excited about all their new gear, so it should be fun. It means a lot to have a company like Callaway put so much faith in me, and I hope I can repay them.
Which part of the equipment change have you found it hardest to get to grips with?
I would say the most difficult thing to change is the golf ball. When you play with one brand of golf ball for quite a while, it becomes second nature to know how it will react off certain shots and how it feels in certain situations. The numbers I was getting from Callaway's new Chrome Soft ball were really good, and the fact that I was able to win with it on just my second outing on tour shows that I'm already pretty comfortable with how it performs. The rest of the new gear is also amazing – the Rogue woods are incredible, and the irons are great, the Mack Daddy wedges are very nice and the putter, they just made me a new one, the Azalea, which is really nice. Obviously, I'm really pleased with everything right now, and I still feel like I can get better.
What would you say has been your main strength throughout your career that's kept you among the top players in the world?
Well, for me, it's all about consistency. You know, I've been fortunate to be healthy for pretty much my whole career. I've been very consistent. My long game is very consistent, and that's kept me always at a good level. So, you know, it's been a combination of those things.
You had an outside chance of winning the Race to Dubai last season. Are there any regrets that you didn't change your schedule to chase a few more points?
Not at all. Winning the Race to Dubai is a great achievement for any player, but I'm not going to change my whole life for it. I had some important things that I needed to take care of, and that's not going to change. I will always play a global schedule, and I will always be a member of the European Tour, but I'm not interested in money lists or chasing points – I want to win tournaments.
How was your Masters' win received in Spain?
I've received some nice trophies and awards from around the area where I live in Spain, but I haven't had so much national recognition. We're fortunate that we have a lot of good sportsmen and women in Spain, so the competition is tough – especially from Rafa (Nadal).
This year's major schedule includes a return to Carnoustie for The Open. I know it's a little bit away, but how much are you looking forward to going back there, given how close you came in 2007?
Yeah, I'm very excited, and I'm really looking forward to going back to Carnoustie. I love the place and I think it's one of the best links courses we play in The Open rotation. Hopefully I can play as well as I did in 2007, and perhaps just a little better, and give myself a solid shot at it. It would be nice to put myself in that situation again.
What in particular do you like about it?
I think it's just a solid golf course. It's great. It's not the kind of links course that needs a lot of wind or very bad weather to play tough. You know, even with good weather, it's still very challenging. So I love that about it.
With regards to your defence of the Masters, will you in any way be looking to replicate any of the routines that worked for you last year? Whether it be your practice, where you stay, what you eat? Are you at all superstitious?
Absolute zero. I'm not really like that. I'll be taking it as it comes.
How impressed have you been with the progress of your fellow Spaniard, Jon Rahm? Would you fancy teaming up with him in a Ryder Cup foursomes?
Yeah, he's a great player – we've known that for a long time – and he's been on a great run since he turned pro. He's won four tournaments in, I don't know, what is it, 16-17 months. Obviously, he's shown what he's capable of doing. He's got a great opportunity to achieve something, not only for himself, but for Spain – something we've not really seen since Seve. It would be nice to see it happen. We'll see. I'm sure Dustin [Johnson], and some of the other guys that are around, won't make it easy for him. So we'll see what happens, but he's a very exciting talent to have on tour, and I'm glad that he's Spanish – and European.
What have been your impressions of Tiger from what you've seen so far?
Yeah, it has been interesting to see. I think that he's looked pretty good, so far, but there's a big question mark over how he's going to be able to cope physically over the long term. So hopefully he'll get in a bit of a rhythm once he's got a few more tournaments under his belt. But, in truth, nobody knows. Even he probably doesn't know how his body is going to cope with everything that goes on with playing lots of tournaments and practising, and everything that comes with it. So we'll see.
How important do you think Tiger is to golf in 2018?
If he's not there, will the game of golf fall apart? I don't think so. But, of course, we need him to be a part of the story. He's done so much for the game. Like I always say, the more sugar, the sweeter. So the more big-time players we have on Tour, the better it is for the game globally, and he's obviously one of those.
Stay up-to-date: