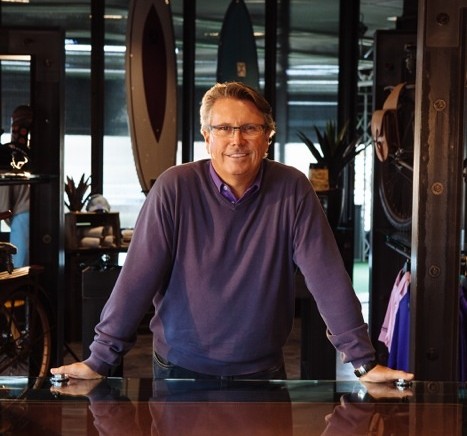 SCOTTY CAMERON Q&A

13 January 2015
The latest range of putters to come out of Scotty Cameron's prolific workshop draws inspiration from the master craftsman's love of cars, especially the industrial engineering of BMW. Meet the Futura X5.
What were your design inspirations for the Futura X5?
I'm a big fan of cars, especially BMWs. They have an X Series, which includes the X1, 3, 5 and 7. The seven is the biggest and the three is the smallest of the SUVs, so the X5 represents the mid-size, which is reflected in the size of the putter head. As well as cars, the X5 putter also has the look of a high-end watch. I wanted it to look almost like a piece of jewellery that gleams without glaring. The use of rubber and steel, little inlays, spot colours and fine material detailing all give it that very industrial, yet very elegant look. We used a translucent red paint that provides a three-dimensional finish. I like misty grey finishes, and don't like to use white paint, as I think that cheapens the overall appearance. Some people might be surprised at the black sole plate, but you can't see it at address, and I think it adds to the mysterious, smoky look.
What are its main performance attributes?
Moving weight back and out in the head creates a larger MOI – resistance to twisting – and creates a bigger sweet spot.
You've got two models, the X5 and the X5R. What is the difference?
The 'R' simply stands for round. Some players like a more rounded look at address, and looks create confidence, so you've got a crisper, clean-lined model, and a more rounded model for those that prefer that kind of look.
The X5 has a spongy, Winn-style grip. Why is this?
I always believe that grip size should compliment head size. You can't put a massive, oversized grip on a small blade-style putter. They need to compliment each other. Larger heads and bigger grips go together. Big grips pinch the nerves less and relax the hands and arms. Winn grips are much lighter than they once were, so you can now use over-sized grips that don't upset the balance of the overall club. We've injected air into the rubber to size it up. It's still a pistol-shaped grip, but sized up. It's not like a giant hollowed-out piece of salami!
There's a growing trend for counter-balanced putters, what's your take on this and why have you called your version 'Dual Balance'?
The industry reacted to the new rules on anchoring by experimenting with thicker grips and grip weights inside the shaft to slow down the butt end of the shaft. Putting a 50g weight into the shaft slows down the movement. To me, counter balance sounds like one end is working against the other, so I called it dual balance to reflect the fact that both weights are equally important and are actually working together, rather than offsetting one against each other. The head weight and the grip weight needs to work in harmony to perform properly. We've got dual balance models in the Select, GoLo and Futura X range.
How important is design in the overall package of your putters?
It's a vital component. I spend a lot of time focusing on looks, feel and performance. There's no point in having a sports car with a matt paint job – you want something that elevates the performance with the look. Similarly, no one likes using an ugly putter, no matter how well it performs. We've seen some ugly designs out there over the years, but they tend not to last. The materials, the look, and the shape are all key parts of the overall performance. They have to look good.
What is your view on the anchoring ban, and how has it affected your future designs?
Whatever the USGA says is the way we're going to go. I'm not going to make illegal golf clubs. If you have the butt end of your putter moving back and forth, or you get a bit flippy with the clubhead, anchoring is a great option. If everyone was winning with anchored putters I would see it as a problem, but clearly they're not. There's no question it affected my putter business last year, as people held off buying putters when the UGSA prevaricated over the decision for three or four months. I would have preferred it if they had been a bit firmer about it, as nothing kills sales more than indecision.
Have you been working with Adam Scott to find a putter that he can use?
I must have made six or seven putters for Adam. He loved the look of the X5R, so we've been playing around with a few designs to get him comfortable. He likes a big head, but he wants something more refined than what he currently plays, so we're working on creating something smaller than the Futura X, but a little larger than the standard X5R with a centre shaft. He's working on finding a method that moves away from anchoring, but still allows him to swing with a pendulum-style stroke.
How much pressure do you feel to keep coming up with new designs?
Of course there is pressure, but it's only pressure that I put on myself, rather than having someone saying 'Come on Scotty, we need another great putter'. I have ideas. I play around with them, test them on tour, and see how they play. I have had lots of success, and try to minimize the flops, but up until the moment we launch a putter it's always a work in progress. We're always looking to push the boundaries, whether it be in performance or design.
You've just opened a new putting studio in California, the Scotty Cameron Gallery, where regular golfers can get an insight into the world of Scotty Cameron. Can you explain how that came about?
Opening the Scotty Cameron Gallery is something I've dreamed about for a long time. I always wanted to have a place open to the public where I can share the things that I have created and love. But above all, the gallery is a place where golfers can come to understand what is happening between the ball, the putter and the player – and how we get those three things to work in harmony. When people come into the gallery, we want them to feel the craftsmanship, the vibe, the experience. This is a place where you come to get fit and learn about your putting stroke, but also to get something that there's only one of in the world.
How important is it to get custom fitted for a putter?
It's a difficult question, as it all depends on how far you want to take your game. Plenty of people can pick a putter off the shelf, like the feel and the weight, and it'll work fine for them. Others will want to take it to the next level. If you're more serious about your game, and people who buy my putters generally are, then having a fitting makes perfect sense, as if you're spending that kind of money you want to make sure that it's going to help your game. Fitting gives you peace of mind, it answers questions about your stroke and the kind of putter, and the kind of set up, that will perform best for you. Fitting is not essential, but it certainly puts you a few steps ahead.
How many golfers can you custom fit in your new studio?
Not enough! A full putter fitting takes about two hours, and we can only take two or three fittings a day, five days a week. So if you do the math, it's not very many. We're looking at expanding the operation, but by its very nature it is always going to be small scale. It costs $350 for the session, so it's not for everyone.
What else is in the gallery?
A whole bunch of stuff, from one-off putters, to branded clothing and accessories, head covers, golf bags, you name it. I designed pretty much all of the fixtures and fittings in the gallery as well. It's very industrial, but kind of refined.
What would you have been if you hadn't become a putter designer?
I love working with my hands, so I would definitely have done something creative, like making furniture. When we came up with the idea for the gallery, I had just as much fun creating all the furniture for the store as I did the products.
Why do you think golfers like Cameron putters so much?
A lot of people pick up one of my putters and they don't know why they like it so much. They just do. I've learned to make the trailing edge very soft in shape. Roly-poly edges. Golfers feel nerves, tension when they putt. I believe you can make a putter soothing to take out that tension.
Scotty Cameron by Titleist Futura X5 putters cost £279, or £315 for the Dual Balance model. For more information visit titleist.co.uk. To book a fitting session at the Scotty Cameron Gallery in Encinitas, California, visit scottycamerongallery.com.
Stay up-to-date: